THE TANDOORI SPICE RUB YOU HAVE  TO TRY NOW
My husband is South Asian-American and I am African-American. We have been inspired throughout the course of our union to come up with recipes that reflect the fusing of our cultures.  My husband is a foodie and loves to barbecue everything.  Hence this delectable spice rub is one that you can use on an array of food: from meats, vegetables, starches etc.   Yes, it is that easy–just place the spice rub on or into your dish of choice.  For meat let the spice rub sit for 6-8 hours or overnight and then place it in the oven or on the stove, or grill.  This recipe is a definite must try if you love tandoori chicken, salmon/fish, vegetables or simply food with robust favor.  In essence this spice rub is one that we like to believe goes with everything!
TANDOORI SPICE RUB THAT GOES WITH EVERYTHING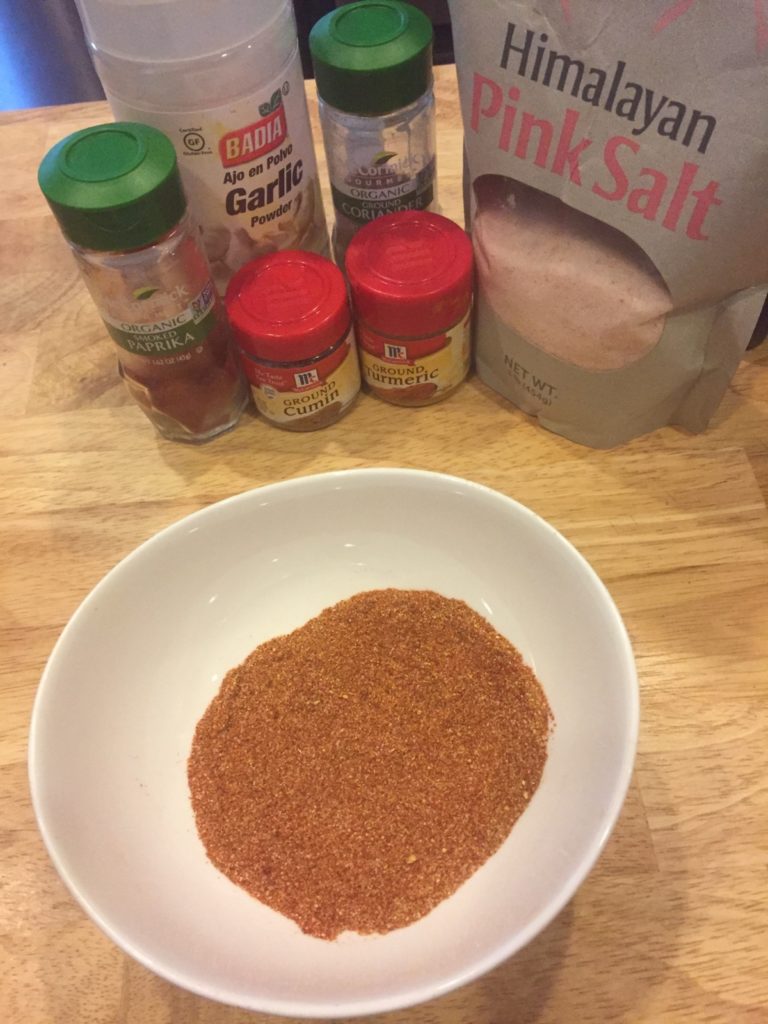 What You'll Need/Ingredients:
3 tablespoons of Smoked Paprika
1 teaspoon of Pink Himalayan salt (or your salt of choice)
1 teaspoon of Garlic
1 teaspoon of Cumin
1 teaspoon of Coriander
1 teaspoon of Tumeric
Directions:
Mix all ingredients together and store until needed.  Enjoy!
Are you in an interracial/intercultural relationship or marriage? What unique cuisines have you come up with? Feel free to share this post and comment below!
Like this post you may also enjoy…THE ULTIMATE PIZZA BREAKFAST BAKE, THE ULTIMATE PALEO CHOCOLATE CHIP BROWNIES, AMAZING PEANUT BUTTER CHOCOLATE CHIP COOKIES YOU HAVE TO TRY, Masala Trail Mix, COCONUT BURFI, THE MOST AMAZING ALOO PARATHA RECIPE, HEALTHY AND DELICIOUS ALOO GOBI and more!
This post contains affiliate links that help support the operation of Growing Up Gupta.
,