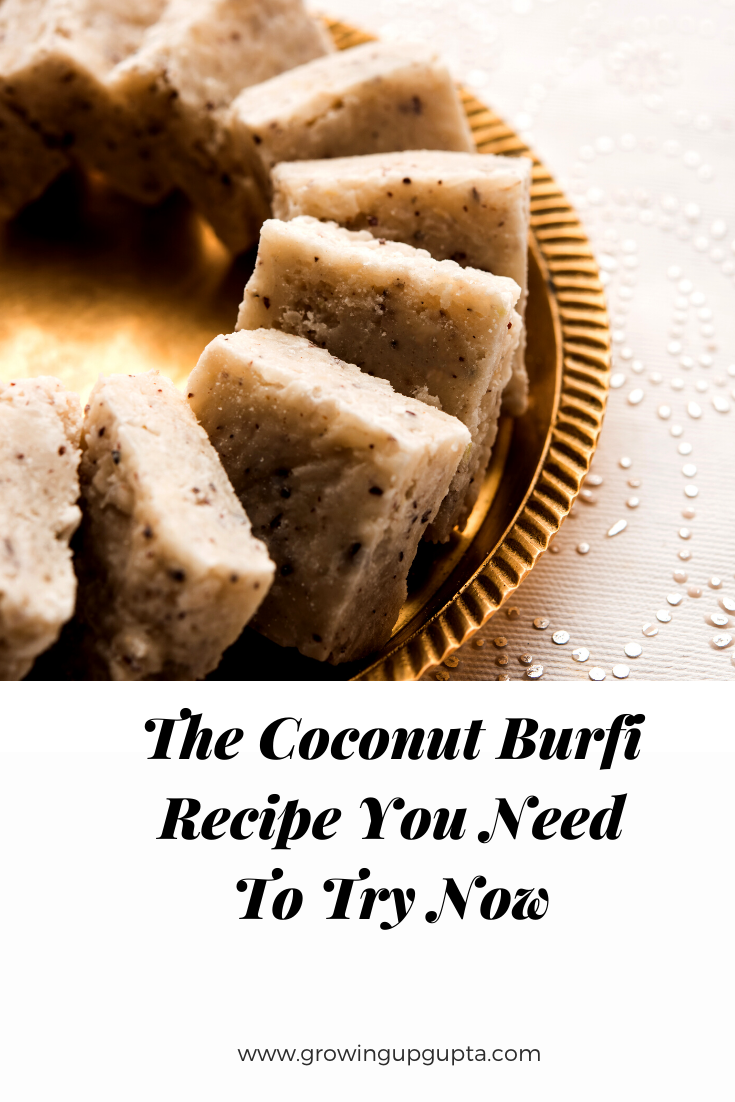 COCONUT BURFI
This delectable Indian Candy is always a hit with my Indian and Non-Indian friends and family.  During the 4th of July weekend, I had to make two batches of this treat due to overwhelming demand by my nieces, nephews, and in-laws.   I've tried many Burfi recipes and this one stands out against all the rest.  It is also one of the first Indian recipes I tried and successfully made as a Non-Indian wife.
WHAT YOU'LL NEED
1 cup powdered milk (fat-free works as a well as 2% etc)
1 cup granulated sugar
1 cup heavy cream (this recipe won't work with half and half–believe me I've tried it numerous times)
2 oz unsweetened shredded coconut (yields 1/2 cup ground)
2 oz toasted walnuts (yields 1/2 cup ground)
1/4 tsp ground cardamom
6 inch Baking Pan
Medium Saucepan
Aluminum Foil
Food Processor/Blender
Nonstick Cooking Spray
Knife to score the Burfi
Candy Thermometer
DIRECTIONS
1. Line a 6-inch baking pan with aluminum foil.  Spray the aluminum foil with nonstick cooking spray.
2. Grind the coconut and the walnuts in a food processor until finely ground and set aside.
3. Place the heavy cream in a medium saucepan over medium-high heat and bring it to a boil. Once it starts to boil turn the heat down to medium-low and add the sugar.
4. Stir until the sugar dissolves, then insert a candy thermometer.  Continue to stir frequently until the candy thermometer reads 225 degrees.
5. Remove the candy thermometer and add the powdered milk. Stir frequently until the candy comes together and forms a big clump in the pan (approximately 3 minutes).
6. Remove the pan from the heat and stir in the ground coconut, ground walnuts, and cardamom until well mixed/completely distributed.
7. Place the candy into the 6-inch baking pan and smooth it into an even layer. While it is still warm, score the top with a knife into small squares or diamonds. Once cool, cut along the scored lines and serve.  This amazing treat can be stored in an airtight container at room temperature for up to a week.
This recipe has been adapted from About.com.