Running Into Love
Interracial And Intercultural Marriage: Punjabi Indian Man and Caucasian Woman
About
Meet Zorya and Ricky! Ricky is Punjabi (Sikh)Indian, and his wife Zorya is Ukrainian, Russian, French, and British. They were both born and raised in Ontario, Canada. However, Ricky spent two years as an infant living in India.
How They Met
Zorya and Ricky first met online about 1.5 years before they met in person. Though they chatted here and there, neither anticipated a relationship developing because they lived in different cities. Yet, they eventually moved to the same town. They started to run into one another all of the time because Ricky was attending a post-secondary institution where Zorya worked part-time. Eventually, Ricky asked Zorya on a coffee date, and the rest is history.
How Long Have They Been Together
Ricky and Zorya have almost been together for four years.
How Did They Tell Their Parents About Each Other
Zorya told her mom about Ricky before they even went on their first date because she was super excited, and she tells her mom everything. On the other hand, Ricky told his parents about Zorya after a few weeks of dating.
What Happened When They Met Each Other's Parents
For Ricky and Zorya, meeting each other's parents for the first time was positive. After a month or two of dating, Ricky took Zorya to his hometown to meet his mom over lunch. His mom was extremely warm and welcoming, and Zorya knew right off the bat that they would get along well. Zorya remembers being embarrassed because they were at an Indian restaurant. She didn't have any previous exposure to Indian food, so she had no idea which things were super spicy or how to eat certain dishes. And without any judgment, Ricky's mom joked with Zorya about it in a very light-hearted manner and taught her everything about Indian food.
Shortly after that, Zorya's parents invited Ricky over for dinner to get to know him, and it was a very similar experience. Zorya's parents were super impressed by how friendly, and charismatic Ricky is, and he was cracking jokes with her dad by the end of the meal.
The Obstacles They Have Confronted Together As An Interracial  And Intercultural Couple
Zorya and Ricky's core challenges were figuring out how to adjust to each other's families because they initially seemed very different. Hence they had to learn each other's family's norms and values, and sometimes that was a confusing process. Over time, they discovered how similar their families are, as both are very supportive and loving, and their parents ultimately want what's best for them.
Moreover, although Canada is a very multicultural country, it's not without its flaws. Ricky and Zorya have had to deal with some overt racism. Early in their relationship, they were at an event where an older woman approached Zorya and privately asked her "why she chose that one" when, as she implied, there were so many white, blonde boys around. Zorya remembers being so startled because, at the time, she didn't realize how prominent racial prejudice continued to be within their area. The experience completely opened her eyes.
What's more, they have dealt with odd looks here and there from individuals within both of their ethnic groups. Ultimately, these experiences have encouraged them to talk openly and regularly about racism and discrimination with each other and to become involved in community projects to inspire inclusivity, acceptance, and equity.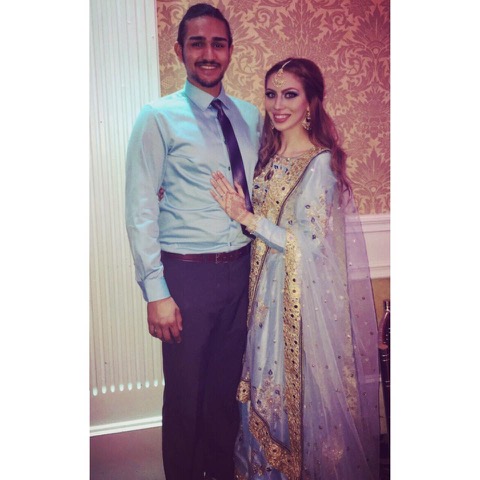 How Did They Plan To Fuse Their Cultures For Their Wedding
Ricky and Zorya had planned to include both of their cultures as much as possible in their wedding. They considered having a ceremony at the gurdwara in her husband's hometown and then a church ceremony and reception in their city. Alternatively, they thought about having a Christian wedding in Canada and a Sikh wedding in India. However, Zorya's mom became very ill when they got engaged, and they worried that they might not have enough time to execute all of their elaborate plans. As a result, Zorya and Ricky ended up planning a wedding with three weeks' notice and having a small, intimate ceremony in her parent's backyard. Though the ceremony followed the typical Christian' style,' they chose an officiant who ensured that all the wedding speech components were focused on the spirituality that they share rather than religion.
Today, Zorya and Ricky talk about having another wedding celebration in India with his family. However, due to Covid-19, they have not been able to do so yet.
Ricky And Zorya's Advice For Other Couples
Talk openly, talk often, and avoid judgment. Don't be afraid to talk about scary, confusing, or weird things, and always be yourself.
Ask the difficult and essential questions and spend the time working through the answers.
Work as a team and be honest about who you are and what you want.
You don't have to understand everything about your partner or their culture right off the bat. It is a process that can take a lot of time, and no one does it 'perfectly.' Don't be too hard on yourself if it's slow, but make sure that you're both continuously putting in the effort to learn from each other and to grow together.
Treasure your differences just as much as you cherish your similarities.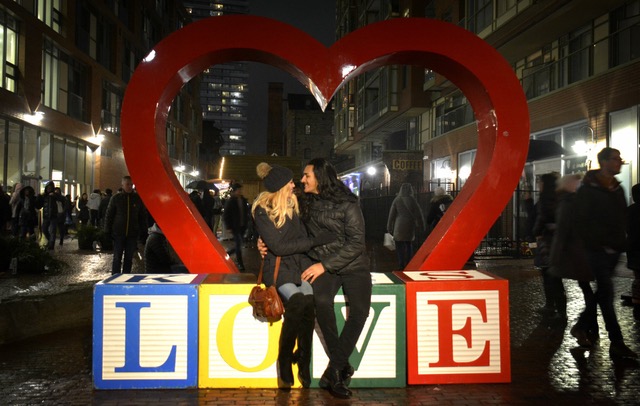 What They Love About Being In An Interracial and Intercultural Marriage
More than anything, Zorya loves Ricky. He's an amazing man. Still, they both love that they get the opportunity to learn so much about someone else and to have unique, thought-provoking conversations about everything. Furthermore, they believe that interracial relationships cause you to challenge your own preconceived notions: these relationships cause you to grow and explore other norms, value systems, beliefs, etc.
What They Are Still learning
Zorya feels guilty because she has not learned Punjabi yet. Nonetheless, Ricky's family is very tolerant and has offered to provide her with some excellent support for that. Additionally, they are still learning how to facilitate balancing both cultures as equally as possible. Zorya is trying to learn as much as she can right now about raising bicultural and biracial children. She and Ricky want to make sure that if they have children, they are engaged with both of their backgrounds and have the necessary resources.
What do you think about Ricky and Zorya's love story? Find us on Instagram and Pinterest @growingupguptas, on Twitter @growingupgupta, and Facebook @growingupguptablog.
Pin this post for later here!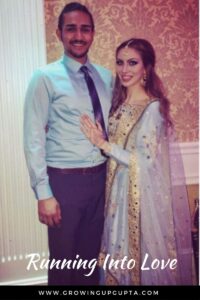 Check out and shop for multicultural home goods and I love masala me products!!!
***This post contains affiliate links which support the operation of this blog.