The Coronavirus Pandemic
In our wildest dreams, I do not think that many of us fathomed a pandemic of this magnitude impacting the world in which we live. There are those of us that are in coronavirus quarantine, medical professionals fighting on the front line to save lives, and those that are daily risking their lives by going to work to keep social unrest from occurring. What a time to be alive and more importantly to come together as a human family to fight this disease.  
Using Pantry Staples During The Coronavirus
As many of you know, making Indian food can be time-consuming and ingredient rich. The end result is traditionally worth the effort. It brings great joy, comfort, and can even be spiritually satisfying to the cook and the diner. Still, given that many of us are in a pinch, I asked our readership and extraordinary food bloggers to share some quick, low ingredient Indian food recipes that can be made with what you have in your pantry. These items are what most of us have in our Indian food reservoir since Indian food is spice extensive.  
Basic Indian Pantry Staples
These are basic Indian Pantry staples that you may have on hand if you cook Indian food occasionally.
1. Curry powder
2. Garam masala
3. Turmeric
4. Cumin/cumin seeds
5. Cardamom ground/seed pods (green and black)
6. Ginger
7. Yogurt
8. Lentils
9. Chickpeas
10. Basmati rice
Comprehensive List Of Indian Spices, Dry Goods, Dairy Products And More
This is a comprehensive list of ingredients for making Indian recipes from Food and Wine. If you cook Indian food regularly, you more than likely have these spices on hand right now.
Where To Find & Buy Food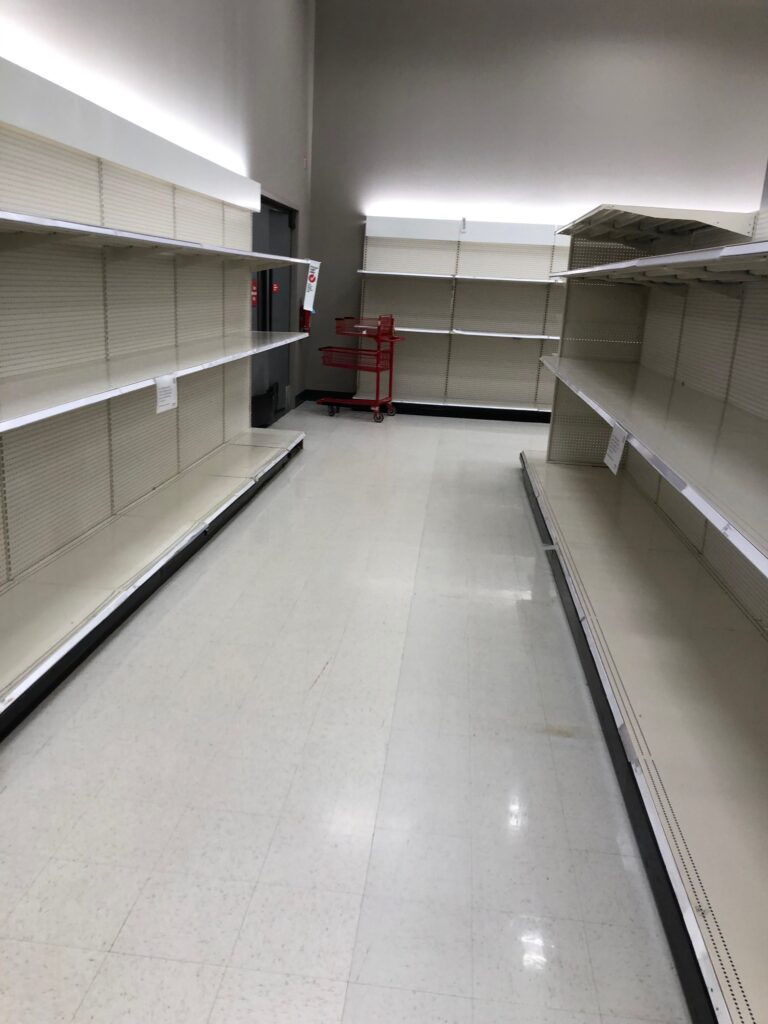 Independent of your local grocery stores here are ten other places to get food during the coronavirus pandemic.
Local farmers market. Many farmers markets across the U.S. are still offering pre-order and delivery.
On-line via Shipt, Amazon, and Instacart
Dollar stores
Ethnic grocery stores
Local schools
Local recreation centers
Quick And Easy Indian Food Recipes To Make During Coronavirus Quarantine
Curry Leaf And Black Pepper Curry Chicken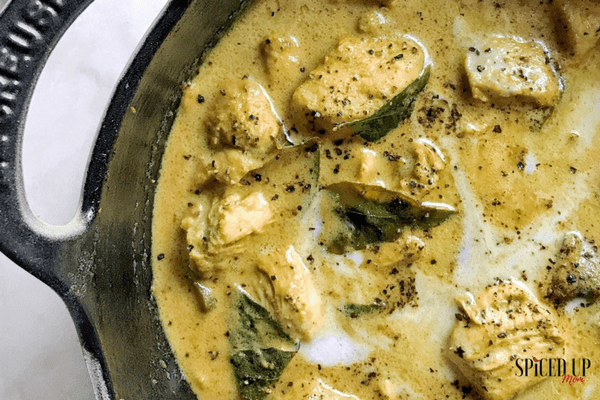 Thanks to MasterChef season 10, Shari Mukherjee, @instagram.com/spicedupmom!
Vegan Butter Chicken (Tofu) Recipe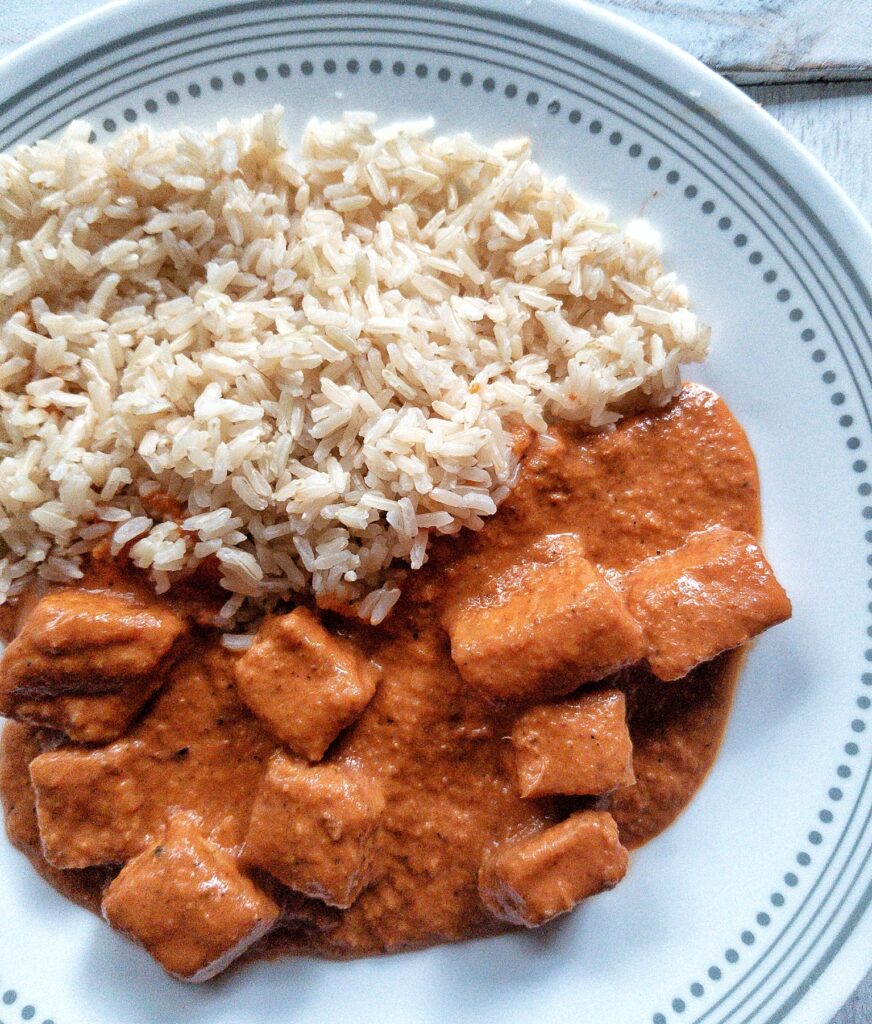 Thanks to food blogger, Aly @instagram.com/plantbasedandbroke!
Sev Usal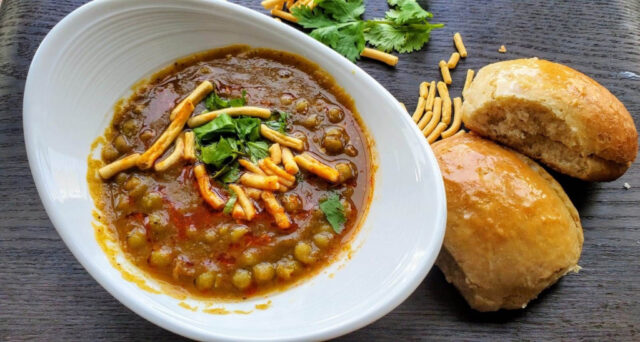 Thanks to food blogger, Pankti @instagram.com/laviextraordinaire!
Paan Falooda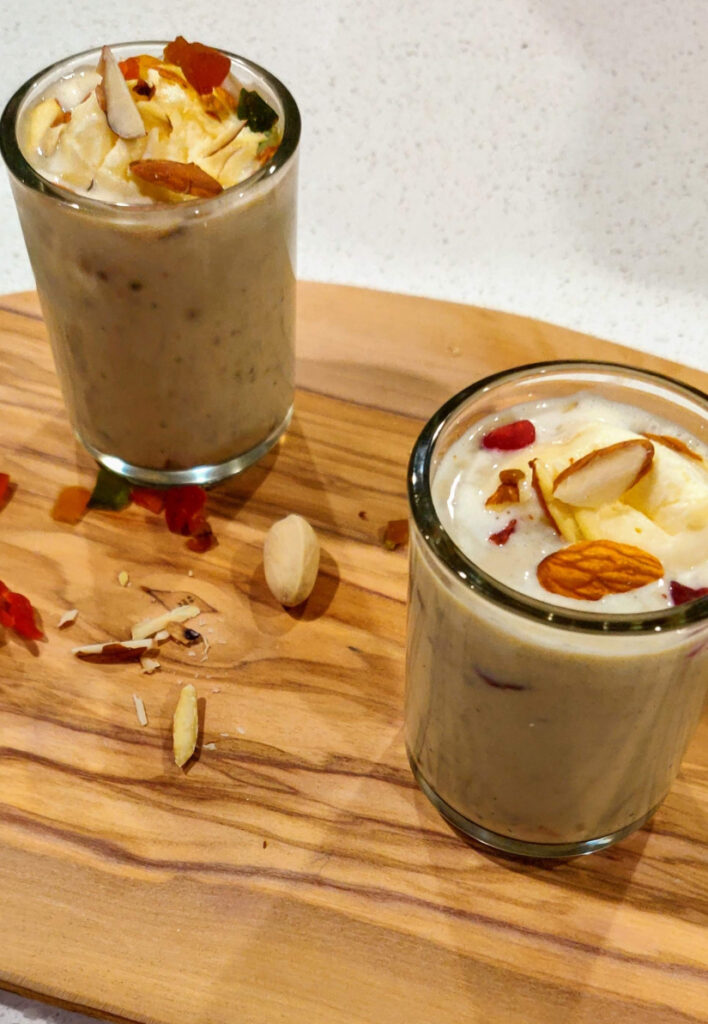 Thanks to food blogger, Pankti @instagram.com/laviextraordinaire!
Six Ingredient Mashed Eggplant/Aubergine Indian Style / Baigan Bharata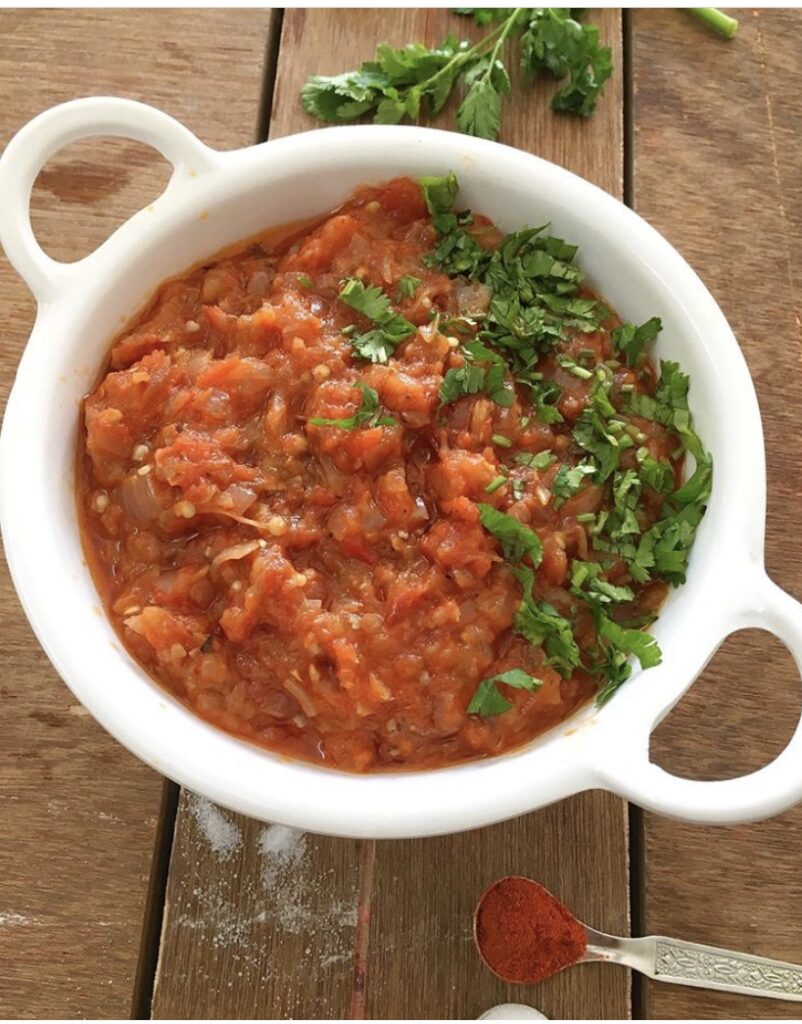 Ingredients:
 1 Eggplant/Aubergine

 2 Medium onions finely chopped 

 3 Medium tomatoes puréed 

 1 Teaspoon red chilly powder

 Salt to taste 

 1 Tablespoon vegetable oil 
 Instructions:
Roast the aubergine on the flame from 

all the side.

Remove its charred skin and 

mashed it. Keep it aside.

Heat the oil in a pan and add the onions to it 

sauté till the onions become translucent 

and then add the puréed tomatoes and chilly powder to it. 

O

nce the tomatoes are cooked add the mashed aubergine and add salt. Sauté for another 2 mins and it's done.
This can be served with rotis/Naan/bread.
Thanks to food blogger, Snigdha Chandra @instagram.com/cooking_cronicals!
Vegetarian Tikka Masala Naan Pizzas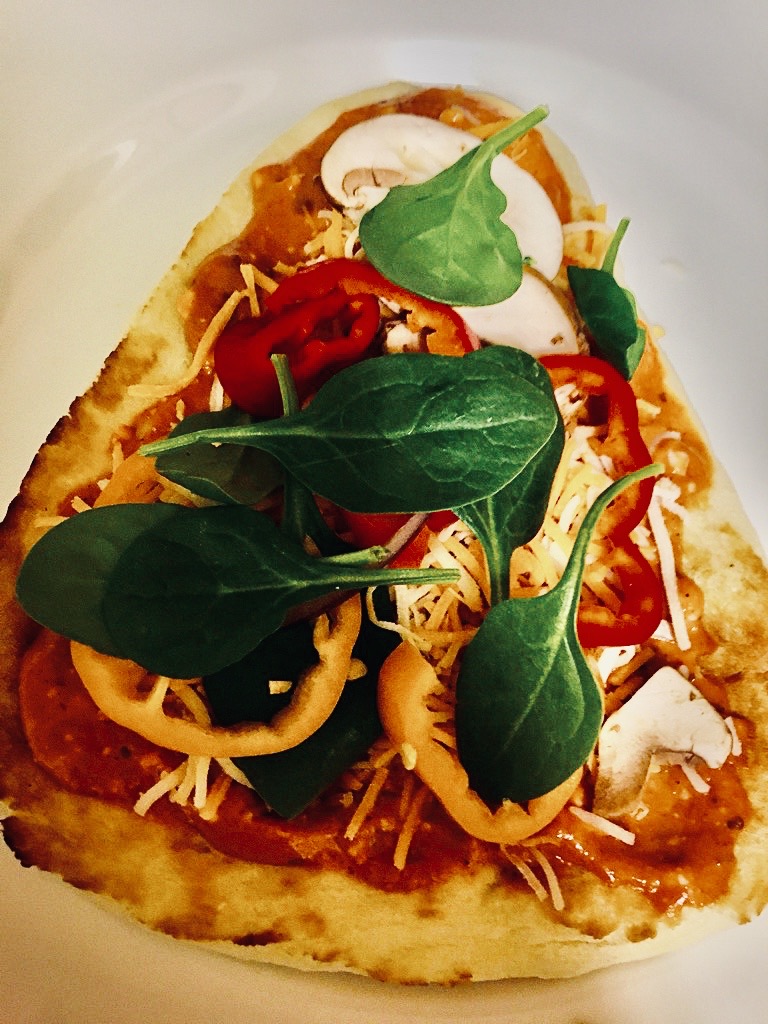 Ingredients:
6 Small naans 

2 Cups baby spinach (washed, patted dry)

1-2 Bell peppers (de-seeded, sliced) 

1 Cup sliced white or brown Mushrooms 

1/2  Small sweet onion sliced

1/2  Cup tikka masala simmer sauce (I used store bought but if you have the will, a tikka masala sauce recipe:

1 and 1/4 Cups of shredded cheese blend (less or more as desired) 

1/2 Tsp MDH chunky chaat masala (optional)

Red pepper flakes (optional) 
Instructions:
Preheat oven to 400F (oven temperatures vary). 

Pre-bake naans in oven for about 3-4 minutes for extra crunchiness. 

Spread tikka masala sauce evenly on each naan, sprinkle a little shredded cheese, then top with prepped vegetables, cover with a little more of the shredded cheese. 

Place on lined baking sheet and bake for 8-10 minutes (or until cheese is melted).

 

Sprinkle with chaat masala and/or red pepper flakes for extra tanginess and spiciness if desired. 
Serve and enjoy! 
 Thanks to @instagram.com/nurpuri!
Pizza Dough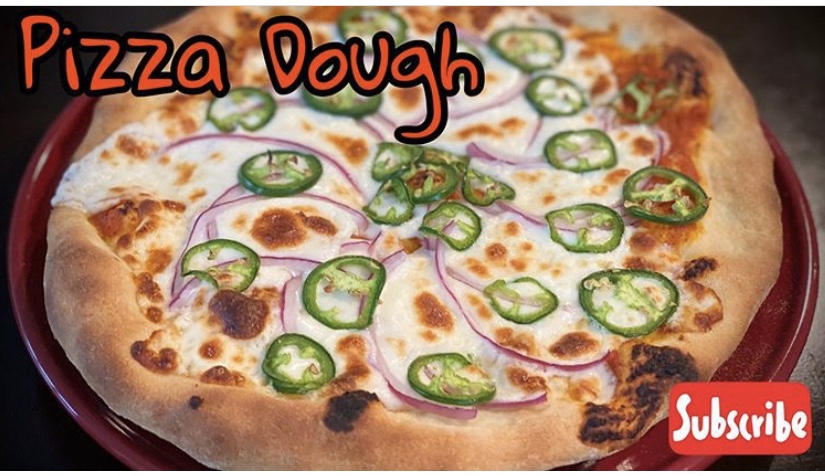 Ingredients:
For activating yeast:
1/2 Cup warm water
1 Tsp sugar
2 Tsp instant yeast
For Dough:
4 Cups flour (any flour works)
2 Tbsp olive oil + 2 tbsp for coating dough and bowl
1 Tsp salt
3/4 Cup warm water
Stand mixer preferred, mixing by hand can work if needed.
Instructions:
1. Start by activating the yeast- Dissolve sugar in warm water by mixing it, then add the yeast. Stir ingredients together and let mixture sit for 10+ minutes.
2. In a stand mixer, empty flour inside first.
3. Add salt and start mixing together on slow.
4. Slowly add in olive oil 1/2 tsp at a time until it is well incorporated into the flour.
5. Add yeast mixture into the flour and continue mixing on slow-med.
6. Slowly start adding the warm water to the dough while it is mixing in 1/4 cup increments to make sure you do not end up with soggy dough.
7. Once dough starts coming together into a round shape and not sticking to the walls of the mixture easily, it is ready.
(TIP- Dough should not look dry or feel hard. It will be a bit sticky/stringy to touch and feel light and airy when you hold it.)
8. In another big bowl, coat 1 tbsp olive oil.
9. Transfer the dough into the olive oil covered bowl.
10. Drizzle 1 tbsp olive oil on top of the dough ball and gently knead it into a circle by picking up the dough and folding the bottom inwards.
11. Tightly cover the dough and keep refrigerated for 24hrs for best flavor.
12. If you want to use the dough the same day, let it rise on the counter.
https://youtu.be/h9NckaQ2YzY
Immune Boosting Drink Recipe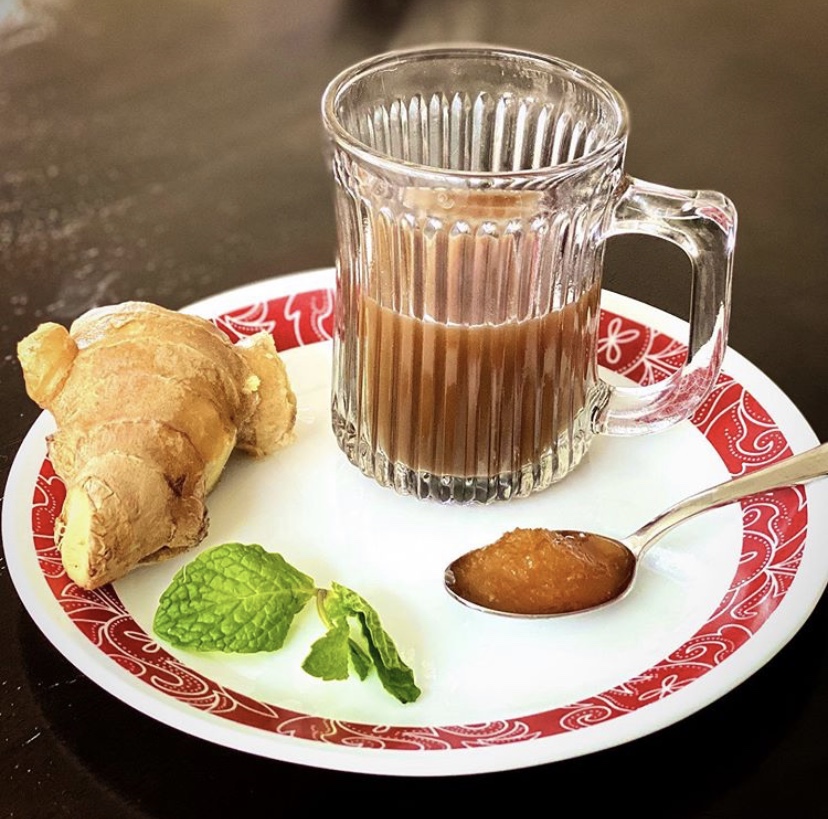 Ingredients:
2 Cup of water
1 Tbsp mint leaves
1 Tbsp shredded ginger
1 Tbsp carom seeds
1 Tbsp organic jaggery (or local honey)
1 Tbsp crushed black pepper
1/4 Tsp clove powder
Honey for sweetness (optional)
Method:
1. Bring water to boil on high with mint leaves and ginger.
2. Once boiling, add carom seeds, jaggery, black pepper, and clove powder.
3. Bring to a boil for 4-5 minutes.
4. Let mixture cool slightly before straining into a cup.
5. Add 1 tsp honey for sweet flavor into cup before drinking. Honey helps if you have a cough.
6. Consume immediately while drink is warm.
Watch the video for this recipe here: https://youtu.be/_t_MDfQ59jk
https://youtu.be/_t_MDfQ59jk
Curry Fried Chicken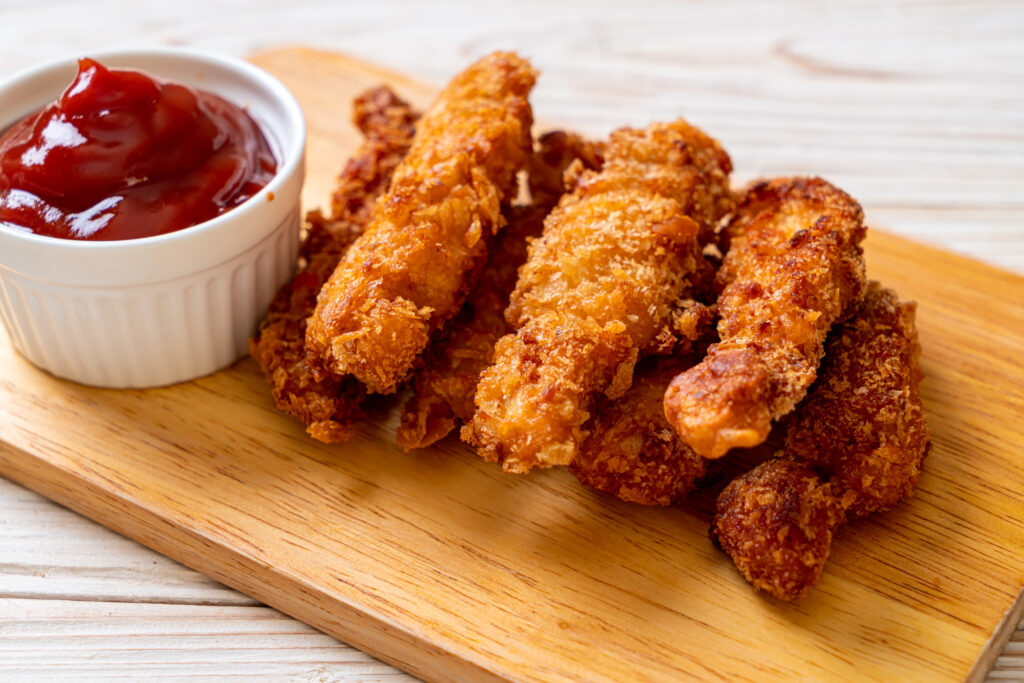 Ingredients:
2lbs Chicken cut into strips
1 Cup of milk (buttermilk if you have it)
1 Cup of oil
1 Tablespoon of garlic powder
1 Tablespoon of onion powder
2 Tablespoons of curry powder
1 Tablespoon of salt
1 Large egg
1 Cup of all purpose flour
Optional-1 Teaspoon of red pepper flakes
Instructions:
Place the chicken strips in a zip lock bag and add the milk to it. Make sure the chicken is coated with the milk and place it in the refrigerator for 4-6 hours.
In a large bowl, whisk together the flour and spices listed. Set aside.
In another bowl, whisk an egg.
Drain milk from chicken and pat chicken dry. Dip chicken in the egg mixture followed by the flour mixture. Shake to remove any extra flour. Place the coated chicken onto a plate. Coat all remaining chicken with egg and flour mixtures.
Heat skillet and add in the 1 cup of oil. Take the coated chicken and slowly place it into the hot oil. Working in small batches, cook the chicken on both sides until golden brown about 10-15 minutes each side.
Place on a wire rack. Serve while hot.
Thanks to instagram.com/growingupguptas!
More Indian Food Recipes To Try Out During The Coronavirus Pandemic
https://www.thespruceeats.com/easy-and-quick-indian-recipes-4118365
12 Quick Indian Dessert Recipes
https://www.easycookingwithmolly.com/2019/03/12-quick-indian-dessert-recipes/
5 Ingredient Quick And Easy Indian Sweet Recipe
https://simplyvegetarian777.com/kalakand-5-ingredients-quick-easy-recipe/
Staying Resilient During The Coronavirus Pandemic
Without a doubt, this is a frightening and trying time for all of us in many different ways. However, it is not a time to give up but to stay resilient. I know, saying this is easier said than done. But speaking with tears currently in our family's eyes, earlier this week, we lost a loved one due to pneumonia. They decided to give up being on a ventilator so that someone else could live. Hence we will not be able to come together as a family to grieve our loss and celebrate their life right now but, you know what, one day, someday, we will.
In the meantime I hope these recipes are helpful and provide a bit of ease.  Thank you again to everyone who shared their recipes and a little bit of themselves too.
Are you following us at growingupgupta yet? Find us on Instagram and Pinterest @growingupguptas, Twitter @growingupgupta, and on Facebook @growingupguptablog!
Pin this post for later, here!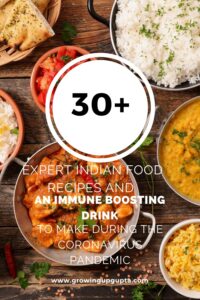 This post contains affiliate links that support the operation of this blog!