MASALA HOLIDAY(S)
The fusion of two distinct cultures doesn't have to be difficult as long as you and your significant other are willing to openly communicate and compromise with each other.  As an interracial/intercultural family we wanted to incorporate different elements from our family culture into our union.  One in particular, we came up with is Masala Holiday(s).
WHAT IS MASALA HOLIDAY(S)?
The word Masala means a mixture of spices.  As an multicultural, African-American and South-Asian family Masala Holiday(s) represents the fusing of our two cultures during the U.S. holiday season. Hence it is where we showcase the deliciousness's of both our familial cuisines during the holidays. In particular, during Thanksgiving and/or Christmas we have a big African-American and Indian-American family gathering. This has been successful for us because our parents and extended families have been able to enjoy cuisines that they don't customarily eat on a daily basis.
ON THE MENU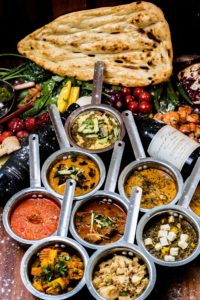 On the menu: turkey, gravy, cornbread, collard greens, macaroni and cheese, mashed potatoes, roti, vegetable samosa, fried okra, palak paneer, pies, cakes, cookies, burfi and more!  This way we cater to a both vegetarian and non-vegetarian foodies in our family.  And even more important, as a family we all get to enjoy each other's company under common themes of thankfulness and love.
Are you in an interracial/intercultural relationship or marriage? How have you fused your cultures together? Write us and let us know. Post a comment below! Feel free to share this post! Happy Holidays!