This recipe is amazing!  If you have some left-over pizza and are wondering what to do with it then this is your recipe.  It is quick and easy and can be put together or made at night to serve for guest in the morning.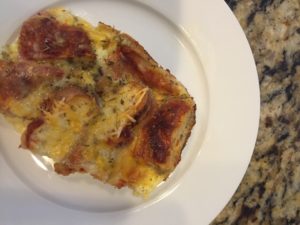 THE ULTIMATE PIZZA BREAKFAST BAKE
Ingredients

Cooking spray

3-4 slices of left over pizza cut into 3/4 inch squares

1/2 cup of cheese of your choice (we use a mixture of Mexican and mozzarella). More cheese can be added; up to 1 cup if you love cheese

1 tablespoon of melted butter (we use light butter/I can't believe it's not butter)

4 eggs beaten

1 cup of milk (whatever your preference)

1 teaspoon of oregano

1 clove of garlic minced

1 teaspoon of onion powder (omit if you don't like onion) you can also cut up 1/4 cup of onion to add to the recipe

1/4 teaspoon salt (if you are using pizza hut pizza omit this salt)



Directions

Preheat over to 350 degrees.

Spray a 9x9 inch baking pan with cooking spray. 

Place pizza squares into baking pan.  Mix together eggs, cheese milk, garlic, onion powder/or onion, oregano, salt, and butter. Pour this mixture over the pizza squares. 

Bake in preheated oven for 40-45 mins.  Serve with red pepper flakes if desired, garlic powder, ranch dressing etc.  If you make it the night before place in the microwave to warm it up and serve.

Let us know how this recipe turned out for you. Like our content subscribe to our newsletter located on the sidebar.

Post a comment below. Find us on Facebook and twitter at growing up gupta.