Soul Food Holiday Recipe Roundup
Soul food is comparable to southern food, but it is undeniably an African American experience. Yams, okra, collard and mustard greens are staples in African cuisine that are also commonplace in African American homes today. Tied and connected to family celebrations, backyard barbeques, church, block parties, moments of triumph, and an indicator of resilience.
Soul Food Is African American History
Soul food is history. The term soul food was coined in the 1960s during a time of great Black identity and Black expression because of the Civil Rights Movement and the Black Power movement. It is the food of the African American people from the American South; it is not monolithic.
These soul food holiday recipes embody dreams, conviction, faith, hope, and love. Add a dish or two of these soul food/southern food classics to your holiday dinner this year. Yes, you can write and thank us later.
Appetizers
Side Dishes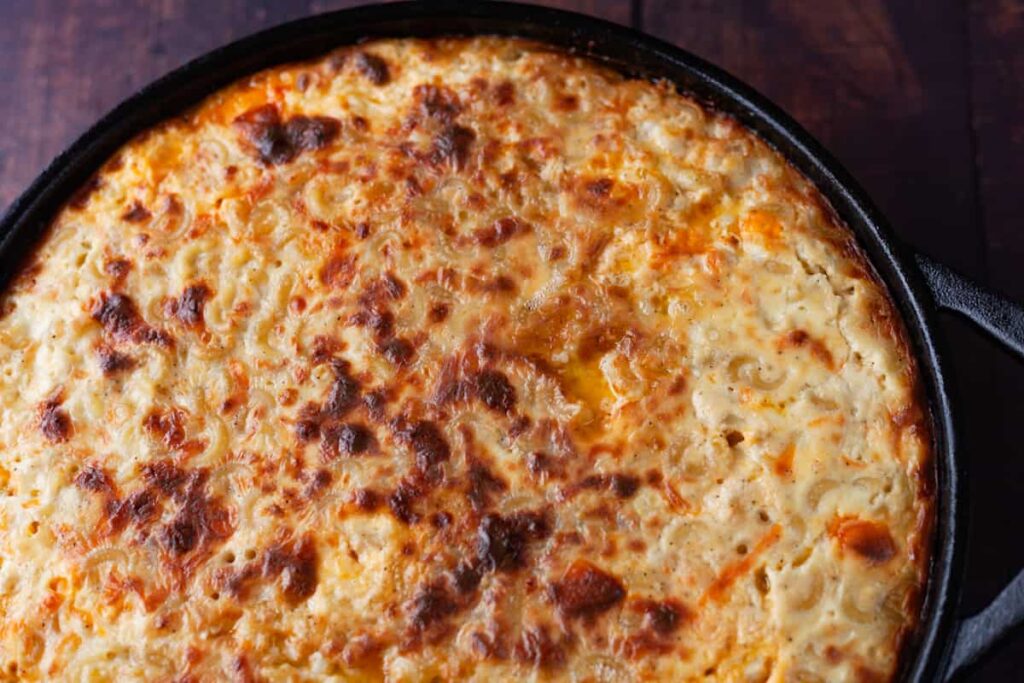 This southern soul food baked macaroni and cheese is a blend of cheeses ranges from mild to sharp to a little bit of nuttiness. It's rich from the butter and cream and made flavorful by a few simple spices.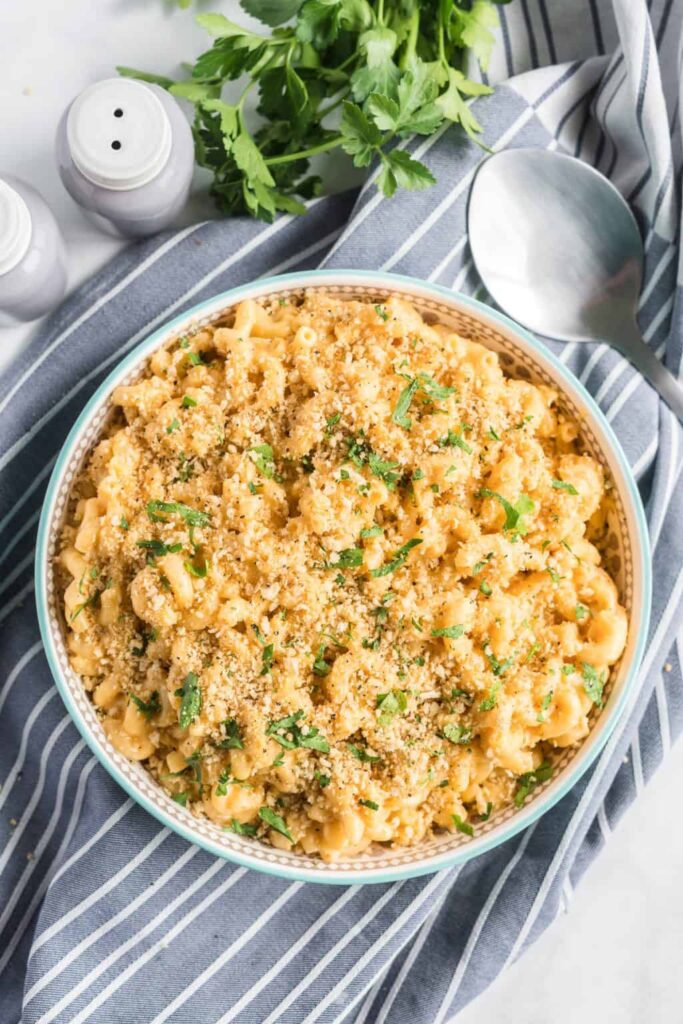 This easy Stovetop Macaroni and Cheese recipe requires no time in the oven and is so much more delicious than a boxed mix. It's super creamy, cheesy, and guaranteed to satisfy!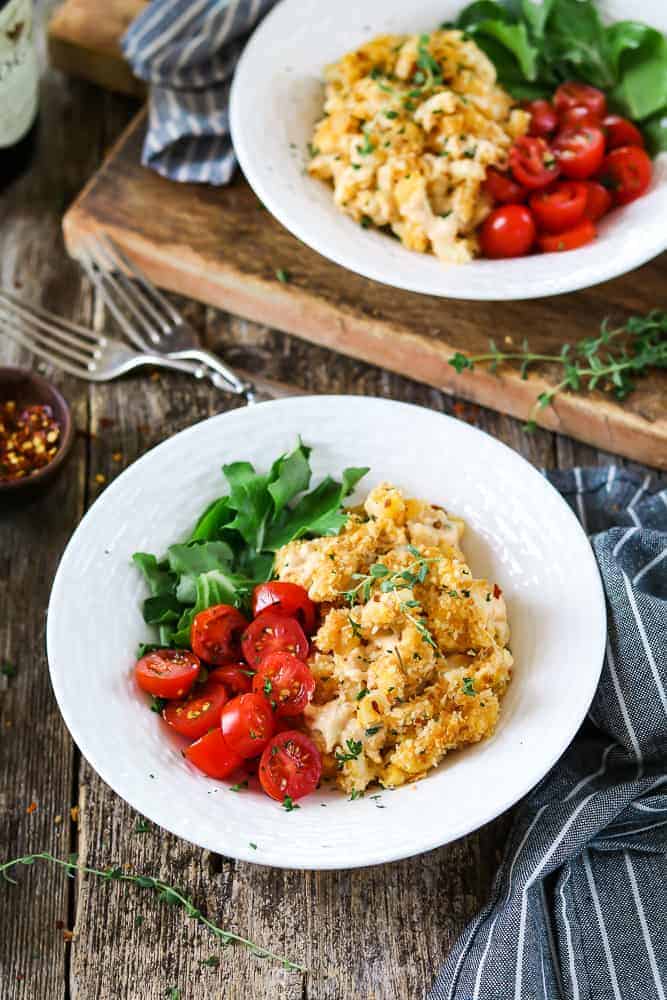 Baked Vegan Mac and Cheese – the epitome of comfort food! Loaded with rich, cheesy and buttery goodness that'll have you coming back for seconds. It's perfect for weeknight meals or holiday entertaining.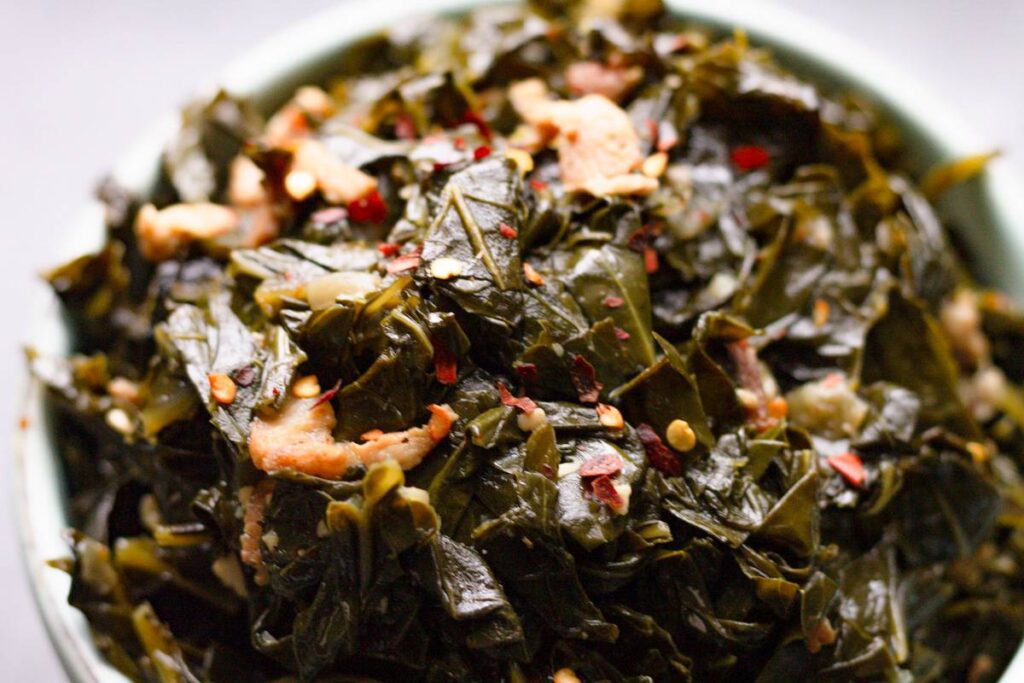 Spicy Southern Collard Greens with Bacon —soulful broth braised collard greens with bacon and a spicy blend of seasoning.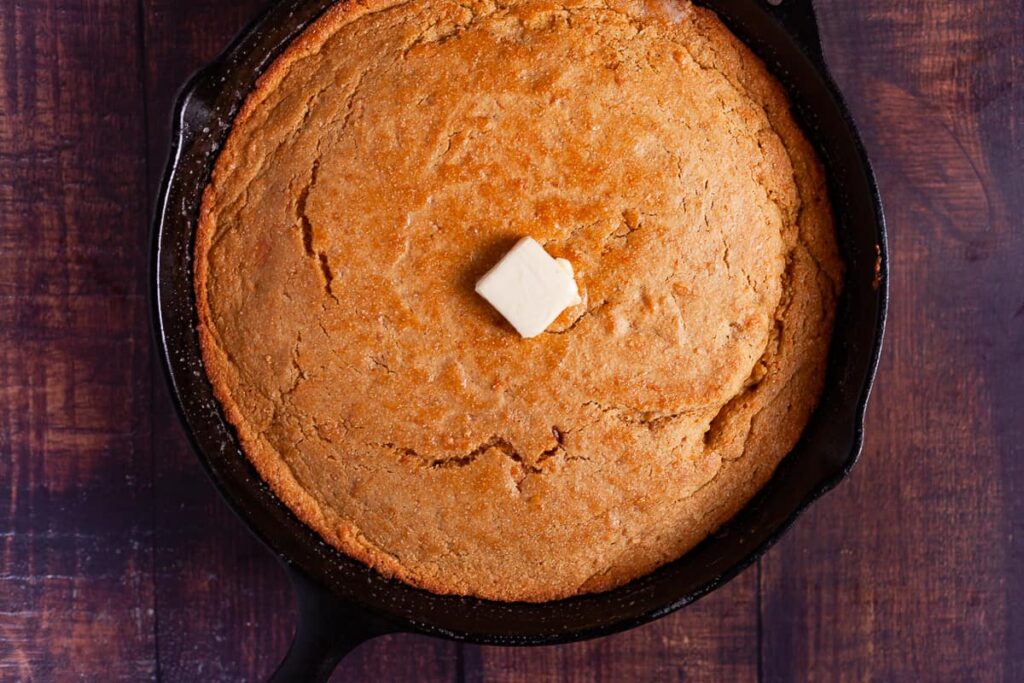 This Brown Sugar Sweet Potato Cornbread recipe has all of the components of a southern cornbread. I've added mashed sweet potato for a tasty twist and brown sugar for a richer sweetness. It has a tender and moist crumb with the sweetness is not too overpowering.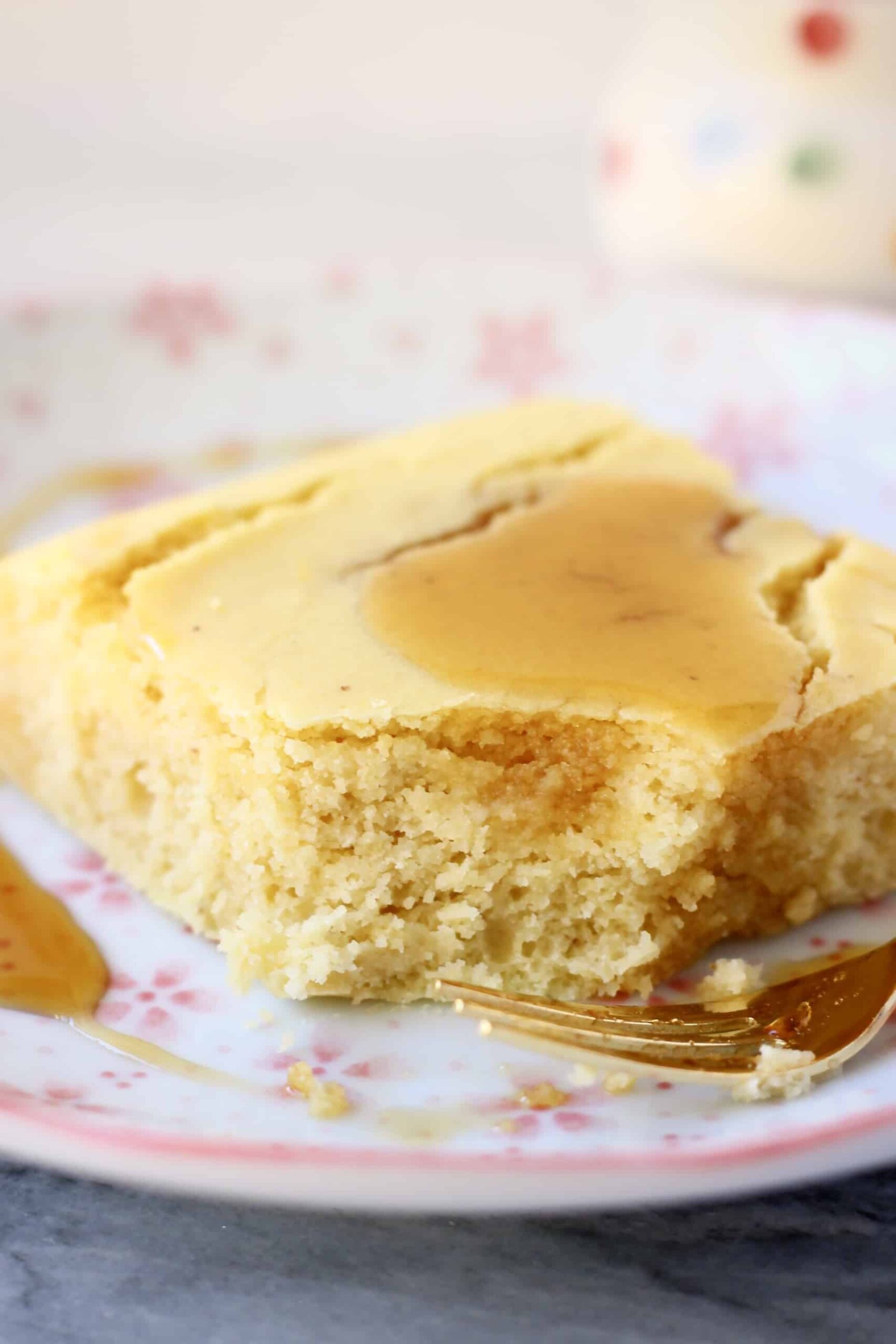 This gluten-free vegan cornbread is sweet and "buttery", moist and fluffy and has a nutty flavor! It's made in one bowl using simple ingredients and is yeast-free and refined sugar free too.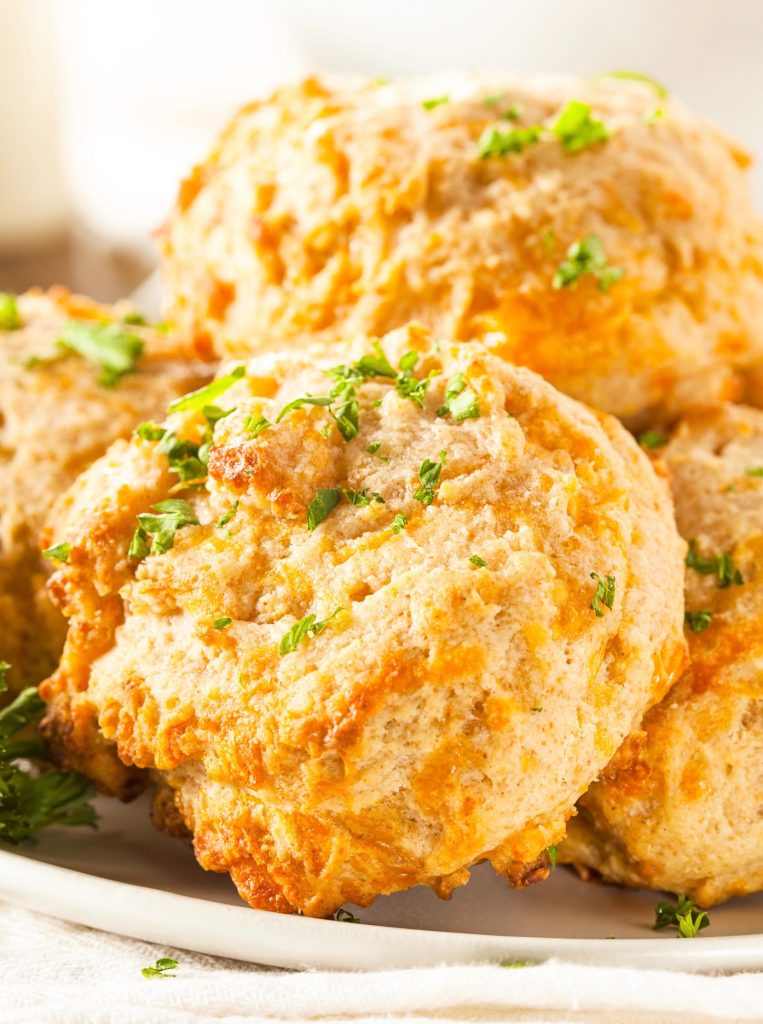 These vegan cheddar biscuits are the best thing you will ever try! Not only are they incredibly flavorful, they are super easy to make and everyone will love them.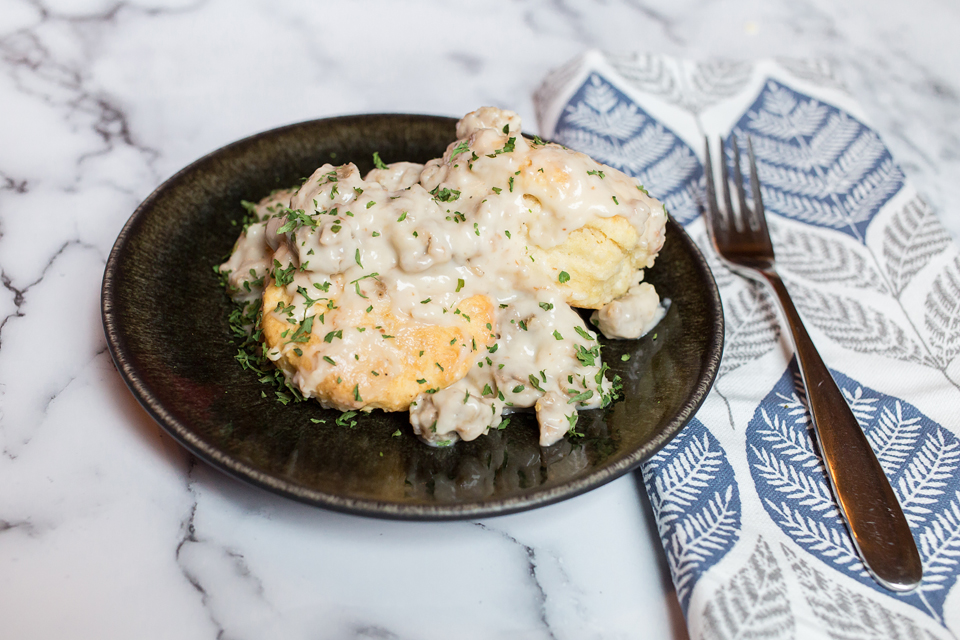 If you are looking for some delightful and filling vegan biscuits and gravy, this recipe is for you! They are the ultimate comfort food and there is no requirement to be "southern" in order to make or enjoy this hearty recipe. It is vegan and there are no animal products used which makes it healthier than the traditional version from the south.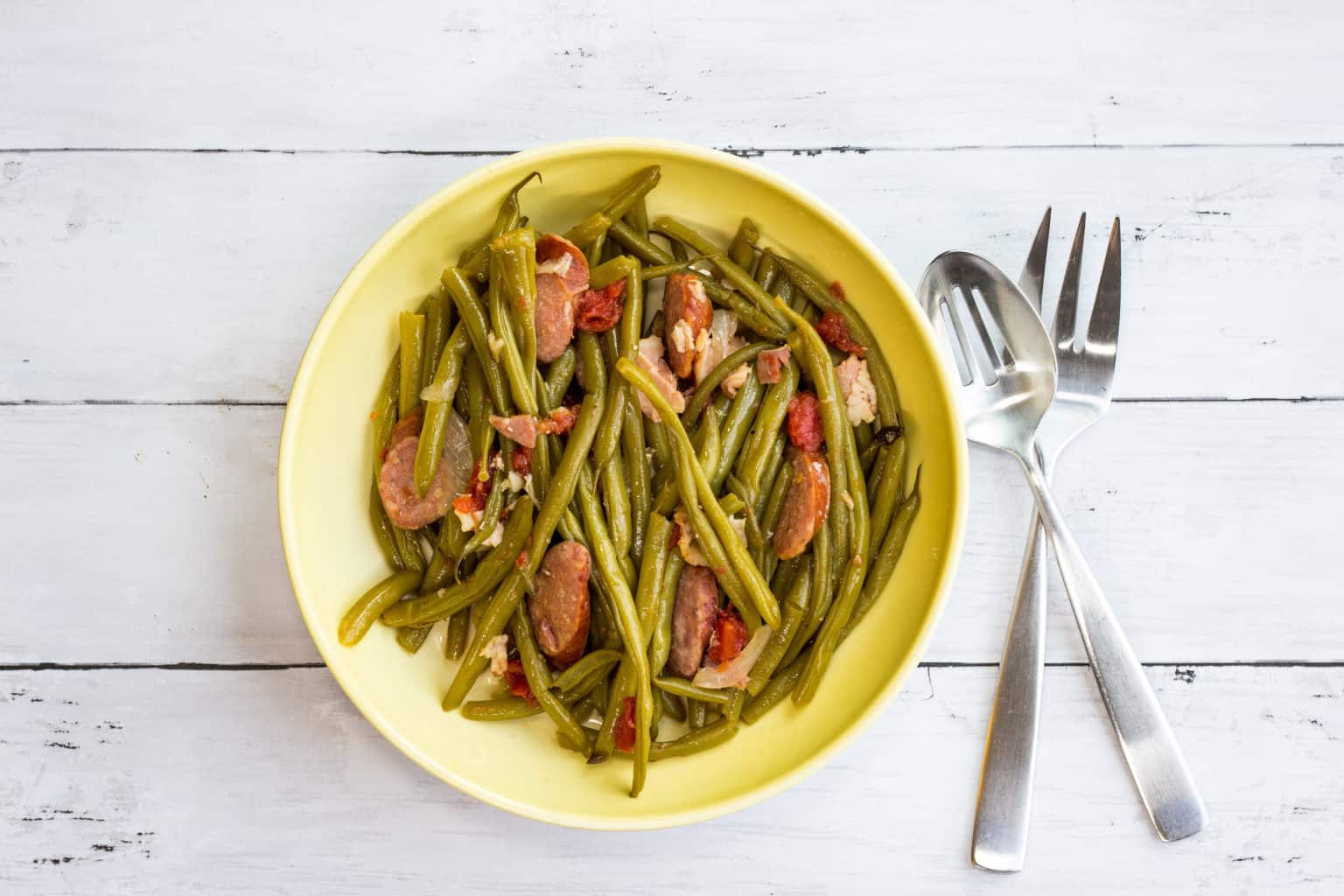 These keto-friendly Southern Style Green Beans are packed with incredible flavor, you'll be eating them before the meal is served! And, with 5 net carbs per generous 1/2 cup serving, they can be the star of your plate.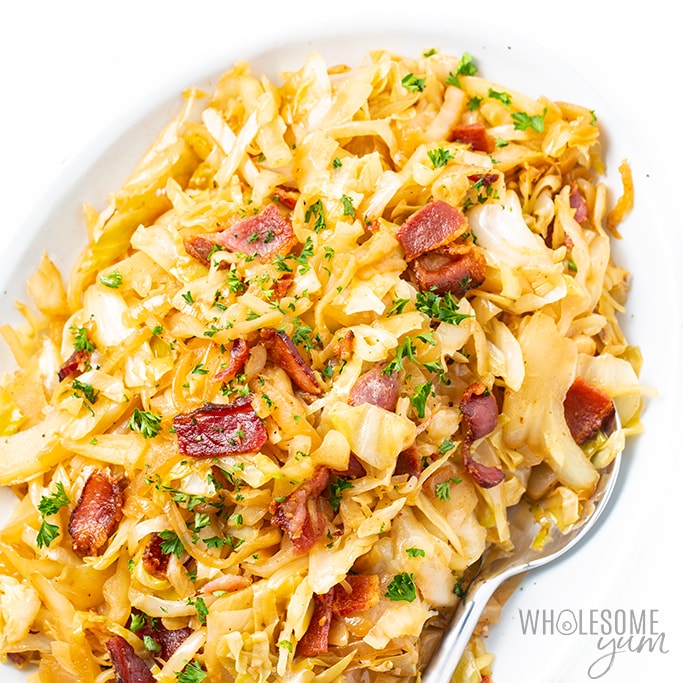 This Southern fried cabbage is quick and easy to make with just 5 ingredients! It is super flavorful and a total crowd pleaser.
photo credit: littlesunnykitchen.com
Learn how to make the best ever Southern smothered potatoes. Soft, flavorful and so easy! It makes a wonderful side to accompany any meal and can be ready in just 20 minutes.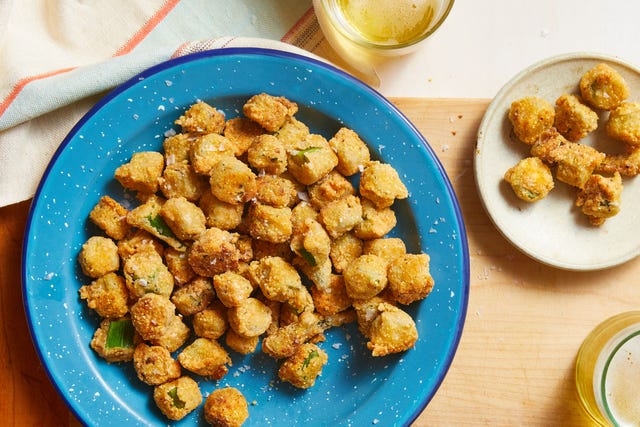 Fried okra from @delish.com is the best way to enjoy the vegetable. Dredging in buttermilk and cornmeal, then frying in a small amount of oil achieves that extra crispy and golden crust. 
Black-eyed peas are one of the most delicious Southern meals. Check out this instant pot black eyed peas recipe, and you'll love the warm flavorful taste of this ultimate comfort food.
Entrees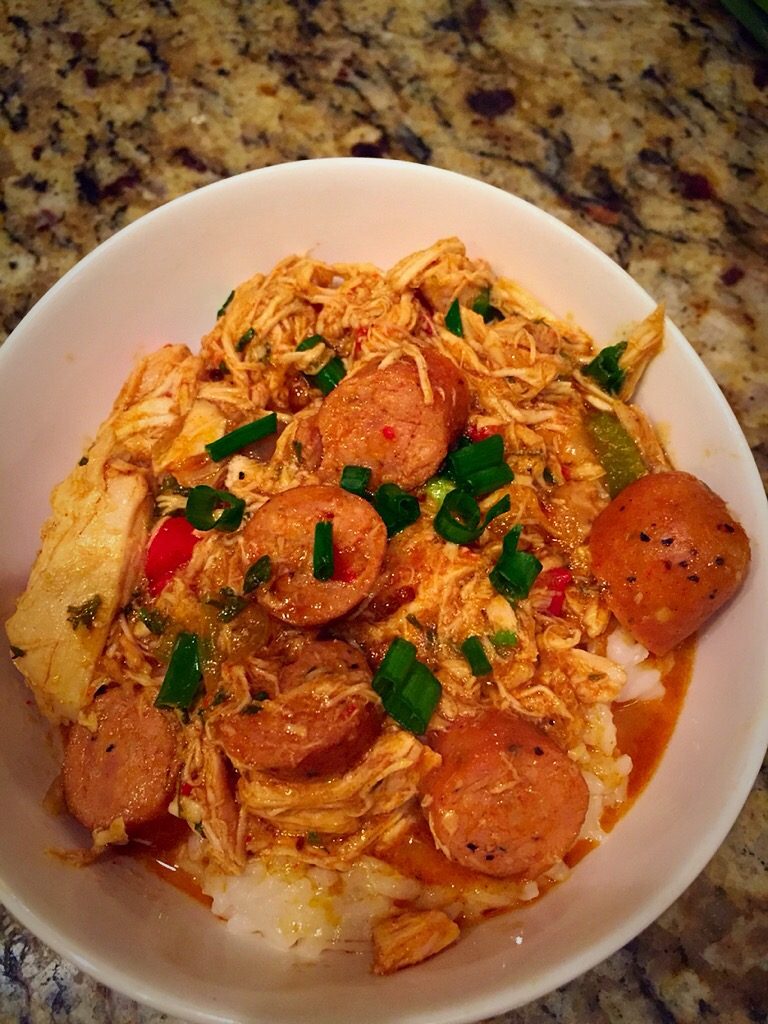 This chicken and sausage gumbo recipe is always a hit in our multicultural home. It is perfect on a cold fall or winter day! My paternal grandmother is from Louisiana, and so this is a recipe that I have learned to make and also enjoy. This recipe is a lighter calorie gumbo recipe that is: rich, filling, comforting, and easy to make.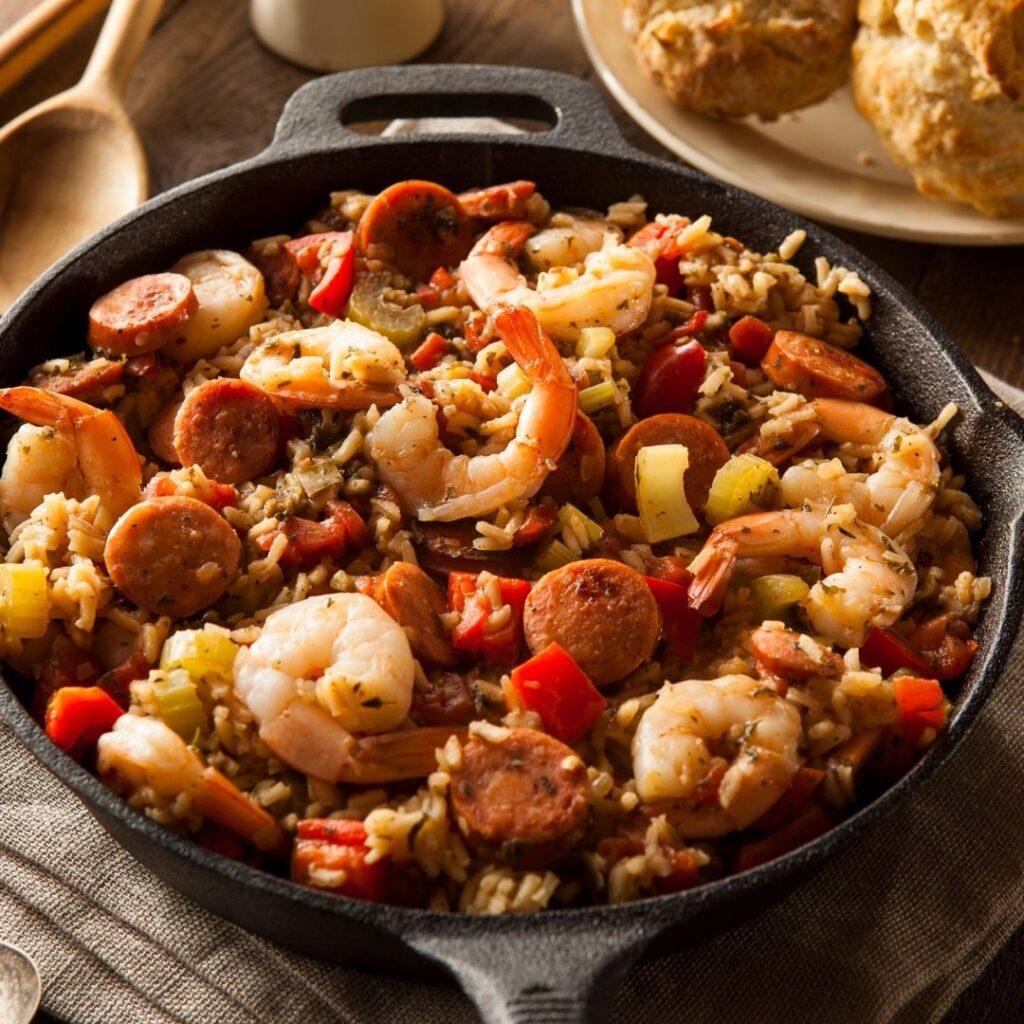 Jambalaya is a classic one-pot recipe filled chicken, sausage, shrimp, and rice. Easy to prepare and completely irresistible, this Jambalaya Recipe includes all the classic flavors of true Cajun/Creole cooking including Cajun seasoning and starts with finely diced onion, bell pepper, and celery- the Holy Trinity of Cajun Cooking.
Cajun Salmon With Shrimp & Cream Sauce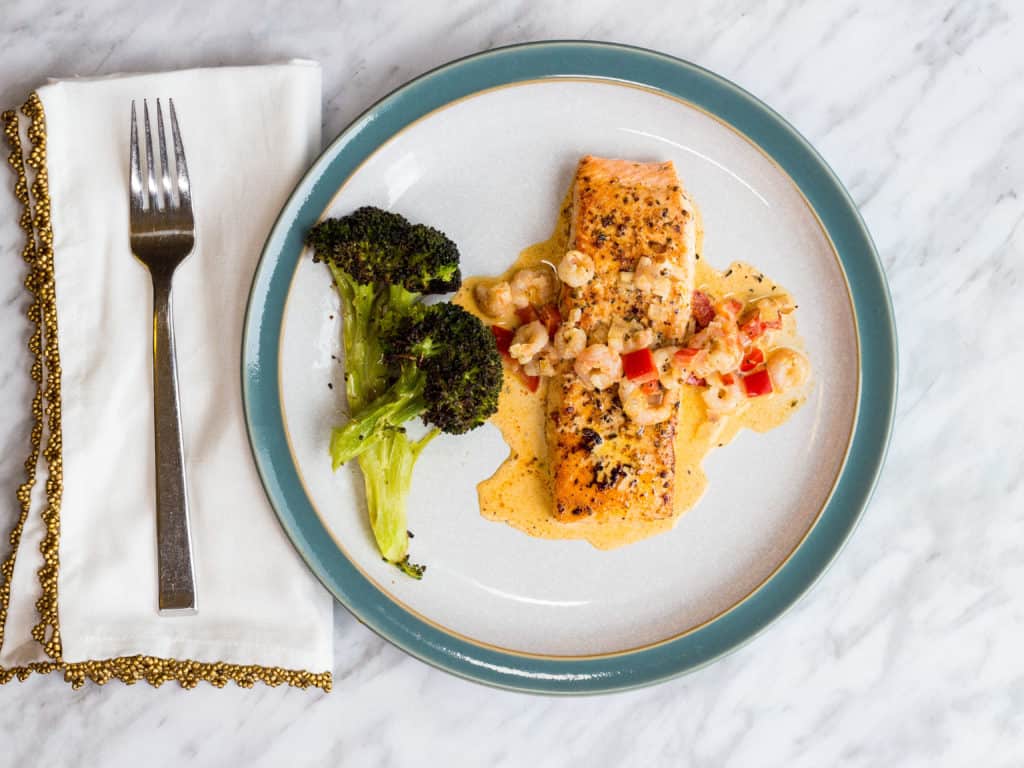 If you've been missing flavor in your day-to-day cooking, then this Cajun Salmon with Shrimp & Cream Sauce is the dish for you! This keto main dish and low-carb recipe is a one-pan wonder, but be prepared, because the sauce is so good, you'll want to scoop up every last drop!
This recipe packs a big flavor punch, but is surprisingly simple to make. Dinner can be on the table in less than 30 minutes, using only two pans!
Air Fryer Southern Fried Catfish
Air Fryer Southern Fried Catfish will knock your socks off with a perfectly crunchy Homemade Louisiana Style Fish Fry Mix.
Neely Family Spicy Fried Chicken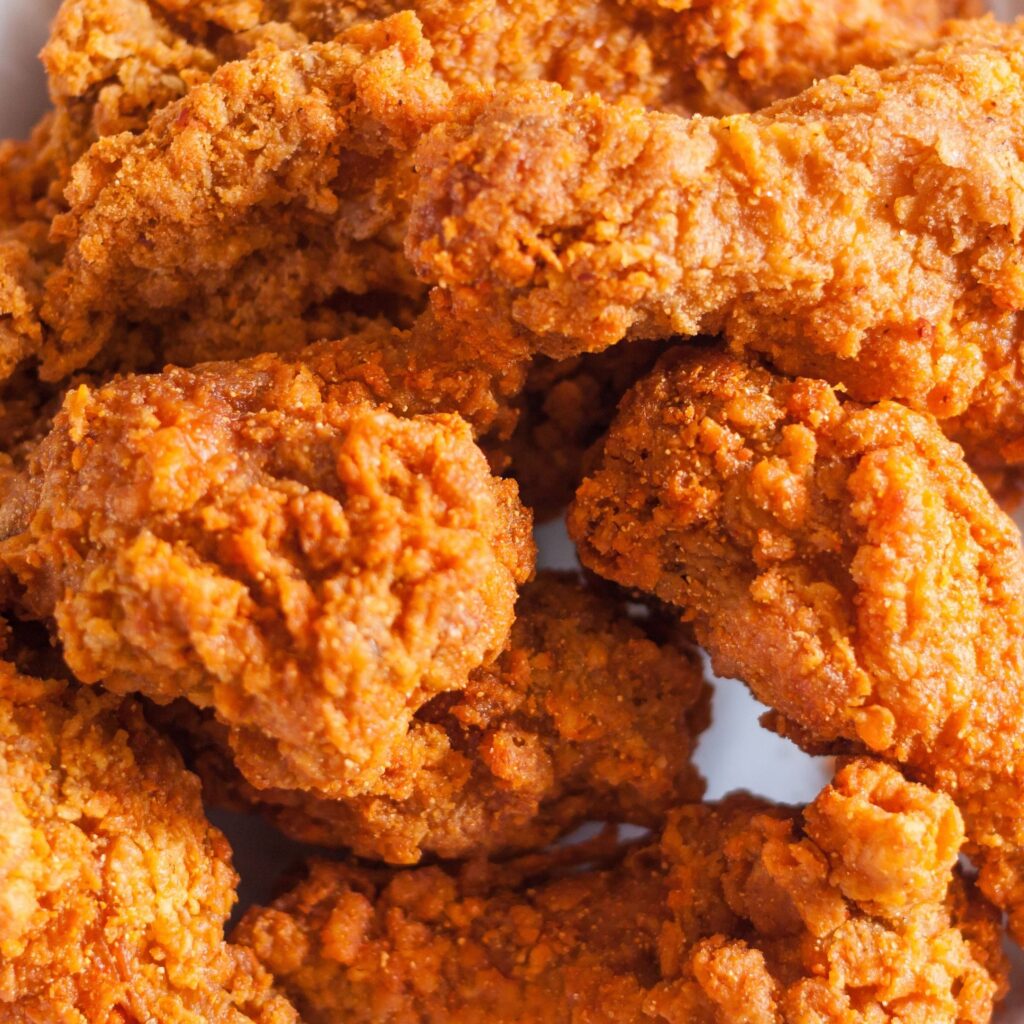 This recipe is one of my husband's favorite recipes. You can't go wrong with spicy southern fried chicken.
Dessert
Homemade Southern Banana Pudding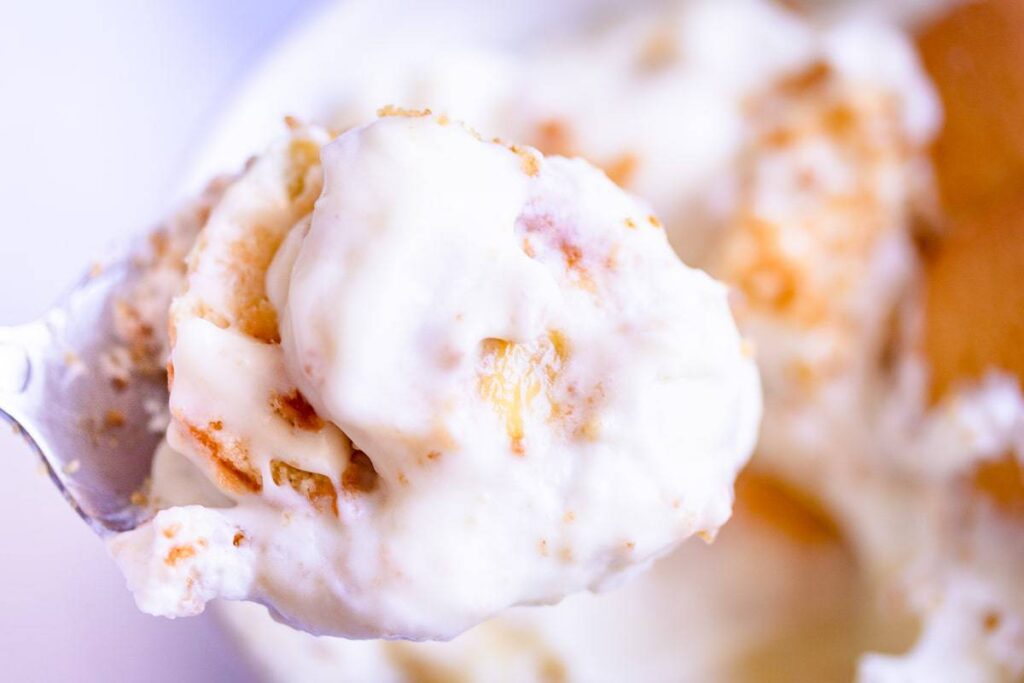 Homemade Southern Banana Pudding —layers of homemade banana-infused custard enriched by homemade whipped cream, fresh banana slices, tons of vanilla wafer cookies, and topped with a buttery cookie crumb streusel.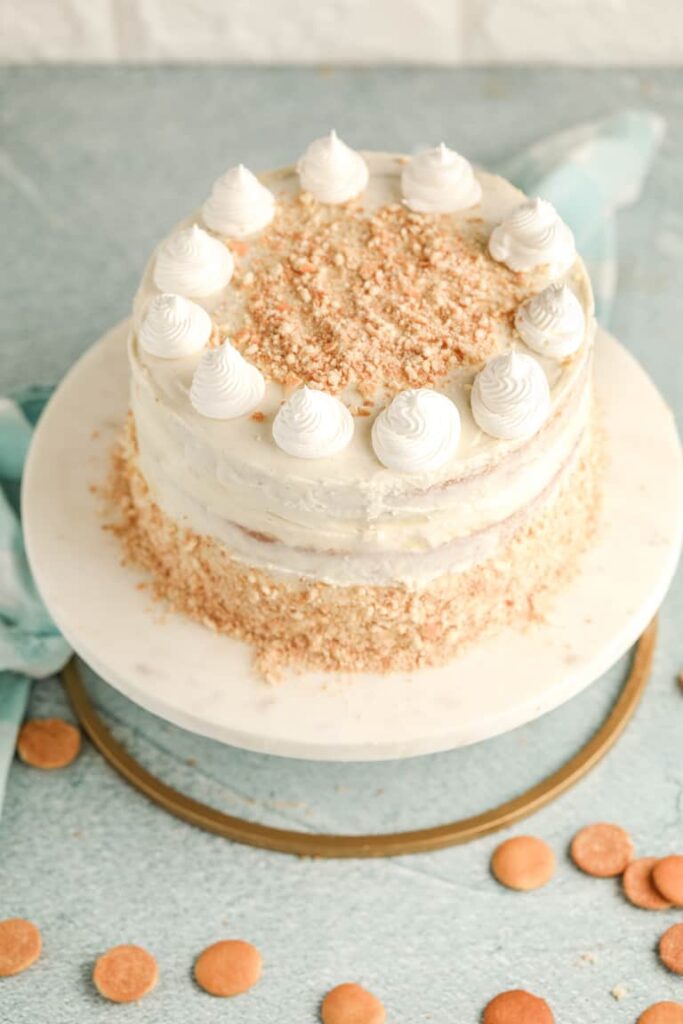 Banana Pudding is a southern favorite and everybody's grandmother has THE best recipe. Well, move over, Grandma! There is a new Banana Pudding in town.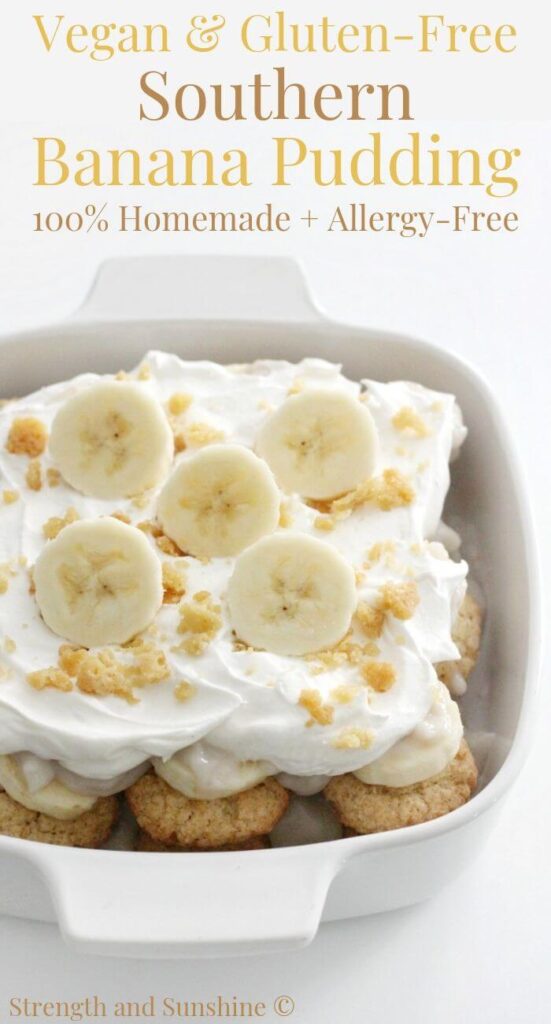 A 100% homemade, from-scratch, Southern Vegan Banana Pudding! This gluten-free, allergy-free, sugar-free twist on the old-fashioned classic dessert is too easy not to make! A no-bake recipe with layers of vanilla wafers, banana slices, vanilla pudding, and sweet creamy fluff!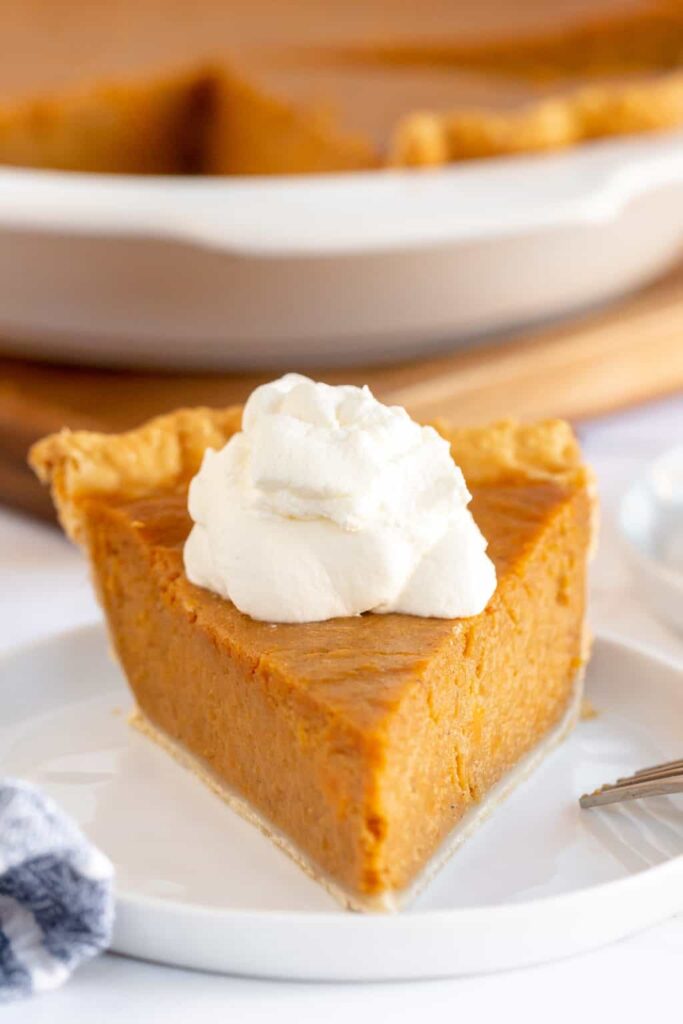 This old fashioned Sweet Potato Pie recipe is a delicious alternative to pumpkin pie for the holidays. Fresh sweet potatoes and a cozy blend of seasonings create this irresistible holiday dessert.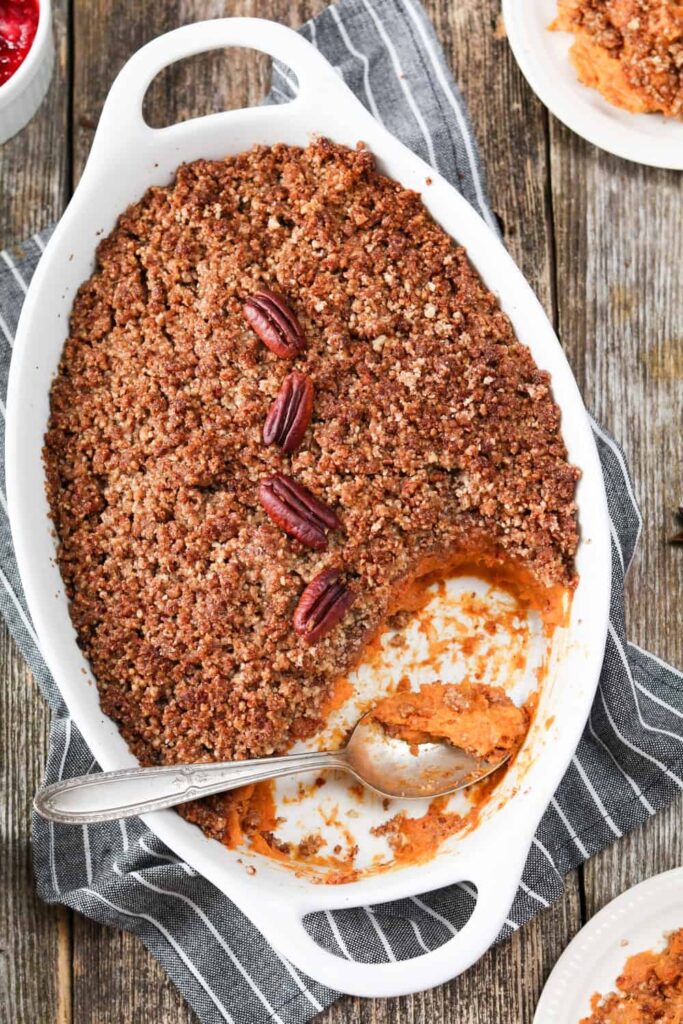 This Vegan Sweet Potato Casserole is a must-have classic for your holiday table! It's warm-spiced, subtly sweet, and a real crowd favorite!
Sweet Potato Cheesecake with Pecan Praline Topping
 Instead of a ho-hum pastry, try this Sweet Potato Cheesecake with Pecan Praline Topping.  This is an epic dessert recipe!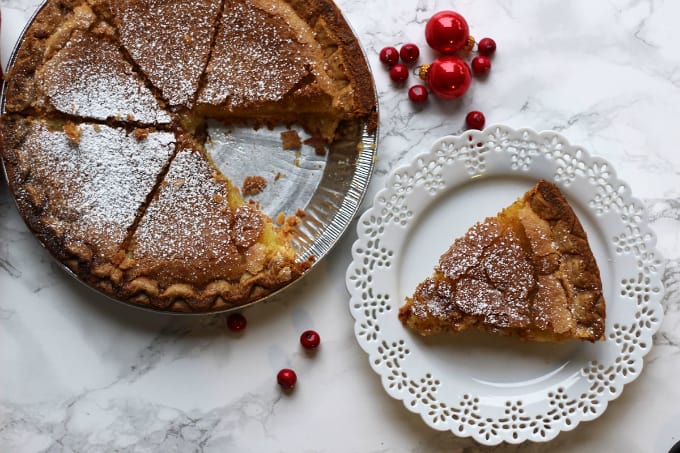 Chess Pie is an amazingly delicious Southern recipe.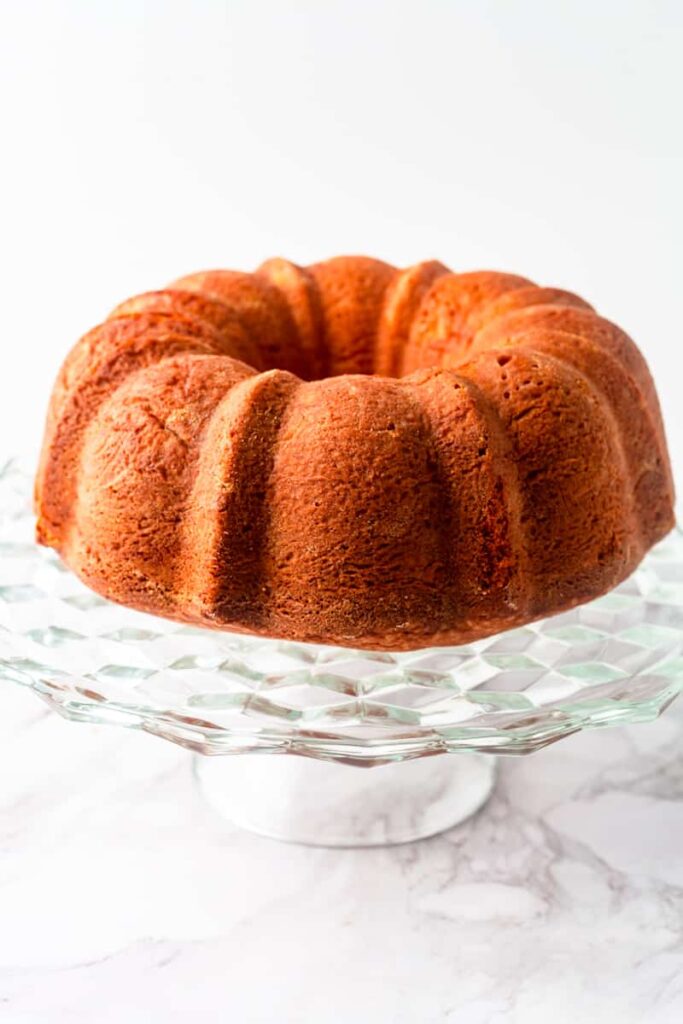 This Cream Cheese Pound Cake is dense but fluffy and velvety in texture. It's the perfect cake for particular dessert eaters who don't like toppings or sauces as it is just as tasty plain.
Southern Style Stuffing Muffins
Delicious Southern Style Stuffing Muffins takes everything we love about the taste of the traditional holiday side dish and divides it into handy portions. They're easy to put out on the dinner table or buffet in a basket which evokes a sense of warmth and hospitality.
Pin this post for later, here!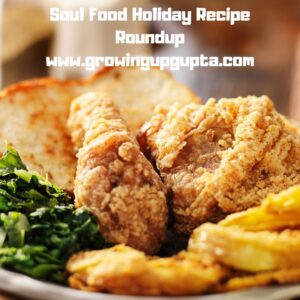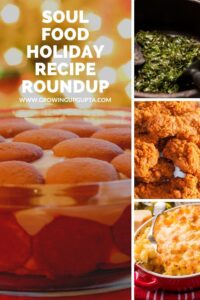 Are you following us at www.growingupgupta.com yet? Find us on Instagram and Pinterest @growingupguptas and on Twitter @growingupgupta, Facebook @growingupguptablog.
This post contains affiliate links that support the operation of this blog!