INTERRACIAL/INTERCULTURAL DATING: AFRICAN-AMERICAN WOMAN AND INDIAN MAN
FRANCESCA AND RAGHAV'S AKA FRAN 'N' NELLI'S
LOVE STORY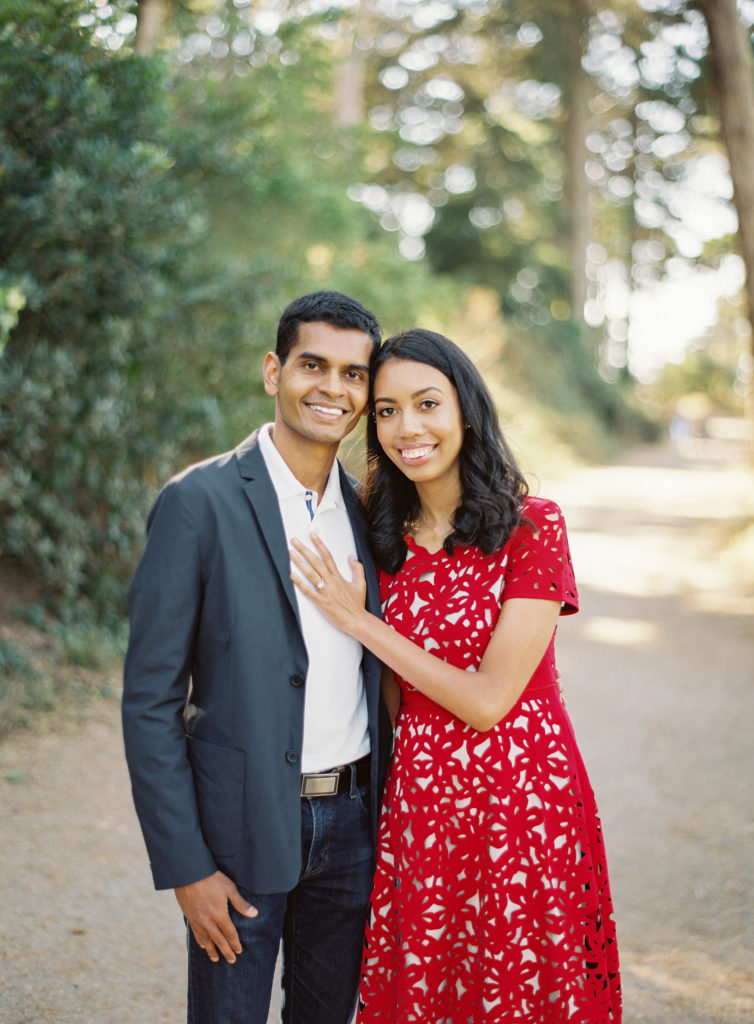 HOW WE MET
At work!  We are both engineers working on medical devices.
HOW LONG HAVE WE BEEN TOGETHER
It will be 4 years on our wedding date,
June 24th, 2017.
TOP 4 INTERRACIAL/INTERCULTURAL DATING INTROSPECTIONS
1) Don't have expectations about anything.  Expectations are a recipe for disappointment. The only thing you can do is be present in that moment.  I really admire Nelli because he is a carpe diem kind of guy.  He doesn't let one minute go by where he isn't being productive doing something he loves.  We literally don't have time for the naysayers.  We're way too busy traveling, hiking, biking, or doing other fun things.  Looking back, I wish I had taken situations and people as they were and practiced more equanimity.  Naysayers will come around when they see you are happy and passionate about something (See #2).  If not, still keep being present and focus on your life.
2) If you are passionate about something – people will notice and get involved!  Enthusiasm is contagious and it makes you want to participate in experiences that your partner is excited about!  Nelli and I are both really proud about our respective cultures (African-American and South Indian).  We love doing things together like going to: concerts, watching movies, TV,  reading and discussing history books that highlight people of color.  The best experience we recently had was going to Trinidad and seeing how our histories merged – seeing how African slaves and Indian indentured servants came to the island and became integrated was so special to us.
3) Figure out what your shared core values are and stick to them.    When people ask us how do you guys do it –  Catholic vs. Hindu? Vegan vs. Meat Eater?  We say it's easy (most of the time).  We have shared values that get us through anything. Respect.  Equality.  Adventure.  Knowledge. Compassion.  These are some examples of our values that help us when we are faced with our personal or cultural differences.  We ask ourselves how does it fit into our values?  We either both criticize and oppose the tradition, are flexible enough to make it into our own or agree to disagree and respect each other's beliefs.  We're really excited for our wedding ceremony because we will be picking traditions that are special to us and tailoring them so that they speak to our shared values.  Don't just follow tradition, make your own!
Bonus:  A lot of people ask Francesca if she's mixed with anything when she says she's African-American but she is only half!  My mother is from the Philippines so I know firsthand what it's like to be a multicultural kid!  I love my Filipino side but I identify as African -American woman.  A lot of people have this theory that mixed kids have an identity crisis but my personal belief is that it is not entirely true.  I've always known what I identified with at an early age but I became confused because of societies perception of me. Because I have straight hair, I have fair skin, I talk "white" or that I'm intelligent – they try to label me as something other than Black. I think the biggest thing that interracial couples can do for their kids is to let kids decide for themselves what they identify with (don't have expectations see #1).  Teach your kids to be confident in themselves so they can be proud and stand up to anybody and in any situation.  To me, exposing them to both cultures (although important) comes after confidence and self-love.
Congratulations again on your upcoming nuptials!
Are you in a interracial/intercultural relationship? Does this story resonate with you? What is your love story?   Feel free to post a comment and share this post.