INTERRACIAL/INTERCULTURAL DATING: INDIAN WOMAN & HAITIAN MAN
 ROSHNI AND DAVID'S LOVE STORY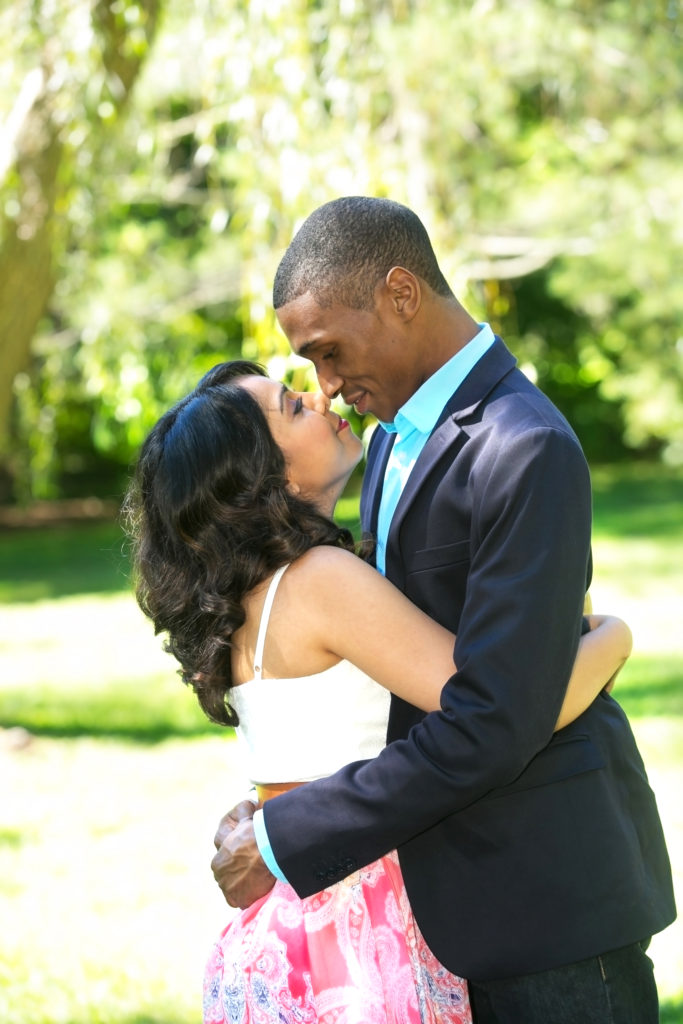 Interracial relationship!—there are two distinct but typical responses one usually gets from people who hear these words. One of the responses is a positive delight while the other, the more dominant one, is unfortunately that of a negative nature. 

INTERRACIAL RELATIONSHIPS ARE HARD
Interracial relationships are quite hard to be in. From learning, accepting, and getting used to the cultural differences between one's self and their partner to dealing with unaccepting family members; its a constant roller-coaster.  We've heard many stories where people have been less than delighted learning they have an interracial marriage within their family, and how they've actively expressed their discontent with irrational threats of disownment of said "sinful" (in their opinion) kin. But lets hear the flip side of a such a relationship where things are quite the opposite.
HOW WE MET
I met my now fiancé in New York, NY at my alma mater while I was in the last semester of my Masters in Communication Arts degree and he, David, was pursuing a bachelors in the same course. I was the teacher's assistant for his Radio class. When we decided to date, seeking the approval of the head of our course department, we were more than excited to find out where the journey would take us. You see, having been born and lived in India until only two years back at the time, I had never really interacted outside of a classroom with a Haitian-American—or anyone Black as a matter of fact. David had a lot of Indian-American friends, but none who had only recently arrived from India.
DAVID'S FAMILY RESPONSE?
David told his family about me almost immediately. They've never taken issue with different races and/or religions.  Hence everything went smoothly with his family.
ROSHNI'S FAMILY RESPONSE?
And I lived with my sister at the time while my parents lived (and still do) in India. When I told my sister about David, her initial response wasn't negative but one of skepticism. My sister being the older, much protective, sibling, I recalled a similar reaction from her each time I dated someone new, regardless of race or nationality. We both ended up not discussing it further at the time.
Fast-forward a couple of months, David came home to pick me up for the University's formal dance. That evening he met my sister for the first time. A polite handshake, a smile, and a brief conversation later, I could see my sister's skepticism alleviate. Later that night when I came back home after the dance, my sister told me, " He seems like a gentleman and I can see you're happy with him. I like him." Nothing extraordinary about what she said and I didn't technically need her approval to date David. But there was a certain sense of sweet relief, intense happiness, and a child-like excitement knowing that my sister approves of my boyfriend.
TELLING MY PARENTS–I NEVER MENTIONED HIS RACE
Within the next week, I told my parents about David over a skype call. I didn't mention his race—I didn't feel the need to. But they had an idea that he wasn't Indian. My parents were never adamant that my sister and I should marry into an Indian family. They never seemed to care about culture and/or religion when it came to the men we dated. But that was in India where most of everyone is Brown. I wasn't sure how they would react to the news of my boyfriend being Black. May be that's my I subconsciously withheld that detail. But the questions ensued and they asked if he is American. I said he is. They asked where his roots lie. "Haiti", I said in a monosyllable.
HE IS HAITIAN-AMERICAN
"Oh! Wasn't there a big earthquake there recently that destroyed a lot of homes?", asked my mom. "Yes, mum.", I replied, again, keeping it short".  "Does he still have family there? I hope they're okay.", she sounded genuinely concerned. "They're ok, mom. his Uncle's family lives there but their house was unharmed. So… you're ok with me dating him. I really like him. It might be serious and I definitely see this relationship having a future but of course, we're not there yet—that's not to say we won't get there because we most likely will." "Of course I'm ok with him! What's not to be ok about?", she chirped, "why do you ask? Dad and I trust you and if you think he's the right one for you, then you have our support."
UTTER SURPRISE
I was surprised. The next 45 minutes or so flew by as I told them about how we met and giving them little details so they could paint a picture of him in their mind.  After all, it would be long before they could visit us in the USA and I certainly had no plans of taking David to India in the near future. Over the next few months, I had Dave briefly chat with my parents over the phone/skype every once in a while. If you heard them talk, you couldn't tell David wasn't their own son.
OUR LONG DISTANCE RELATIONSHIP
Fast forward a year, I have now graduated and moved to Washington, D.C. where I found my dream job. Long distance dating was tough but not particularly horrible for us. After 2 years, when David graduated, he secured his dream job in the same company I was working for.
MOVING IN TOGETHER
My next big challenge was telling my parents Dave was going to move in with me.  A complete shocker for Indian parents who cannot fathom a physical relationship before marriage. I knew I might be pushing my luck but the worse that could happen is that they would be mad at me and disapprove of my lifestyle. They still loved Dave and that wouldn't change. I told them how it was important for us to live together specially after being apart for 2 years, only seeing each other once a month, to hone our relationship; to take the next step forward to figure where this was going. I heard the hesitation in my mom's voice disappear when my father said, "I understand why this is important for you and there's nothing wrong in it and I hope you know you don't need our permission; you're all grown up now and you live independently. I'm just very happy you thought it important to involve us in your life decisions. I hope that never changes and I wish you guys all the happiness." Again, surprise but utter happiness took over and I excitedly called Dave to tell him about it. He was surprised too. "Your parents are awesome, babe".
THE PROPOSAL
11 months later
, David asked my father, who is a jeweler by profession, to make him an engagement ring for me. That was David's way of asking for my hand in marriage. That November of 2015, David proposed to me at the Verizon Center Stadium while watching a basketball game between the Washington Wizards and Orlando Magic. We eventually chose to marry in June of 2017.
TELLING MY EXTENDED FAMILY ABOUT OUR WEDDING
Toward the end of 2016, I decided to let my extended family know about my upcoming wedding. They're the more conservative Indians. Some of them live in Belgium, some in India, and others in the USA, but not one married someone who wasn't Indian by heritage. Their approval didn't matter to me. But I was a bit worried about the backlash my parents would go through. The endless taunts, the racist behavior David would experience. But to my utter disbelief, they didn't have anything but pleasant "congratulations" to offer. Some of them joked that we now have our very own Obama in the family. David laughed when he heard that.
In two months
, my extended family from India and Belgium are flying to the US to attend my wedding. I couldn't be more happy for such an accepting family and extended family—a truly blessed situation. My parents here, with David and me, for two months now, visiting for our wedding, and sometimes I feel like I may be the daughter-in-law while he's their son.
I am truly thankful for such a wonderful life experience and I hope all you interracial couples out there get the same love and acceptance from your significant others' family.
Wow, such a truly amazing love story and open minded parents.  Thank you for sharing your story Roshni and congratulations on your upcoming wedding!  Are you in an interracial/intercultural relationship.  What did you think of their  love story?  Feel free to share this post and comment below!