BUT I'M GLAD WE DIDN'T!
"SHE DIED."
My eyes  ran across the computer screen over a million times as I took in the words "she died".  My best friend, soul sister, prayer guru, and College side kick had passed away in her sleep.  Her younger sister had written me back after I had sent her sister an email to find out how she was doing in her new city.   I couldn't take my eyes off those words because I couldn't believe they were real and Sachin was now back at my house.  He had just broke the news to his parents that he was in love with an African-American woman.
Curled up in a ball, the tears would not stop flowing and my heart ached.  Sachin ran to my side and asked me what happened. Unable to talk and say those words I nudged my computer screen towards him.  He tightly clasped his arms around me, and I looked into his eyes, and I saw disappointment and pain.  I knew that I had not been accepted and our relationship was not wanted. And in the next breath I told him that I did not want to break up his family.   I didn't want to be the one to cause a life-long ailing for them, and I didn't want to be the blacksheep (all pun intended).   "No", he said, "I will fight for you!' I will fight for us!"  And with those words I stayed.   I ran towards love and a couple of months later we got engaged.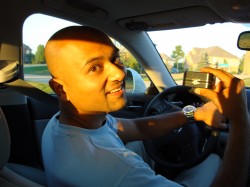 Our Engagement Story–Sachin Tells All
I felt nervous and scared asking Nikita to be my wife knowing that I was going to make a life-long decision.  The day was hectic given the number of stops I had to
make. I was worried that Nikita wouldn't get back from her business trip on time and that I wouldn't be able to get everything executed perfectly.  I had asked her sister, brother-in-law, one of my best friend's, and a mutual work colleague to help me set up the scene.
During the day, I couldn't stop calling Nikita to sing to her how much I love her.  And of course, to check up on her, and to see where she was at, and when she would be coming home.   When she got home I had to get her into a dress because I had plans for us all to go out. Yet she kept resisting me and asking why it was so important for her to change.  She finally did change once I stressed how important it was to me.
While we were in the car driving I was getting nervous yet again.  I told her we needed to walk to this new Mexican restaurant I had found to meet up with her sister and brother-in-law (she already knew they were coming to visit).  And that I had let them decide where we were going to eat.  They had chosen the location but things got awkard when Nikita spotted my friend's car and I had to convince her she was wrong.
I was ecstatic as we continued walking and saw that everything was set up perfectly– a lavish candle lit walkway overlooking the beach and the pavilion.  I walked her down the lit path to a blanket overlooking the beach and sunset.  I opened up the bottle of Moet and chocolate covered strawberries and fed them to her.  I felt my heart pounding as I got down on one knee and asked this woman that I knew was the one for me since the day I met her to be my wife and queen for life.   And she answered, YES right before the park ranger told us the beach and park were closing.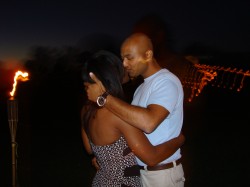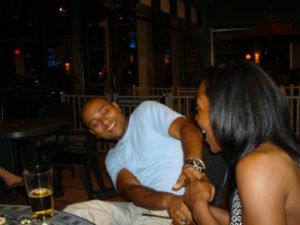 Maybe We Should Just Elope?
After the enagement took place we celebrated and went back and forth about our wedding plans. With Sachin's family being so dissastifeid with me being a non-Indian woman we thought about eloping or just getting married with my African-American family and friends in attendance.  However after Sachin was disowned and 6 months had gone by his dad and later mom turned a corner.  And they decided they wanted him to be in their life more than they did not due to him wanting to be with a non-Indian woman.
As a result, his parents finally opened the door to us having an Big Fat Indian wedding too.  Yet, the Indian wedding would have to take place a month after our Christian wedding because months earlier we had signed to have a destination wedding in St. Thomas, USVI.
Did you fall in love and decide you wanted to marry someone of a different culture or ethnicity? Was your family non-receptive? Write us. Post a comment. Share your story below.  SHARE THIS POST!   Like our content? Subscribe.
Want to know more about us? Find it in our book and ebook below, the Art of Interracial Dating.