I Grew Up In An Anti-Black Culture, Divorced My Indian Husband, And Fell In Love With A Black Man
About
Meet Melvin & Sandeep! Melvin is Black, and he was born in Virginia but grew up in Oceanside, CA. His partner Sandeep is Indian, and she was born and raised in Los Angeles, CA. Together they recently welcomed a beautiful baby girl into their family.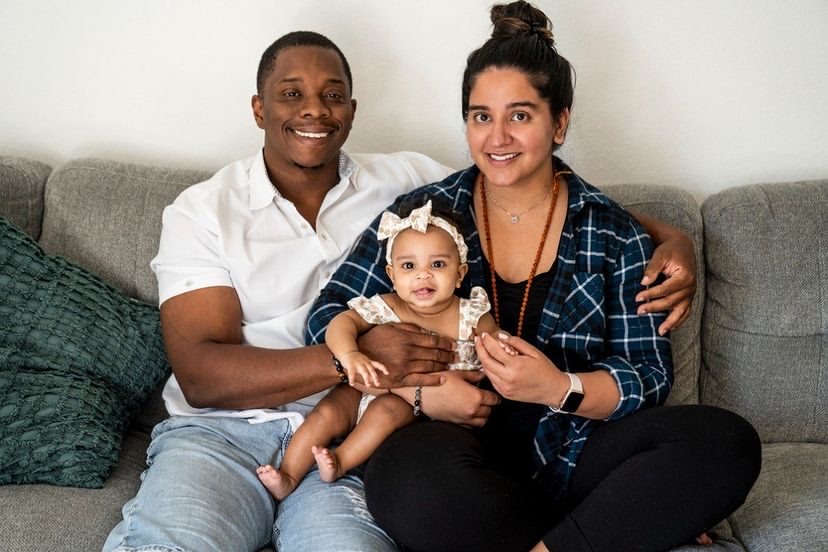 How They Met
They met on Bumble.
How Did Sandeep Know She Was Meant To Be With Melvin
Sandeep had an intense spiritual experience, and the only person she wanted to see afterward was Melvin. They have done a great deal of work on their relationship, Melvin always works hard to show up for her the best he knows how, and he has never given up on them. The day he came home with a bunch of chamomile flowers and lavender oil (after researching how to aid people struggling with anxiety) to help with Sandeep during a period of intense stress, she knew he was her forever person.
How Did Melvin Know He Was Meant To Be With Sandeep
Melvin knew they had a great shot of being together after their first date because they spent the entire day together, which is rare. And there were key moments, like when they had a big fight and sat together at the top of a mountain and talked everything through. Every time they've fought, they have chosen each other and become closer together. Melvin knew Sandeep was his chosen person because they used their arguments and fights as tools to learn more about each other, and he believes that is special.
How Long Have They Been Together
Sandeep and Melvin have been together for 3.5 years.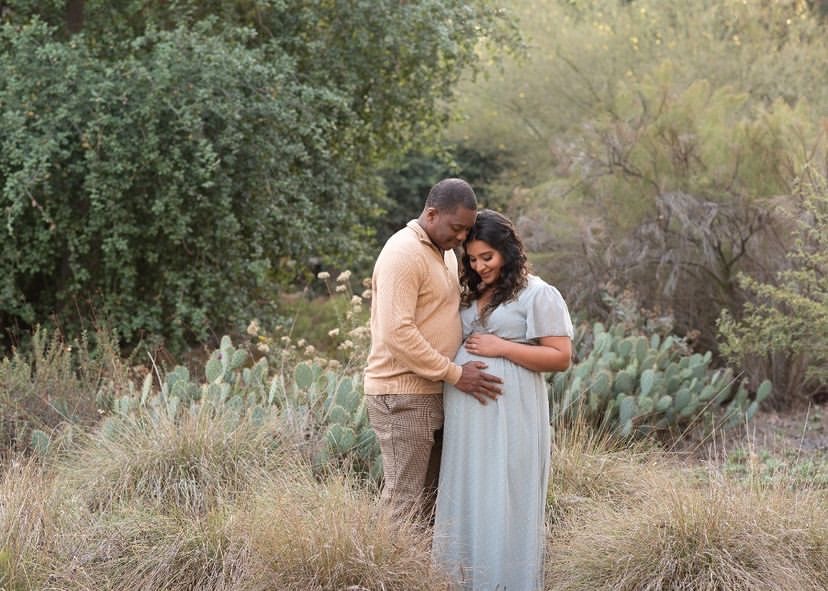 What Caused Sandeep's Marriage To End
Sandeep was married to a traditional Indian man. He was Punjabi, Sikh, tall, dark, handsome, and an aspiring surgeon with the same caste and everything. The latter part shouldn't matter, but to some people, it still does. In the end, they just were not a good fit. Sandeep didn't feel seen or genuinely accepted for who she was, and there were many problematic issues regarding how different races and ethnicities are perceived. Sandeep left the marriage because she knew she wasn't her best self in that relationship.
What Happened When Sandeep Told Her Parents About Melvin
Both of their parents want them to be happy. Sandeep left her family after her divorce, and they knew that she would stay away from them to pursue a life that was authentic to her. Sandeep could no longer live to please them.  Her family had reservations about meeting Melvin because they weren't sure if Sandeep was trying to rebel or if she was truly serious about him.  Still, they kept their minds open to Melvin because they knew that was their only option if they wanted to stay in Sandeep's life. As soon as they met him, they melted because he's so funny and kind.
What Happened When Melvin Told His Mother About Sandeep
Melvin's mom wanted to meet Sandeep when Melvin told her he was very serious about the relationship. Nonetheless she was cautious because she knew that many cultures don't accept Black men into their families, and she didn't want Melvin to get hurt.
How Was Meeting Melvin's Mother For the First Time For Sandeep
Melvin's mother and Sandeep were initially a little timid around each other. He's an only child, and she's a single mother, so at first, they were both nervous. Melvin's mother didn't realize how serious he was about Sandeep until they were quarantined together during COVID, and then she understood how much he loves Sandeep and gave them her full blessing.
What Challenges Have They Encountered For Being In An Interracial/Intercultural Relationship
Different Upbringings
Melvin had a very different upbringing than Sandeep. She grew up with privilege and opportunity, and Melvin experienced a lot of trauma and grew up in an area that had less income and fewer opportunities. Melvin had to fight for everything he's ever obtained.  It's one of the things Sandeep finds so remarkable about him – he's truly an inspiration to her.
Gossip And No Longer Believing In Marriage
One of the biggest obstacles they have had to deal with is the gossip Sandeep hears about herself and the little family they've made together (they have an infant daughter together). And Sandeep believes because Melvin is Black, her extended family doesn't take their relationship seriously. She no longer believes in marriage, so they have chosen not to get married, and Sandeep feels that people are very conservative and judge them for that. Marriage was something Melvin wanted when he first met Sandeep, but he respects her concerns, and for now, they are content being domestically partnered. They don't need a legal document to prove their commitment to each other.
Language And Cultural Differences
Outside of this, Sandeep does admit that sometimes it's difficult for her that Melvin doesn't speak or understand Punjabi. Also, she truly doesn't understand what it's like for Melvin to be a Black man. For example, Melvin is very alert when he sees police cars, and his reaction to Will Smith hitting Chris Rock was very intense. Sandeep was herself shocked about the slap that swept the globe, but it deeply impacted Melvin in a way that Sandeep wouldn't really ever be able to understand.
What Hurdles Are Melvin And Sandeep Realizing With Raising Their Biracial Daughter
Now that Melvin and Sandeep have a daughter, Sandeep gets anxious that she won't know either of her cultures very well. Sandeep is trying hard to introduce Indian foods and to talk to her in Punjabi. She also reads a lot about Black culture, and Melvin teaches her things, but it is something Sandeep thinks about pretty often.
Also, their daughter's hair is changing to resemble Melvin's texture, so sometimes Sandeep worries that she won't know how to take care of her hair correctly as it grows. Sandeep and Melvin want their daughter to be proud of both her ethnicities, but it's also crucial to Sandeep that their daughter takes great pride in being Black. She's beautiful and perfect, and her Blackness is as stunningly gorgeous as her Punjabi-ness. Mothers have a great deal of influence over how their children see the world. Thus, because Sandeep is not Black, she wants to make sure she works hard to surround herself with Black women who can make their daughter feel connected to that side of herself. It's one of the reasons she put a lot of effort into having a strong relationship with Melvin's mother.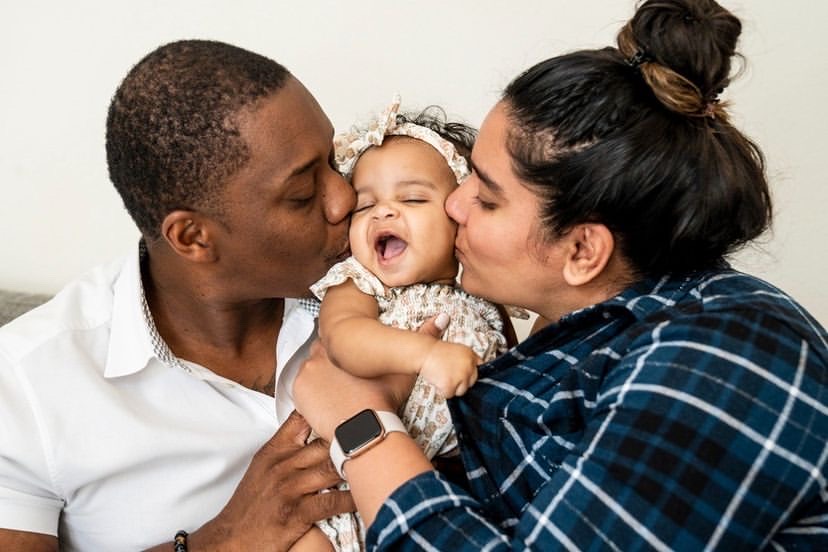 Melvin and Sandeep's Advice For Other Couples
Both individuals have to work at understanding each other.
Having kids is more work in an interracial/intercultural relationship if maintaining cultural traditions and knowledge is crucial to you.
Love is love. Sandeep never connected with anyone the way she has with Melvin, and she has never felt so loved or been so in love as she has with him.
What Do Melvin And Sandeep Love About Being In An Interracial/Intercultural Relationship
Melvin and Sandeep love teaching and educating each other about the foods and language of their culture. Sandeep also loves that Melvin is so proud of his Black identity and is always exposing her to Black culture through music and movies.
What Are Melvin And Sandeep Still Learning About Each Other
Sandeep grew up with a lot of anti-Black prejudice, so she is still learning to forgive herself for that ignorance and letting go of the guilt. Melvin is such a beautiful soul, and it hurts her to think she was so ignorant before she left her marriage. Also, Sandeep is figuring out how to balance things – she wants to actively stay connected to her culture; otherwise, she will lose that connection.
What Made Sandeep Write Her New Book, I'm Indian, He's Black: My Journey from Prejudice To Love
When Sandeep found out she was pregnant, she wanted to write a book that shared her journey. She grew up in an anti-Black culture, and it was only after untangling herself from it that she truly evolved into the woman she knew she could be. And on the other side of that evolution, she found her life partner, who, against all odds and expectations, is Black.
Hence, this book shows readers that racism and prejudice aren't always in-your-face. Frequently, they are subtle and incredibly quiet manifestations of ingrained beliefs and biases we have about people. Only by accepting where you indeed are in your personal development and engaging in some deep self-reflection can you grow and evolve as a person. By confessing her own faults, Sandeep wants to show that it's okay to accept that there's work to be done. But once you accept it, you have to take action to grow from it. Sandeep and Melvin's daughter is half-Black and presents as Black, and it's crucial that she knows how proud Sandeep is to be her mama and how beautiful, intelligent, and loved she is.
This book is for anyone who needs a tool to help educate their loved ones or wants to be an impetus to change themselves.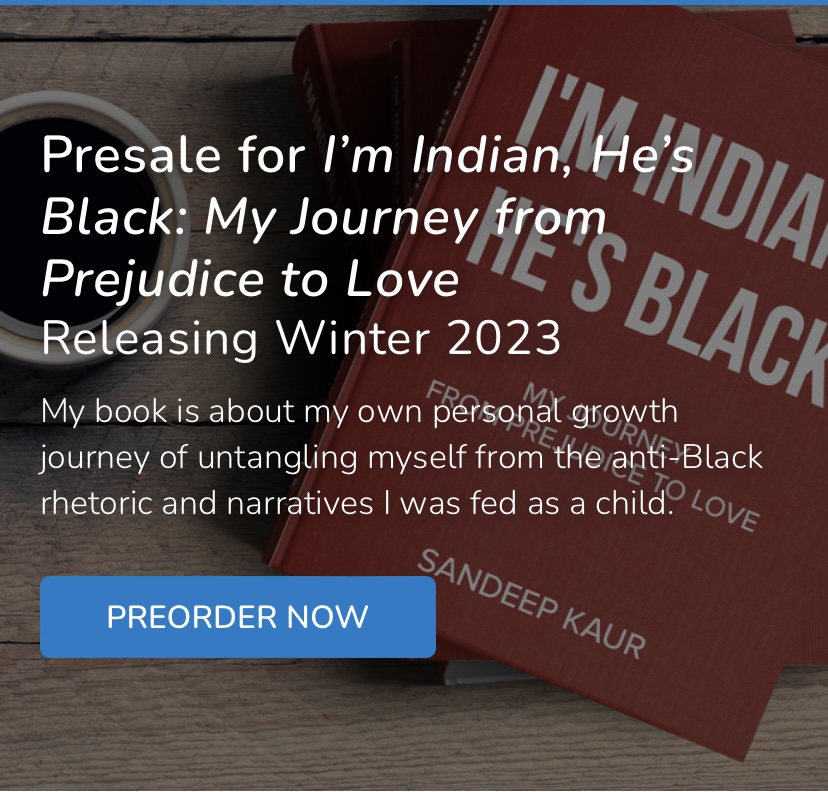 Anything They Want To Share With Others Reading This
This book was challenging for Sandeep to write! It was humbling and cathartic; She is extremely nervous about how it will be received, and a part of her is terrified of being so vulnerable. Still, she wrote it for her baby and Melvin, and she is also very proud. Lastly, Sandeep will not be taking any profit from the book – she and Melvin are donating all profits to charity. Find Sandeep's book on pre-sale here!
What did you think about Sandeep and Melvin's love journey? Want to share your story or have a question for us? Write to us at [email protected].
Pin this post for later here!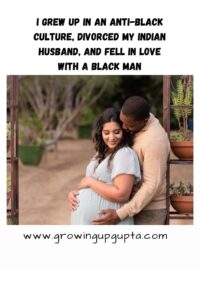 This post contains affiliate links that support the operation of this blog!