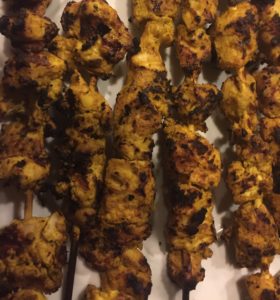 THE MOST DELICIOUS GRILLED CURRY CHICKEN KEBABS
These Grilled Curry Chicken Kebabs are super easy to make and full of delicious flavor. The chicken is moist and tender.  An added bonus is that they are also healthy and low fat Kebabs.  Yes, you can thank us later!
***This recipe was adapted from Vikas Khanna.com
Serving size 4

What You'll Need

Skewers

4 (8 ounce) boneless skinless chicken breast cut into 1-1.5 inch cubes/pieces

1 teaspoon ground cumin

1 teaspoon of ground coriander

1 cup of light sour cream

4 cloves garlic, minced

2 tablespoons of minced ginger

2 tablespoons of extra virgin olive oil

2 tablespoons of fresh lemon juice

1 teaspoon salt

1/2 teaspoon ground black pepper

1/2 teaspoon of ground turmeric

3 tablespoons of curry powder

1 teaspoon cayenne pepper

Optional: sliced lemon wedges and fresh minced cilantro
Directions

1.) Place chicken and all other ingredients into a large bowl.  Mix well making sure to fully coat each piece of chicken.

2.) Cover tightly with saran wrap or place into a large Ziploc bag.  Refrigerate for 5 to 6 hours. 

3.) Remove the chicken from the refrigerator 20 minutes before cooking and allow it to reach room temperature.  Place wood skewers in water for 20 minutes while the chicken is reaching room temperature.

4.) Preheat the grill over high heat. Arrange chicken pieces onto the skewers.  Grill the chicken until thoroughly cooked 6-7 minutes on each side; the meat should be solid white throughout and the internal temperature at 165 degrees F.

5.) Serve hot with sliced lemon wedges and minced cilantro.

Enjoy! Write us and let us know how this recipe turned out for you! Like our content? Subscribe! Post a comment below.