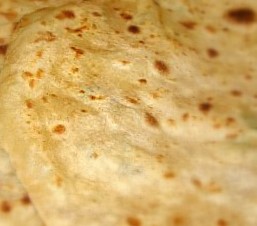 This recipe for Aloo paratha (Indian pancake/flat bread) is super simple to make. It is a hearty Indian  dish that my multicultural family enjoys! We love eating this dish for breakfast or brunch.
THE MOST AMAZING ALOO PARATHA
WHAT YOU NEED:
Ingredients
For the filling of the potato pancake
1/2 tsp cumin
1-2 green chillies, minced
1 tbsp ginger, minced
1/2 yellow onion diced
1 tsp ground coriander
1 tsp smoked paprika
1 clove of garlic, minced or garlic paste
2 potatoes, boiled, peeled and mashed until smooth
1 tsp salt
1 tbsp extra virgin olive oil/cooking spray oil can also be used
Handful fresh cilantro, chopped very finely (optional)
For the dough
1 cup of whole wheat flour
1/2 cup hot water
DIRECTIONS
To make the filling, heat the oil in a large non-stick pan. Add the cumin, ginger, garlic, chilies, smoked paprika and onions. Cook on a medium heat for 3-4 minutes or until soft and then add the rest of the ingredients.  Cook and stir for an additional 4-5 minutes. Remove from the heat and set aside in a bowl.
 To make the dough, take a large bowl and add the whole wheat flour. slowly mix in the hot water. Mix until the dough is soft and smooth, non-sticky dough. If it's sticky, add a little bit more oil and a dusting of flour.
Take a ball of dough, slightly larger than a golf ball and another of the cooled potato filling. The potato ball should be larger than the dough. Roll the dough to about 3-4″ in diameter and place the potato ball on top.
Using your thumbs and forefingers, pinch the dough closed around the filling, starting in the middle and working your way outwards. The filling wrapped in dough should be fully enclosed with no gaps or holes. Flatten the ball using the palm of your hand. Dust with flour on both sides and flip over. You will need to roll the smooth side.
Keep rolling the dough, turning it  gently as you do so. Ensure it is even all over and dust with more flour if necessary.
Heat some oil in a non-stick frying pan and carefully place  the paratha in the pan.
Cook on a medium heat on both sides until golden brown all over, add more oil to the pan as needed.   Enjoy! What recipes does your family love? Make sure to pin this post for later and post a comment below! Like our content? Subscribe!