A COMPLETE GUIDE TO AN INDIAN WEDDING
When my future Mother-In-Law returned to the U.S., I had a million and one questions, I wanted to ask her about India.  I could have rambled on: "So what is India like?,  How did you find the dress for me?, How did you know it was going to be right for my skin tone?, Who did you go shopping with?, How did you know the wedding dress was "the one" etc?"  Since a couple of weeks before she left for India she took my measurements at her home.  And she was going to have free-will to decide everything pertaining to my Indian garb for our Indian ceremony and reception.  
PLANNING OUR INDIAN WEDDING
THE WEDDING DRESS
As my Husband to be and I entered the front door, my future in-laws greeted us, and I touched their feet.  The touching of yo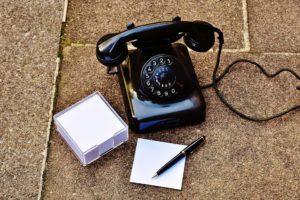 ur future in-laws feet is a common custom within Indian culture and is considered a sign of respect.  In tandem they said, "welcome home" and we promptly headed to the kitchen.  My future Mother-In-Law proceeded to hand me a garment bag and asked me to go and try the dress (lehenga) on.   As I went to grab the bag I noticed how heavy the dress was.  Surprised, my future Father-In-Law said to me, "be careful because these types of dresses are very heavy to wear."  Once in the bathroom, I immediately unzipped the garment bag and there it was the most exquisite red and gold gown I had laid my eyes on.  Completely adorned with beading that looked like it had taken months to make.  As I put it on, I felt beautiful and I was determined not to put the lehenga blouse on the wrong way this time.  
Upon existing the bathroom, my future Father-In-Law uttered, "wow, you look like an Indian princess." It was the first time, I felt his acceptance wearing a traditional Indian garment reserved for an Indian woman.  And also a garment tied to such a rich history and royalty in Indian culture.   He then proceeded to ask me, "are you going to be okay to walk in that?"  I quickly responded, "yes!"  My future Mother-In-Law asked me to turn around and began to prim the lehenga and show me how the dupatta (Indian scarf) needs to be worn.  She stated, "you'll have to wear your hair back, okay?" Nodding along, she handed me a matching jewelry set, bangles, and a bindi/tikka to go with the lehenga.  I had no idea how to put the bindi on and as I pulled it out of its packing she said, "let me help you." Heading back into the bathroom I memorized how she placed the bindi/tikka so that I wouldn't look comical on our actual wedding day.
SANGEET ATTIRE
Assuming I was all done with trying on clothing,  my future Mother-In-Law handed me a second garment bag.  She then stated, "this will be for the Sangeet."  Shocked, I hadn't even thought about what I needed to wear for a Sangeet (pre-wedding celebration).  Nonethless, I had researched it but I didn't think we would have the event because we were already married.  Back in the bathroom, I unzipped the garment bag and inside was a coral/pinkish-peach colored lehenga also heavy in weight and exquisitely detailed with beading and pearls.  I walked out and my future Father-In-Law said "this one looks great on you too!'  Who, knew you could look so wonderful in Indian clothing?' You know this wedding is going to be a three day event."
I was thrilled but also confused because I had never attended an Indian wedding.  My own Indian wedding would be my first experience because my husband had previously been disowned for being in a relationship with me/a Non-Indian woman.  Hence, the underlying tension and relationship strain was still so new, so I only ended up helping with the items my future in-laws asked me about.
THE WEDDING DETAILS I HELPED WITH
At my future in-law's request, I helped with: the guest list, our floral decorations, linens for the reception,  center piece ideas, and I created the wedding brochure for the guests.  I intentionally wanted to make the wedding brochure because I wanted to know what to expect and to be able to explain things to my African-American family members.  What more–there is so much!  Thereby, for those of you that are in a relationship with  someone of Indian descent, and/or going to be a first-time guest to an Indian wedding, or just curious here is a guidebook.
A COMPLETE GUIDE TO AN INDIAN WEDDING
WHAT TO EXPECT, WEAR,  & MORE!
THE GUEST LIST
The Guest List-Hundreds to thousands of guests attend Indian weddings in comparison to western weddings. My Father-In-Law asked me, "okay how many people do you have coming from you side?"  I replied approximately 45-50. He said, "okay we have 300."  Instantly, my jaw dropped since all my husband's family outside of his brother and his kids all live in India.  However Indian weddings are lavish and huge affairs in the Indian community.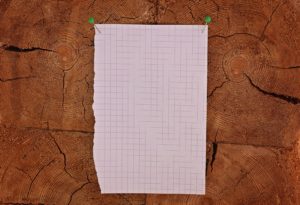 THE ENGAGEMENT ('Misri', the Ring Ceremony)
The Engagement-This event is for the exchanging of the wedding rings. The couple welcome each other with garlands and sweets are exchanged between the two families.  The engagement is often followed by a dinner party for friends and family.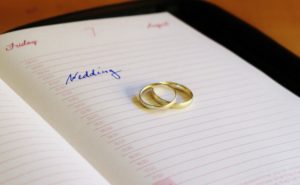 AS A GUEST- Business casual attire, salwar suit, or a sari for women.  For men jeans/pants with a collared shirt normally works best.
MEHNDI/HENNA PARTY
Mehndi/Henna Party-Henna is applied to the bride's hands and feet. It is an intricate art work and time consuming. It has to be left to dry and untouched for hours.  I had henna applied to both my hands and feet in preparation for our Indian wedding but it didn't stick. Sorely there is a saying that if the henna doesn' stick that your mother-in-law doesn't love you. There may or may not be some truth to that.
AS A GUEST-  Usually only female family members and wedding party guests of the bride have henna applied to their hands and/or feet.  It is messy but beautiful after dried and lasts for weeks (or so I'm told)!  Attire: Business casual/salwar suit outfit for women if this is a standalone party.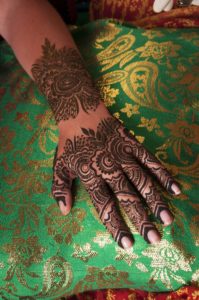 THE SANGEET
The Sangeet-This event is a pre-wedding party.  The bride and groom normally wear formal Indian attire.  The bride a lehenga or sari and the groom wears Kurta Pajamas with coordinating shoes. Here is a pic of my husband and I during our Sangeet at my future in-law's home.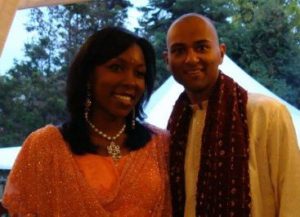 AS A GUEST- Wear something colorful for the occasion however not to fancy. It is more of a business causal, salwar suit or a sari outfit for women and pants with collared shirt for men.  This event is filled with music, singing dancing, laughter, and delicious Indian food. This is also an event where the bride and groom's families often perform traditional Indian dances.  I decided to surpise my husband and I performed a dance for him.  Of course, everyone in attendance was shocked because I taught myself an Indian song and dance in a matter of a day.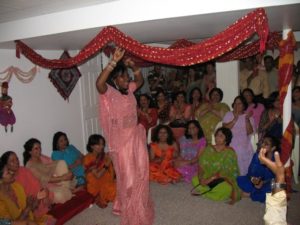 THE BRIDAL DRESS
The bride traditionally wears a red and gold bridal gown/lehenga of her choosing. It is often quite heavy and ornate. However many brides in the U.S. are opting to wear white with gold and red accents as a means of cultural balance.
White isn't traditionally worn by an Indian bride because it is customarily worn by widows and for funerals.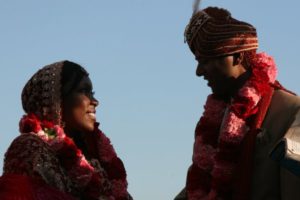 WHY RED & GOLD?
Red is a dynamic color.  It is a symbolic of wealth, purity, and fertilizity in Indian culture.   It incites fear and is the color associated with one of the most revered goddesses in Hindu mythology – Durga. Her fiery image is enhanced by her red tongue and almost red eyes. Red also stands for purity and is the preferred color for a bride's garment. Red has a deep meaning in the Indian psyche. Source: http://www.sensationalcolor.com.  The color gold is associated with grandeur and opulence.
MATCHING JEWELRY/ACCESSORIES
The brides bangles, earrings, and neckalace normally match the dress.  The lips and nails are traditionally painted in red. I learned this the hard way as my future Mother-In-Law walked into the bathroom of the place where we were having our Indian ceremony, and said, "No, no, no more red to your lips!"   And my nails which I had just had freshly French manuicured she said, "No, red polish!" and pulled out red nail polish from her purse, and quickly applied it to my fingernails.  The shoes are up to the bride.
THE BINDI
The Bindi- Bindi's have long been worn by women of Indian heritage. It was a symbol that they are taken/married. Its placement between the eyes is meant to wardoff evil.   However in the U.S. it is also worn by unmarried women for decorative purposes. If you feel comfortable wearing a bindi go for it.
HAIR
The Hair-For the ceremony most brides wear their hair back or up so that it can fit the dupatta and later change the style for the ceremony. The dupatta is normally very heavy on the head. I wore my hair up for the occasion.
GROOM'S ATTIRE
Groom's attire- Most  groom's wear Kurta Pajamas like these shown below for the wedding with coordinating shoes.  My husband opted to wear a new suit my parents purchased for him instead of the Kurta Pajamas for our wedding.  He did however wear wear a traditional men's turban like the one shown below.

THE BHARAT
The Bharat- This is the groom's procession to the wedding ceremony. It is a grand event in itself with the groom arriving on a horse or elephant (if you can find a city that allows such).  The groom will traditionally hold his youngest male relative /nephew and there will be dozens, hundreds, and/or even thousands of people dancing around the horse as it proceeds to the ceremony location.
Here is my husband during his Bharat.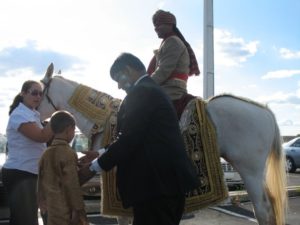 THE CEREMONY
The Ceremony- Decorations are traditionally very colorful and vibrant.  A mandap is put in place for the bride and groom.  The bride's family sits on one side and the grooms family sits on the other side.  There is food and drink (see our picture below), laughter, walking around a fire 7 times (7 wedding vows ), involvement of extended family etc.
***As a bride make sure you walk slowly down the aisle.  I was walking to fast down the aisle; although the same speed I had at our Christian ceremony and my future Mother-In-Law gestured slow down, who knew?  Also bridesmaids are not traditionally had in an Indian ceremony but in the U.S. they are becoming more prominent. I had my bridemaids from our Christian ceremony that could attend walk prior to my procession down the aisle.
AS A GUEST-Business attire,  salwar suit, lehenga, or a sari for women. A suit for men or collared shirt and dress pants.  ***There are often a number of hours between the ceremony and reception and many choose to change attire.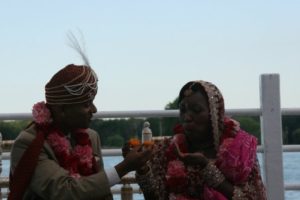 THE RECEPTION
The Reception- This is a grand affair with tons of decorations and other decorative displays.  The groom and bride are normally center stage. Here is a picture my husband and I below. There is tons of laughter, music, dancing, performances (see pic below), speeches, and food. The food is customarily Indian vegetarian but many families are branching out to also include Indian non-vegetarian and other cusines to suit a variety of guests.
AS A GUEST- Attire-formal/black tie, lehenga or a sari for women. Men usually wear a suit with tie.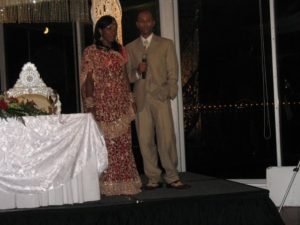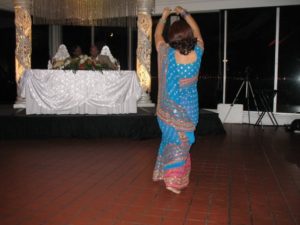 NO BOX GIFTS
NO BOX GIFTS-I hadn't heard of a wedding where there are no gifts but Indian weddings normally request no box gifts. Hence at the ceremony there is a money box that you can place your monetary gift in. Make sure to place it in an envelope like this one shown below (it is a traditional Indian money envelop)– I was amazed to find these on amazon.  Also in my family we gift in odd numbers (more to come on this) so instead of giving $50 you give $51.  For some reason an odd number gift is tied to good luck for the recipient in Indian culture.
POST WEDDING HOME COMING
The bride leaves for groom's home, where family members of the groom welcome the married couple in a ritual known as Grihapravesa (a home coming).  This ceremony typically requires participation of the groom's family.  The bride normally wears a traditional Indian clothing (e.g. a lehenga, salwar, or a sari).
AS A GUEST- Business casual/salwar or a sari for women. Men collared shirt and pants.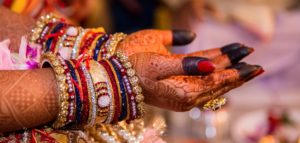 Have you attended an Indian wedding? What did you think? Post a comment! Like our content? Subscribe! Have a question for us? Write us at [email protected]
Are you interested in even more comprehensive guides on weddings: Before the wedding, the wedding ceremony, the wedding reception, the services for your wedding, the wedding banquet, health and beauty, wedding fashion, honeymoon and after the wedding? Check out this site: https://www.weddingwire.in/wedding-tips