12 Fun Ways For Cross-Cultural Families To Celebrate Diwali
What Is Diwali
Diwali (Deepavali aka Deepawali or Dipawali) is known as the festival of lights. It is one of the most popular and eagerly awaited festivals in India.  Diwali in Sanskrit means rows of lighted lamps, and it is customary to light up your house with a majestic assortment of candles and small clay oil lamps.  In Hinduism, it signifies how only light can dispel darkness, and it commemorates good's victory over evil, and knowledge over ignorance.
When Does Diwali Occur
Diwali is a 5-day celebration that occurs in October or November.  It is the same as "kartik"month in the Hindu calendar.  This year, in the United States it is on Sunday, November 12, 2023.
Diwali Crosses Cultures and Religions
As a festival, Diwali is a time for reflection, celebration, and gift giving.  It is regarded as a commemoration of life, and it is considered an important occasion to strengthen family and relationships.  In many parts of India, it marks the beginning of the new year like New Year's in the United States of America.  Additionally, it is a festival that stretches beyond cultures and religions.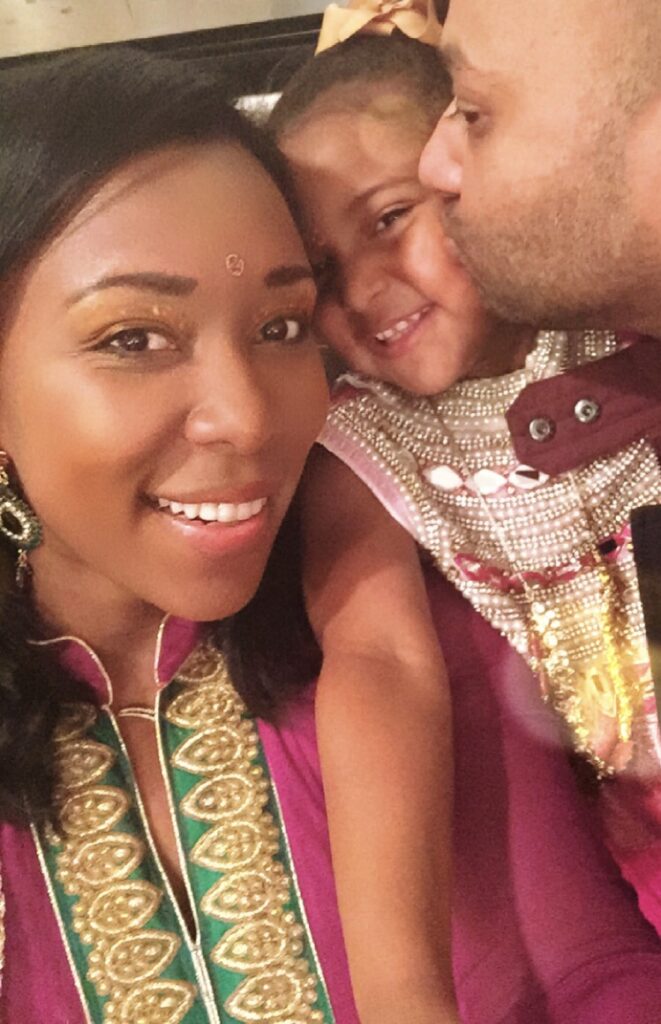 Celebrating Diwali As A Cross-Cultural Family
Once you marry into a different culture than your own, it means you get to discover everything about your spouse's family traditions.  It imparts you with the opportunity to determine how you will pass on the traditions or create new ones within your family.   These are traditions that will be passed on/continue for generations to come.  Grasping and remembering what to do for your spouse's cultural holidays can be overwhelming and intimidating, but it is vital for your family unit.  It provides you with a better understanding of your spouse, and it is salient for how you will raise your children.
For this reason, as an African-American and Indian family, we purposefully celebrate the major festivals and holidays from both of our cultures.  We believe it helps our daughter to learn about and to identify with both cultures.  And even more paramount, it lets her understand that she entirely belongs to both cultures.  Today we are sharing a list of 12 fun ways for cross-cultural families to celebrate Diwali.
12 Fun Ways For Cross-Cultural Families To Celebrate Diwali
1.) Read books about Diwali with your kids
Here are three excellent books about the festival of lights.
Let's Celebrate 5 Days Of Diwali

Ages: 3 – 7 years
Grade Level: Kindergarten – 2
Pages: 40 pages
Language: English
Learn about the 5 days of Diwali – India's Festival of Lights. In this multicultural and educational series from Bollywood Groove, join Maya, Neel and their pet squirrel, Chintu, as they visit their Aunty Eesha in India to celebrate 5 Days of Diwali.  Kids will learn about Dhanteras, Choti Diwali, Diwali, Saal Mubarak and Bhai Dooj through this fun and beautifully illustrated story.  Kids will also learn about food, language and cultural elements of India while making two new best friends.
The Diwali Gift
Ages: 0-8
Grade Level: PreK – 2
Pages: 48 pages
Language: English
Join the 3 Curious Monkeys – Suno, Dekho and Jaano – as they discover the most auspicious, wonderful Diwali Gift!
When a mysterious package arrives just in time for Diwali, the three friends can hardly contain their excitement!  Sparklers?  Bangles?  Diyas?  Whatever could it be?  Discover the most special gift of all  n this tale of tradition, curiosity, and fun!
Baby's First Diwali
Ages: 3+
Grade Level: Preschool and up
Pages: 14 pages
Language: English
Celebrate Diwali with this delightful baby board book that little ones will adore.  The bright and colorful images in this book are the perfect way to discover Diwali together.  From the shining diya lamps that gave the festival its name, to colorful flower decorations, to sweet treats, Baby's First Diwali features all the familiar favorites associated with India's biggest and brightest holiday.
2.) Learn and sing songs about Diwali together  
Here are some cute rhymes and songs for kids about the festival of lights.
3.) Make some crafts and play some games together as a family
Diwali is a vibrant and merry celebration with symbols of flowers, fireworks, candles and lights, and Rangoli.  These are excellent and unique crafts (e.g., greeting cards, bangle candles, lamp holders, etc.) to make for Diwali from Parenting Healthy Babies and Kids Art And Craft.  And this is a complete craft kit for kids for Diwali in case you don't have time to get all the supplies you need for crafts.  Finally, if you are looking for a fantastic South Asian influenced subscription box for children filled with monthly craft activities and books, then check out Tokabox!
Looking for a cute game to play during Diwali?  Check out Diwali Bingo! Diwali Bingo is a set of 18, shaped bingo cards and markers that are professionally printed and double-sided on sturdy cardstock paper.  Setup play by simply folding and tearing the perforated call sheets to create caller chips. Designate a bingo leader to pull caller chips from a bowl.  Hand out bingo cards and one perforated marker sheet to each player.  Have each player fold and tear along the dashed lines of their perforated marker sheet to create twenty-eight square markers; which is plenty of markers to allow for full coverage play.
4.) Decorate your home
Have your kids do their chores/help with cleaning the home before you start to decorate for Diwali. Once you are finished cleaning, you can decorate the house together.  Here are some fabulous decorating ideas!
Hang up gorgeous Diwali themed art like this from Masala My Life.
We can't get over this "Life is Brighter at Diwali" canvas wall art.  It is the perfect, stylish touch to bring the feeling of Diwali to your home! The saying "Life is Brighter at Diwali" is displayed on a bold watercolor background.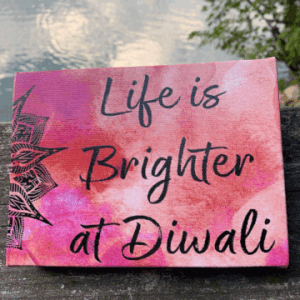 Place a colorful toran on your front door. 
A toran, also known as Bandanwal, refers to a decorative door hanging in Hinduism.
Drape string lights around doors and windows (we love to do this). 
Decorate various areas of your home with marigold flowers, as shown by Ariyona Interior below.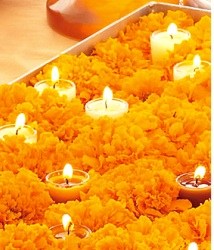 Hang paper lanterns like these (shown below) in rows.  
You can hole-punch them and string them together as a festival of lights party banner or hang them individually as ceiling decorations.
Looking for even more Diwali decorating ideas?  Find them here and here.
5.)  Have your kids help you prepare a dish or dessert for Diwali
Desserts are the highlight of every Indian festival.  These are some devour-worthy choices for dessert:  Coconut burfi, quick and easy brown sugar and cardamom infused sweet potato casserole, Diwali almond joy bites, The Banana Pudding Recipe You Need To Try Right Now, The Easiest Flourless Peanut Butter Cookies. And here are a couple more dessert ideas from food.com.
6.) Dress up in new clothing
Our daughter loves Indian clothing.  And so on Diwali, we make sure to gift her with new clothing and dress up as a family too. Here are some awesome Indian clothing ideas for kids and ones you may have seen our daughter wearing on Instagram.
7.) Turn on all the lights in your home
Lights and diyas (oil lamps) are the essence of every Diwali.  Make a game out of having your kids help you turn on all the lights in the house.
8.) Have a virtual family dinner party, or a get-together
Here are some scrumptious dinner recipes: Tandoori Chicken Recipe You Have To Try Now, Grilled Salmon With Pineapple Salsa, Indian Kebabs and Biryani Rice, Aloo Gobi, and Chicken Tikka Pizza.  And here are 220+more potluck and  recipe ideas.
Need a sample menu? Here are some sample menu ideas from the Chef and Her Kitchen.  Finally no party is complete without party supplies. Check out these party supplies below!
9.) Have a family bonfire with smores and Indian sweets
Who says smores are only for the summertime?! We enjoy smores and Indian sweets year-round and love talking about what my husband loved about Diwali as a child.
10.)  Light sparklers as a family
Sparklers are handheld fireworks that are perfect for the festival of lights.
11.) Watch a Bollywood movie together
12.) Attend a Diwali event (online or within your local community)
Many cultural centers are having face-to-face and virtual festivals this year.  You can do a quick google/internet search or check out local Indian magazines for more virtual Diwali events.
This post contains affiliate links that support the operation of this blog!
Pin this post for later! Like us on Facebook @growingupguptatheblog, on Twitter @growingupgupta, and on Instagram and Pinterest @growingupguptas.
What fun things do you like to do as a cross-cultural family for Diwali?  Comment below or write us @[email protected].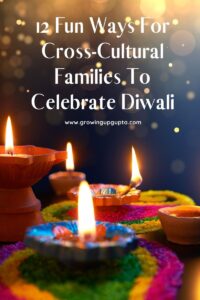 Are you following us at www.growingupgupta.com yet? Find us on Instagram and Pinterest @growingupguptas and on Twitter @growingupgupta, Facebook @growingupguptablog.
This post contains affiliate links that support the operation of this blog!