GRILLED SALMON WITH PINEAPPLE SALSA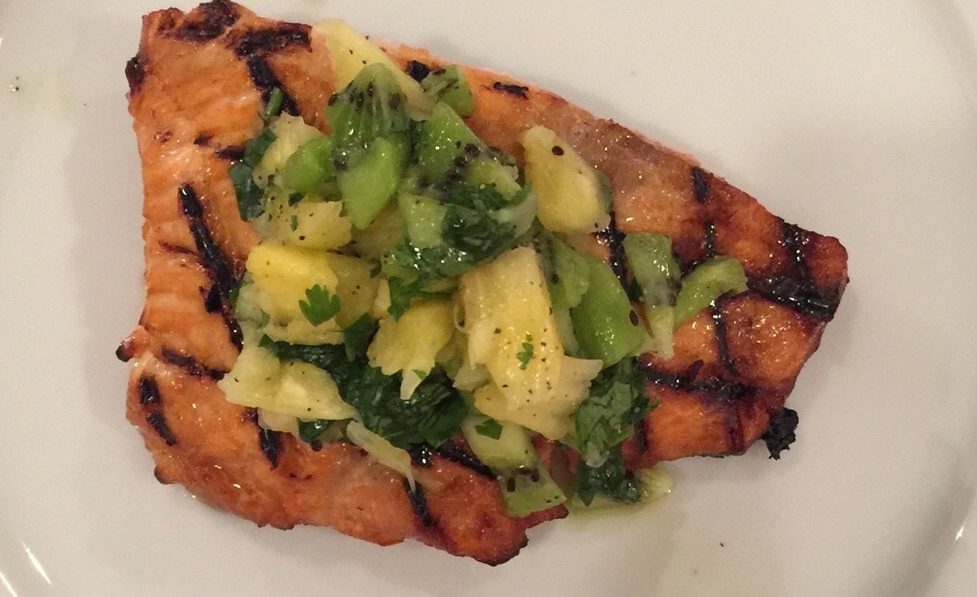 Who doesn't love a great summer recipe?  This grilled salmon with pineapple salsa is perfect for summer.  It is one that I snagged from my brother-in-law to add to the blog.  If you know my brother-in-law, or any thing about the men in the Gupta family then you know that they are the ultimate foodies.  Yes, they can watch the Food Network 24/7!
My brother-in-law takes things to a greater level as he hopelessly wants to be on par with Gordon Ramsey or Vikas Khanna. His from scratch recipe creations sing in your mouth and his food innovations seem boundless.  The first time he stepped foot into the kitchen of our home, he enthusiastically uttered, I'm making breakfast!"  I secretly thought to myself say, what?  Nonetheless breakfast was outstanding!
Hence when he showed me this grilled salmon with pineapple salsa recipe creation we had to share it with you all!  As a recipe, it is one that is healthy, light, and bursting with flavor.  We have added it to our family favorites.  Write us and let us know what you and your guests think of this amazing dish?
Grilled Salmon




6 oz Salmon Fillet



3 TBS Agave  



5 TBS Citrus Ponzu Soy Sauce

Cilantro (a handful)

1 Lime

Pinch Himalayan Salt

1 Kiwi

1 Slice Pineapple freshly cut

Directions


1.) Marinate salmon fillet with a little salt, agave and Citrus Ponzu sauce.  
Marinate for 4 to 5 hours in refrigerator. 





2.) Heat grill or grill pan to sear salmon on both sides.  
Once you have seared and have nice grill marks on both sides of the salmon, 
you can continue to cook on the grill or remove and put in the oven.  
Cook for 1 minute for every ounce.



3.) Peel Kiwi and chop along cilantro along with pineapple.  Combine kiwi, pineapple and cilantro and squeeze with juice of lemon.



***You can also substitute mango's or strawberries instead of kiwi.  You can add any of these together to create a different flavor salsa.
Let us know how this recipe turns out for you. Enjoy! Like our content? Subscribe!