We Found Love On Snapchat
Interracial And Intercultural Dating: African-American Woman And Indian Man
​"Many people asked Ash why he has a Black girlfriend. Everyone expected him to have a blonde girlfriend with blue eyes now that he lives in the U.S.A. "
About
Meet Logann and her boyfriend, ​Ash! Logann is African-American, and she was born and raised in Alabama, U.S.A. Ash is Indian, and he was born and raised in Kerala, India. He is also an international student who moved to Alabama for College.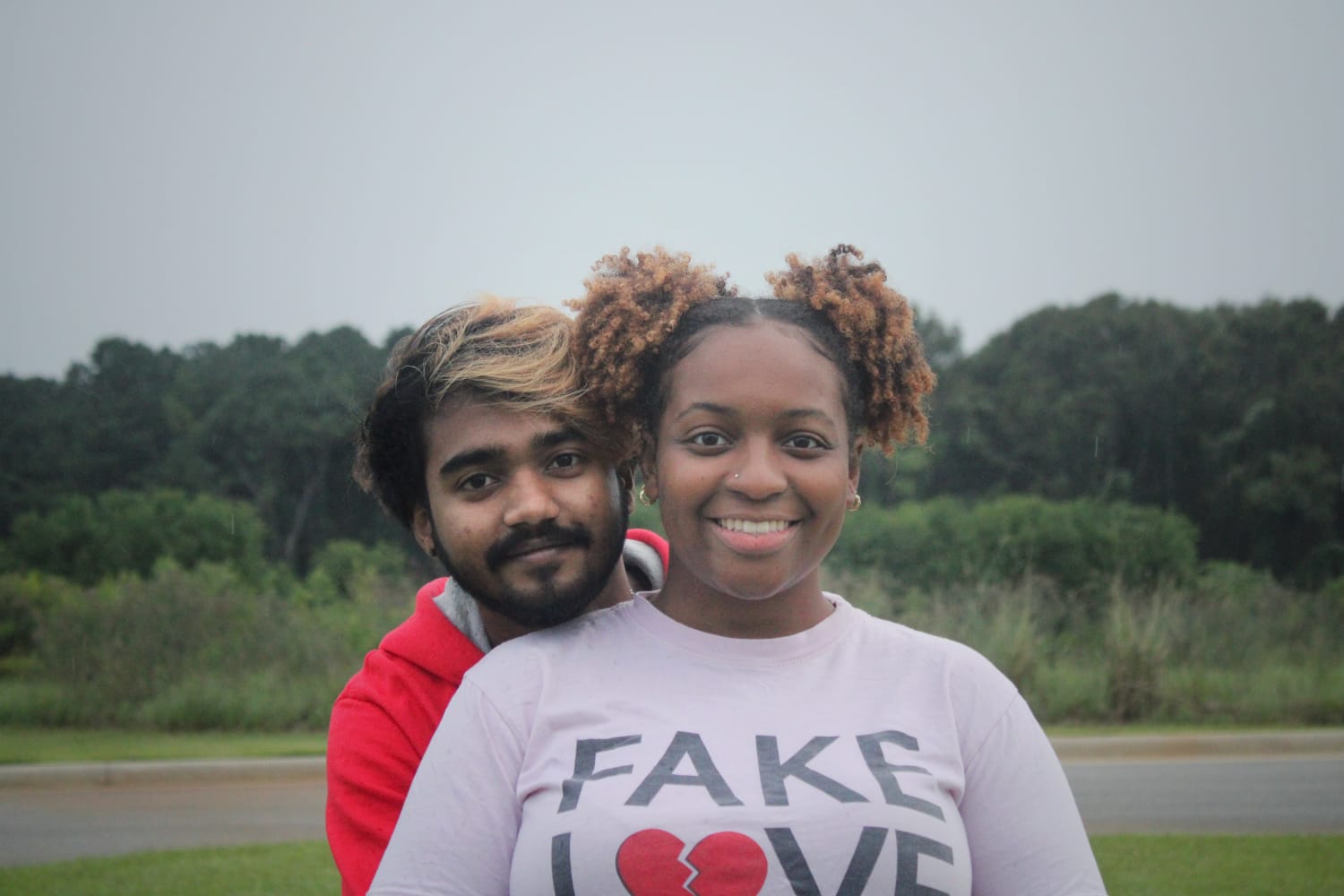 How They Met
Logann and Ash met through Snapchat. They chatted on Snapchat for around two months, and then they decided they wanted to meet each other. However, they had to wait until the mandated lockdown was officially over in Alabama due to Covid-19. Once it was, Logann decided to drive to Ash's place, 45 minutes away, and they met each other for the first time in person. Later that day, Ash told Logann that he loved her and asked her to be his girlfriend.
How Long Have They Been Together
They have been together for five months.
Have They Told Their Parents About Each Other
They have told each other's parents about one another, and both of their parents are fine with them dating.
Have They Met Each Other's Parents
​Ash has met Logann's parents, but she has not met his parents in person. To date, she has Face timed his mother, who lives in India, many times. However, his father is often working, so she has not had the chance to meet him.​
What Happened When Ash Met Logann's Parents For The First Time
Ash was worried, and he didn't know how to address her parents. He ended up calling them by their last name. They asked him about India, and he became more comfortable with her parents.
What Happened The First Time Logann Face Timed With Ash's Mom
Logann was very nervous about meeting Ash's mom. They did not talk much because she is not fluent in English, and Logann is not fluent in Malayalam.​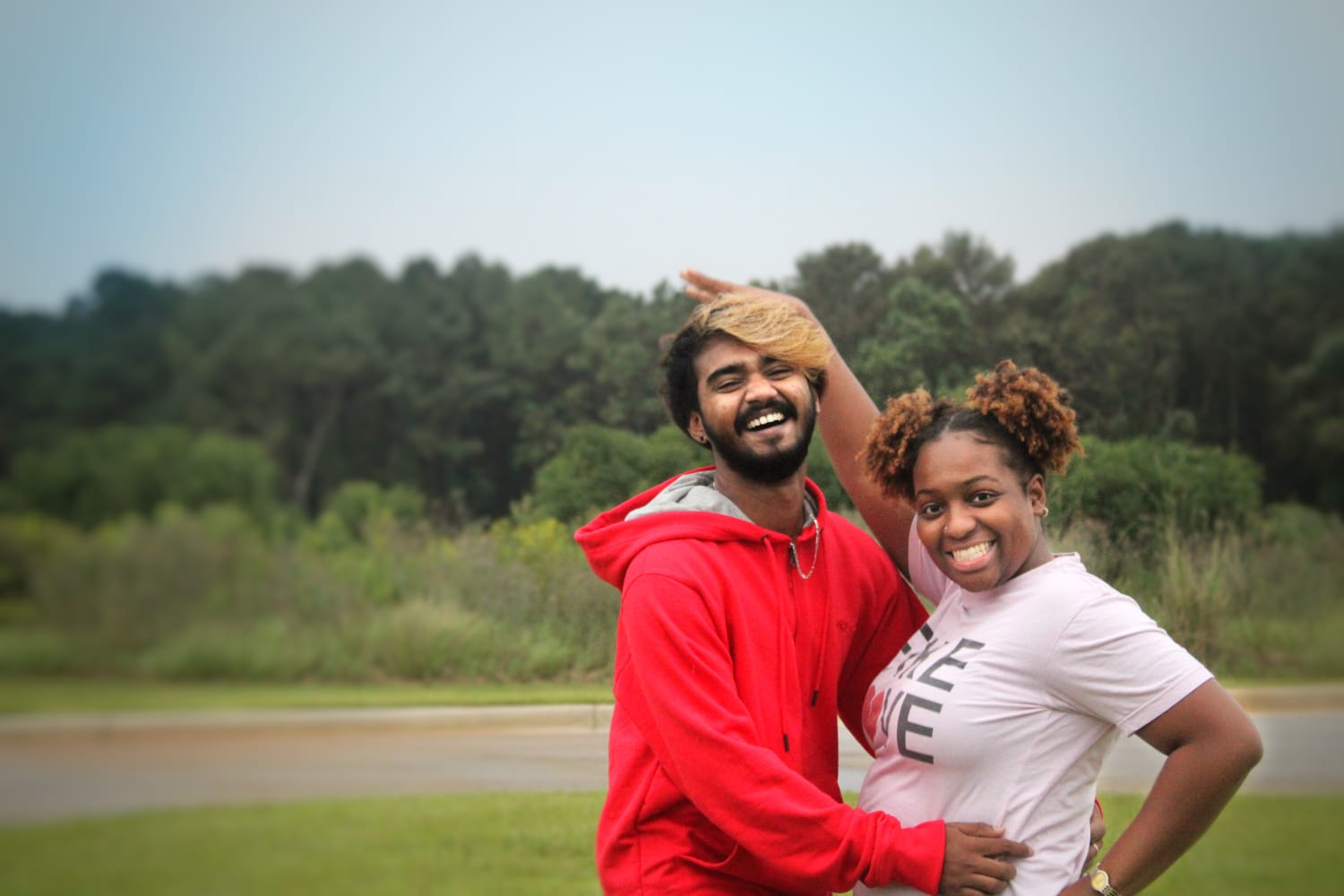 What Obstacles Have They Encountered For Being In An Interracial And Intercultural Relationship
Many people asked Ash why he has a Black girlfriend. Everyone expected him to have a blonde girlfriend with blue eyes now that he lives in the U.S.A. They also asked him why Logann's hair was the way it was, why her skin color is dark, and if she is from Africa. Furthermore, they use "Negro" to refer to her, and she has had some people refer to her as "Kaalee" (Black) in Hindi instead of her name, which they know.
Moreover, Ash's mother notified them that people from his town took their pictures from online and uploaded them to group chats to talk about them. They never asked his mom exactly what they said. ​
How Are They Confronting The Obstacles​
Initially, Ash confronted the individuals via social media. Yet he found that he can't change everyone's way of thinking. Right now, they are ignoring the comments. The racial comments never actually hurt Logann's feelings because often, Ash would not tell her what the people are saying in Malayalam and Hindi to save her feelings. Even when he translated them, she decided to brush them off.
Their Top Tips To An Interracial And Intercultural Relationship
Find someone you like and love them forever.
Respect each other's cultures and learn from them.
Embrace each other's differences and oddities.
What They Love About Being In An Interracial And Intercultural Relationship
They both love learning about each other's cultures, in addition to experiencing each other's cultural cuisines together. Also, Ash is excited about the American holidays. He hasn't experienced Halloween, Thanksgiving, Christmas, etc. And Logann is excited about Holi, and she would love to celebrate it in India.
What Are They Still Learning
Ash is learning about Logann's culture and Black history in America. He is also learning about the southern culture of the U.S. On the other hand, Logann loves watching Ash cook Indian food for them and being exposed to him speak in Malayalam.
Something Else They Want To Share With Others Reading This
Don't be afraid to be an intercultural, inter-religious, and interracial couple. A relationship is about being in love, understanding, and respecting one another.
What did you think of their love story? Follow them both on Instagram here: Logann is  @curlycoilycutie and Ash is @cosmic__chaos
Pin this post for later, here!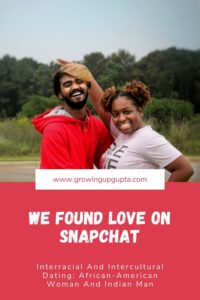 Are you following us at www.growingupgupta.com yet? Find us on Instagram and Pinterest @growingupguptas and on Twitter @growingupgupta, Facebook @growingupguptablog.
This post contains affiliate links that support the operation of this blog!