INTERRACIAL/INTERCULTURAL LOVE: FINNISH WOMAN AND INDIAN MAN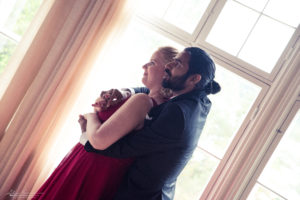 ABOUT US
Hi!  We are Jenny from Finland and Sarathkumar from India.
HOW WE MET
We originally met in India in 2011 through a mutual friend and are currently living in Finland.  That friend was taking my friend out for a date (we were having a holiday/vacation in Goa).  My friend didn't feel comfortable going alone so I joined them.  Sarathkumar was there to give me a ride.  It was definitely not love at first sight because I thought he was annoying (ha-ha).  Then after some time our paths crossed again on Facebook and we started to talk.  And here we are 6 years later and going strong.
1.) EMERGE YOURSELF IN THE BEST OF BOTH WORLDS
When there are two different cultures joining in the same household make the best of it.  It's possible and desirable to enjoy both cultures.  Think about the things that you both enjoy about each other's backgrounds.   Food is a good example here: in the morning we can indulge ourselves with some idli and sambar, or enjoy some oatmeal porridge with blueberries.  Open your heart to your partners culture and try different things.  Make an effort to adopt the traditions that are important to your partner.
2.) AGREE TO DISAGREE
There are and will be some things in your partner's culture that you may not understand. But that's alright.  Learn to agree that sometimes you just disagree about something, and respect each others opinions.  After all if you are raised in different conditions, and are from totally different backgrounds it's not a surprise if your ideologies don't always match.  Instead concentrate on the things you agree on.
What did you think about Jenny and Sarathkumar's love story and their tips?  Thank you both for sharing your wonderful love story with our readers.
Like our content? Subscribe! Find us on Facebook, Instagram, and Pinterest at Growingupguptas and on Twitter at Growingupgupta. Have a question for us?  Write us at [email protected].
This post contains affiliate links which support the operation of this blog!