Too Black To Be Indian But I'm Both

"And I remember one of the Indian guys asking my dad in front of me, "Who is this little Black boy that's with you?" 
A Tell-All Interview With Marco Glorious Khare
I connected with Marco Glorious Khare sometime ago on Instagram after listening to him on the Butter Chicken Podcast. I indulged in his enthusiasm for his Black and Indian (aka Blindian) background and cheered on his resilience in the entertainment industry. For those of you that are not aware, Marco is a man of many accolades. He is an entertainment and event host, actor, athlete, and two-time nominated television producer for the Wendy Williams show. Therefore when he wrote to me about sharing his parent's story and his journey as a Blindian man, without hesitation, I asserted, yes. Marco's interview is eye-opening, dismantles preconceived notions on being mixed, it is honest, and a must-read for any parent raising multicultural/multiracial children.
Tell me a little bit about yourself (introduce yourself and your ethnic background, where you grew up, etc.)?
My name is Marco Glorious Khare, and I am a Blindian! For those that aren't familiar with that term, I'm a half-Black, half-Indian/South-Asian individual. I was born in New York City, NY, USA. However, I was raised in upstate New York in a town called Newburgh.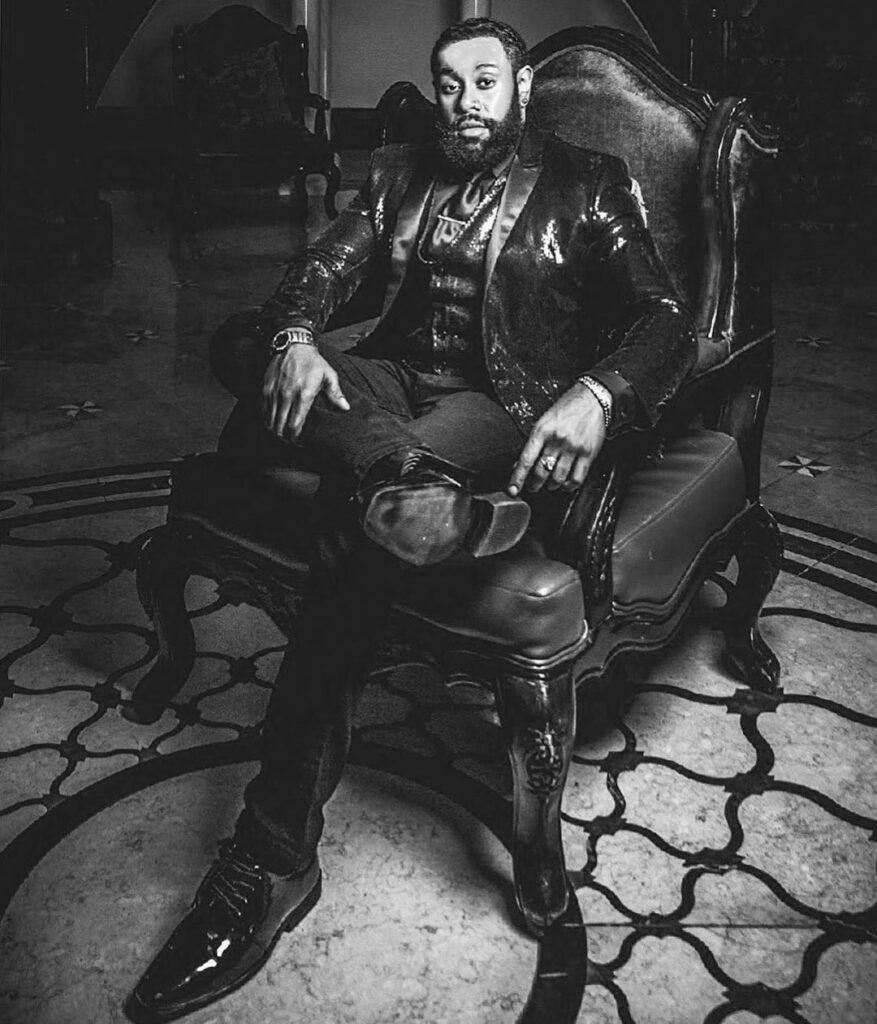 What are your parents, ethnic and religious backgrounds, and where did they grow up?
My mother is Black, of African descent by way of the Caribbean. She was born in St. Kitts, U.S.V.I. She left her island at 17yrs old and traveled to St. Thomas, U.S.V.I., and eventually to the states. My father is Indian. He was born and raised in the largest city in the country of India called Mumbai. My mother is Christian, and although I do have Hindu relatives, my father's immediate family is also Christian.  
How did your parents meet and fall in love?
My mother became a Christian missionary at a young age and also an evangelist. She began traveling extensively and preaching in many different countries. One summer, her faith took her to Mumbai, India. While in India, she was stationed at a church that happened to be my father's family church. My parents met that summer and started to fall for each other. My father began to court, my mother. By the end of that summer, he had asked her to marry him.  
How did your grandparents react to your parent's relationship/marriage?  
My grandparents were also devout Christians, so their reaction to my parent's relationship was surprisingly supportive. My mother's mother passed when she was a teenager, but overall, my other grandparents were accepting. 
What 
obstacles
 did your parents encounter for being together? How did they overcome these challenges?  
Well, the customary racism that was predominant in this country, and I guess that's still here in some aspects. But also racism among their own. Black people weren't able to figure out why my mom was with my dad, and Indian people questioned why my dad was with my mom. My parents credit their faith in God for overcoming all those challenges.
What tips did 
your
 parents share with you for making their relationship/marriage work?
Having foreigners and such devout Christians as parents, they instilled in me that keeping God first in everything that you do is the secret to success.
How long have your parents been together? 
37 yrs.
Were you able to build a relationship with your grandparents and extended family? Did you encounter religious or language barriers?
 I do wish I had a better relationship with my grandparents. I didn't have any religious barriers, but the language barrier was tough. My mother's parents passed before I got to know them, and I never really was taught Hindi or Marathi, which are the languages that my family speaks in India. It was challenging to communicate with my father's parents.  
I know you traveled to India. Have you been able to stay in contact with family in India?
As a kid, phone calls were a regular thing. Nowadays, WhatsApp and social media are a blessing.
When did you realize you were biracial (was there a specific time when you realized you were neither all Black or all Indian/South Asian)? 
My parents let me know that I was mixed as a child, but I started to see how my dad was treated around other ethnicities and the same thing with my mom. I also realized that I didn't look like what the standard of a mixed-raced kid should look like /appear.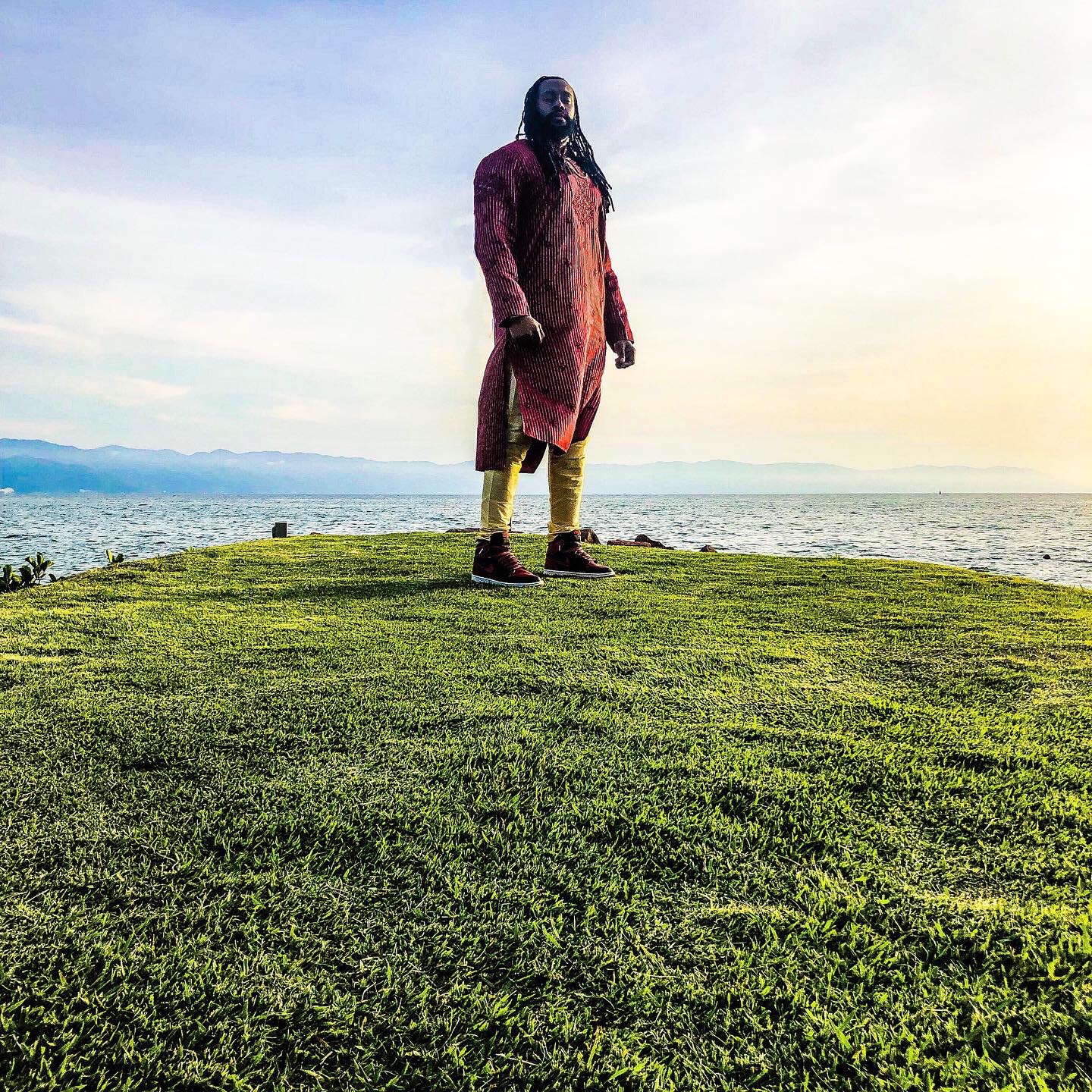 Do you identify more closely with one side or the other (Black or South Asian/Indian)? If so, Why? 
I identified more so with my Black side. I don't know if it was because my father didn't have any family in this country, or I didn't look like what the standard of a mixed kid should look like in America. Also, most often, I was around the Black side of my family, so that's what I identified with at the time.
I guess you can say that to a certain extent. I grew up in the Black church, and most of the time, I went to church with my mother. My father worked a lot, but the times that he did come, I wanted him to feel comfortable even though he was the only Indian person in the building. Additionally, my father didn't really teach me or go in-depth about Indian culture. So I recognized that I was longing to know more about Indian culture and also to be accepted by Indian people. However, I wouldn't say that I had difficulty finding my own identity, though. I knew I was mixed; I just identified with the people I was around.
What has been your personal experience with prejudice and discrimination?
I can remember a time when I was with my dad, and he happened to be meeting up with some friends of his that were Indian. And I remember one of the Indian guys asking my dad in front of me, "Who is this little Black boy that's with you?" Knowing that my differences were amplified didn't feel too good.
How do you celebrate being Black and Indian, aka Blindian today?
Well, these days I'd say I'm pretty involved in both cultures. As a partner in DJUSA, which an event production company, I'm able to put my Indian side to the forefront when I host events for our Indian clients. I also like to acknowledge traditions and holidays that are prominent throughout Indian and African cultures.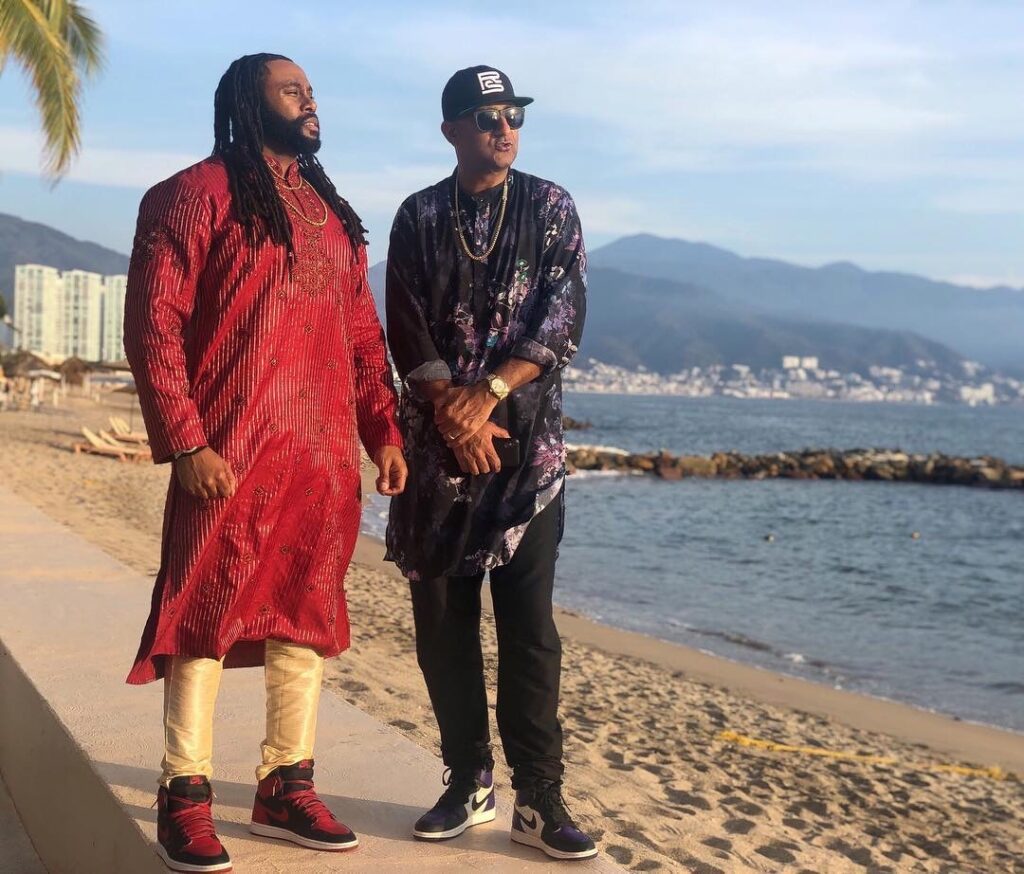 What advice would you give other children that are from multicultural/multiracial backgrounds like yours? 
Be patient. You'll find your self. I've often met mixed kids or individuals (some) that are Black and Indian like myself, and I can tell that throughout their lives, they overly try and sometimes stereo-typically try to be whatever ethnicity they feel they are lacking. You don't have to try and fit in a box. Be proud to create a new box.  
Don't draw the line between the ethnicities. Allow your family to organically and authentically embrace as much of each culture without forcing anything. Sadly, many people are culturally insensitive to the unique struggles of biracial people.
What do you wish others knew?  
It might take us a while to figure out the best way for us to wear our hair. Lol! I'm just kidding! In all seriousness, don't come to a conclusion or judge that a person's decorum is inauthentic based on how they look.  
Wow, just wow! What did you think of Marco's phenomenal and thought-provoking interview? Find him @MarcoGlorious on Twitter, & Instagram and Facebook!

Are you following us at Growing Up Gupta yet? Find us on Instagram and Pinterest @growingupguptas, on Twitter @growingupgupta, and at Facebook @growingupguptablog!
Pin this post for later, here!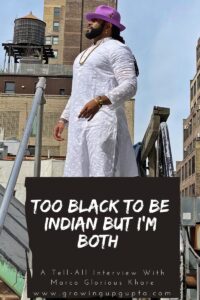 This post contains affiliate links that support the operation of this blog! Thanks for your support!