The Ultimate Guide To Indian Clothing
Whether you're interested in learning about traditional Indian clothing or are looking for quick tips for buying Indian attire for the whole family, you're in the right place!  If you are more specifically interested in a quick guide to Indian clothing for kids, check out our previous post: A Non-Indian Parent's Guide To Indian Children's Clothing.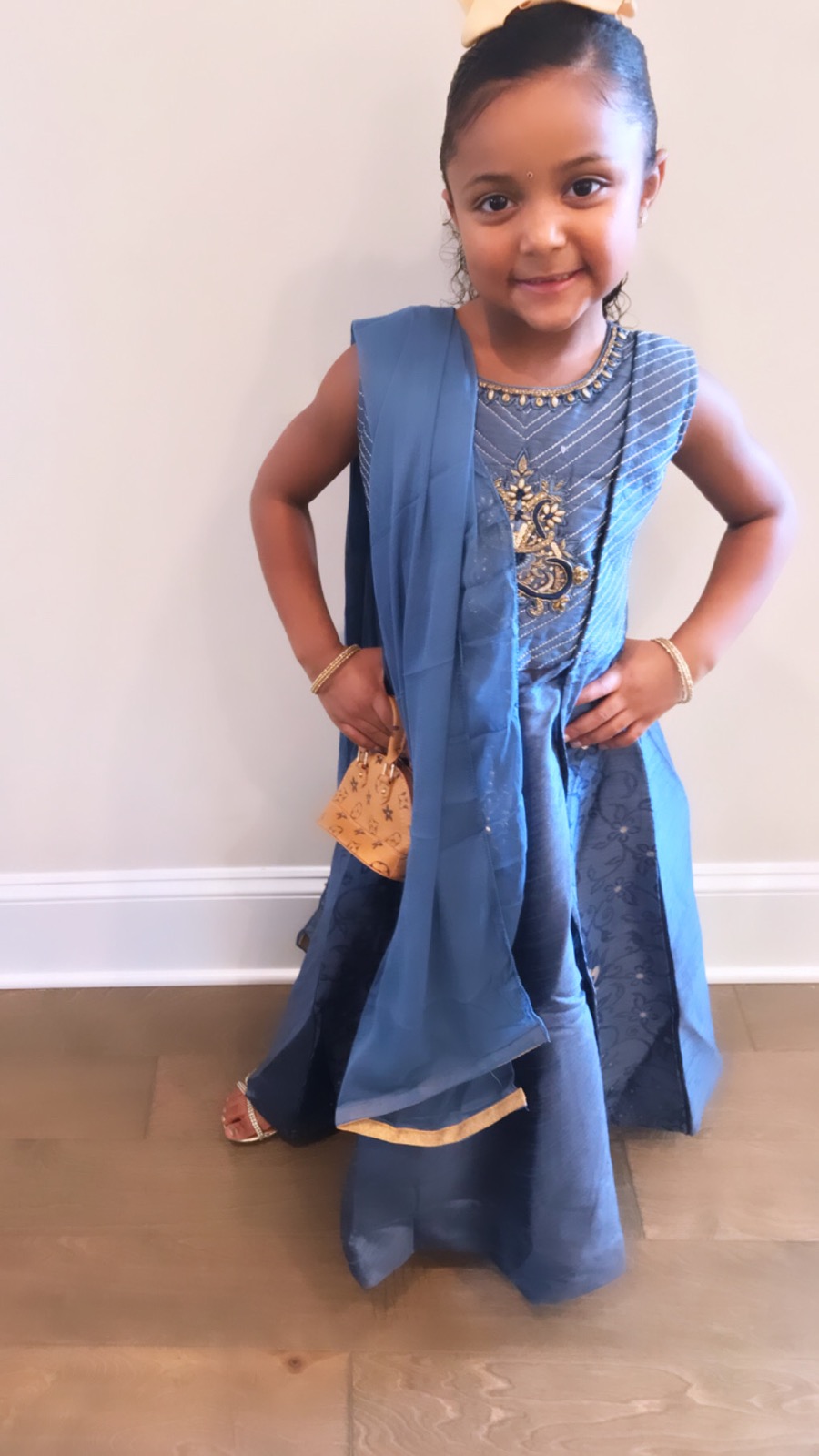 Indian Fashion Is More Visible & Popular Than Ever
Today, Indian fashion is everywhere!  Historically speaking, Indian clothing has come and gone in and out of fashion in North America and Europe a few times. This time around, a lot is going on. For starters:
So it can be hard to know which direction to look for guidance and inspiration, especially when it comes to knowing what Indian clothing is, which new styles are respectful in how they use Indian fashion elements, and how to incorporate Indian clothing into your wardrobe. Hence we are here to help break it all down for you!
The Staples of Desi Fashion
Indian fashion has a long history with some garments and styles described in texts dating as far back as 2800 to 1800 BC, still in fashion today.  By the way, that's nearly 5000-10,000 years ago! Indian clothing also has a lot of variation. It is and has been influenced by thousands of different ethnic groups living in 29 different states across seven different regions.  Therefore, it's not much of a surprise that there's a lot of diversity in Indian clothing.   That said, these are the staples that make up the Indian wardrobe.
Dhoti:
A precursor to modern "harem" style pants, dhoti is an item of traditional men's' Indian clothing made by wrapping and knotting a length of fabric around the wearer following a specific design. Specifically, crafting dhoti involves wrapping the fabric around the wearer's waist then passing the end between their legs. Thus, the end-result gives the appearance of loose-fitting knee-length trousers. Today, the dhoti has become unisex, all ages staple of Indian fashion.  Anyone can wear them, and you can buy contemporary dhoti that is pre-assembled and stitched together so you can step in/out of them like western style pants.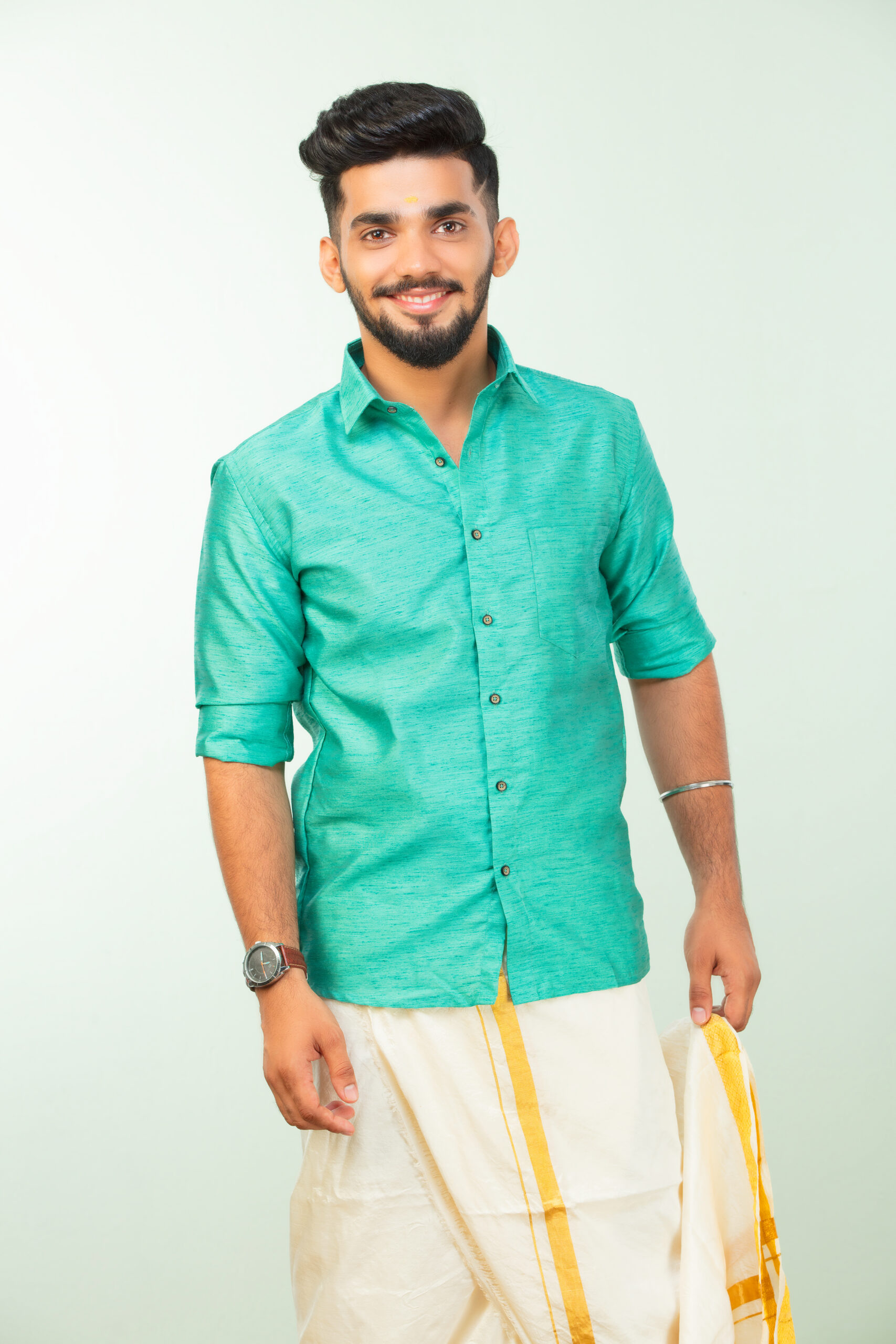 Kurta-Pajama:
Conventionally, the kurta-pajama is a type of men's Indian clothing.  Although these days women also wear this style. The first part of a kurta-pajama is a loose-fitting, knee-length, long-sleeved tunic (called a kurta).  It has no cuffs or collar, open side-seams, and a central split in the neckline. The second part is long, loose-fitting trousers (called pajamas). Generally speaking, adults enjoy wearing the kurta-pajama style in the evening or to sleep, because it is comfortable. By contrast, younger people and children often wear it as a distinctly Indian fashion statement outside the house.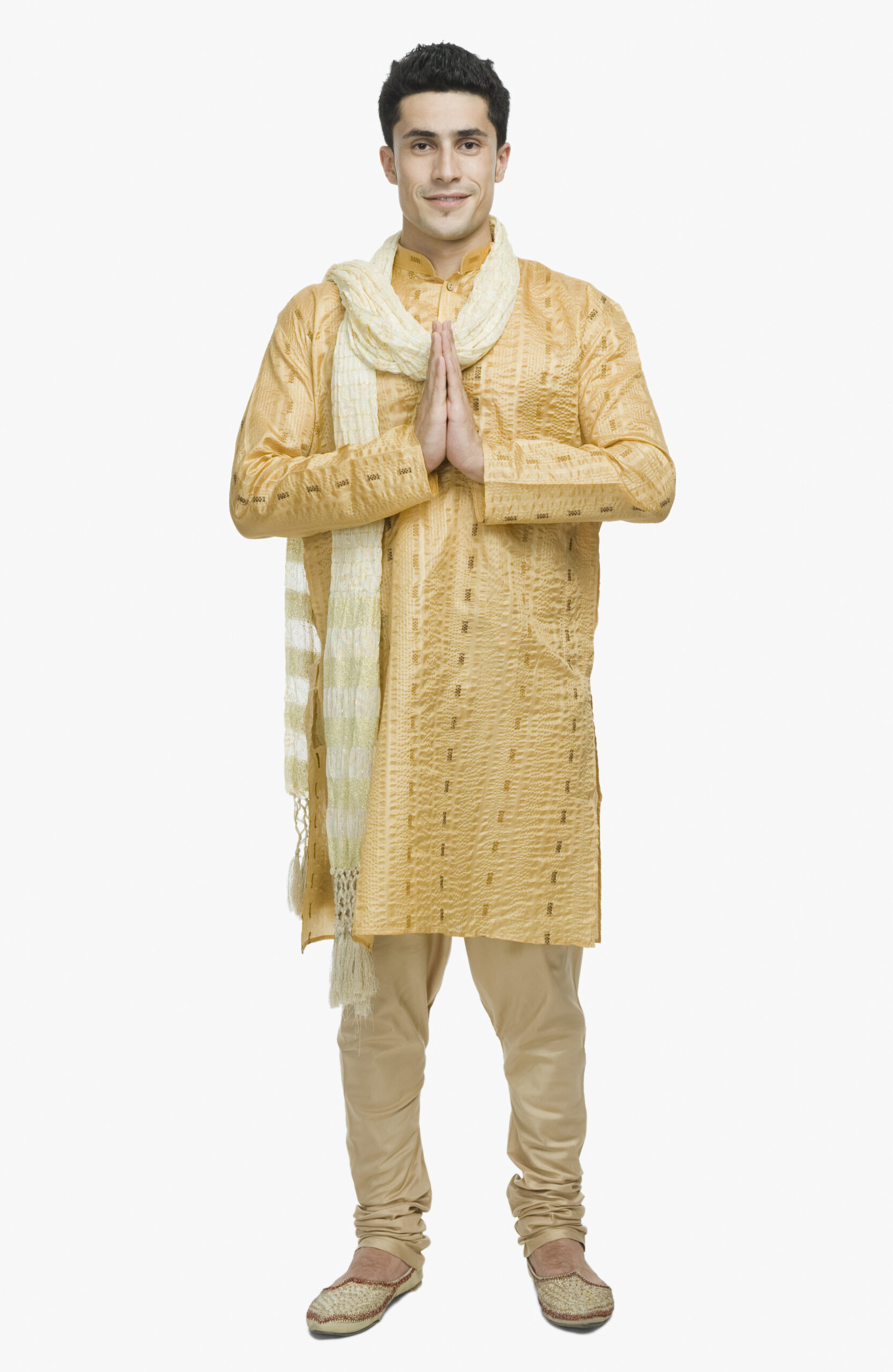 Sherwani/Achkan:
A sherwani and an achkan are similarly-styled jackets.  Both Indian men's fashion staples, though the two differ in a few big ways. A sherwani is arguably a more formal jacket, made of a thick silk brocade or wool, with a Nehru-type collar and slim-fit straight cut, and falls below the knee. Achkan-style jackets are comparably less formal.  They are made of lightweight silk or cotton fabric, with less adornment, and open kurta-style collar, it is cut to be a bit shorter and more flared from the waist than a sherwani.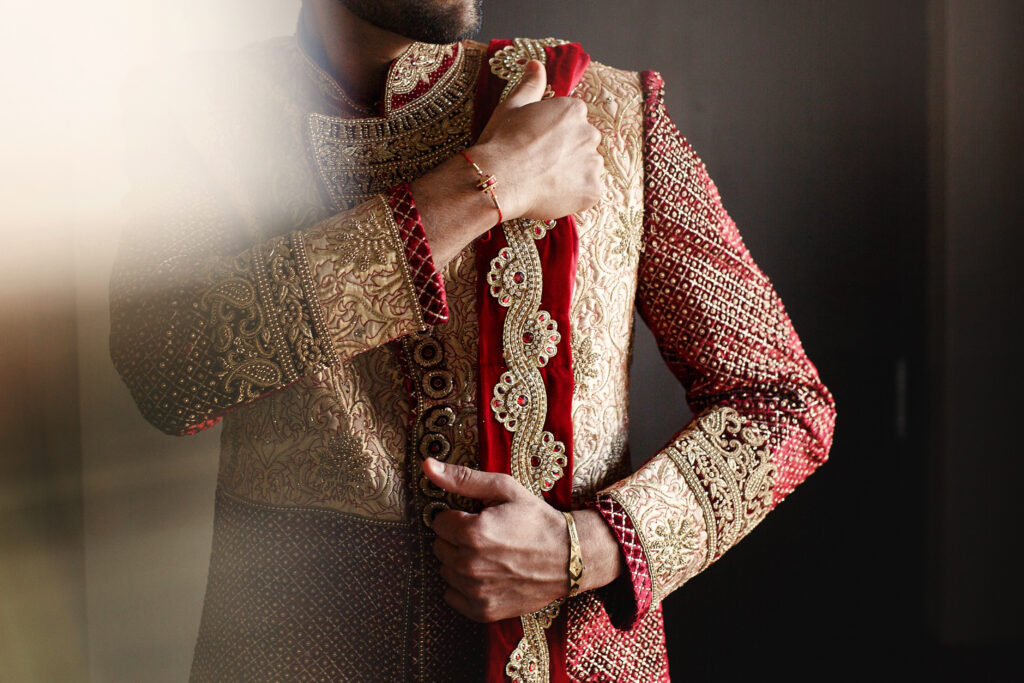 Lehenga Choli:
Though there are many different styles of skirts and shirts/blouses in Indian fashion, the most popular and recognizable combination is probably the lehenga choli. Wearing the lehenga choli style involves pairing a lehenga (a long, often pattern or embroidered, flared skirt) with a choli (a blouse that is tightly fitted at the waist).  Typically this style of Indian clothing for women is worn for a wedding and special occasions. It is also commonly paired with a chunri shawl/wrap that is draped over the head, similar to a veil.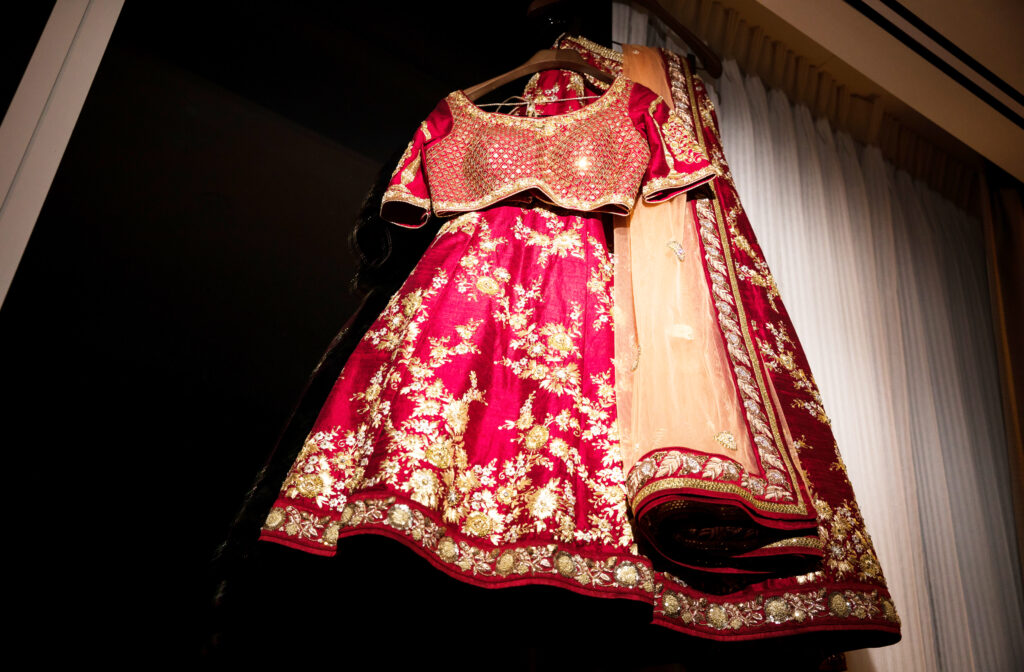 Salwar Kameez/Salwar Kurta ("Punjabi Suit"):
Like a sari, the salwar kameez or salwar kurta is a very traditional form of Indian clothing that persists today. It consists of a pair of trousers (called salwar). Customarily the pants are long and loose-fitting through the leg and narrow at the ankle/cuff. And are worn with a loose-fitting, knee-length, long-sleeved tunic (called a kameez for women or a kurta for men). Women often wear a dupatta scarf/shawl with a salwar kameez.
Some additional and popular variations of salwar kameez or salwar kurta are the churidar,  Anarkali style suit, and Sharara.  The churidar style pants taper with folds/pleats at the waist and ankles.  Whereas for the Anarkali suit, the pants have a slim-fitted bottom, and the kameez is long and flowing.  And the Sharara, which has become more mainstream thanks to Bollywood, has flared/wide-leg pants. This style of pants is similar to western-style palazzo pants.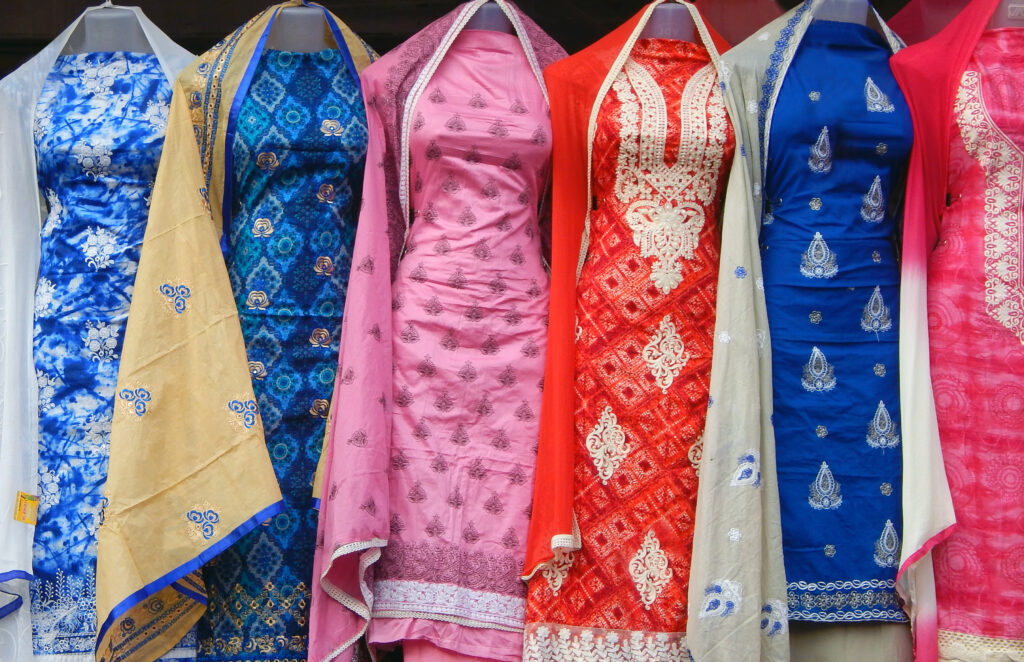 Sari (aka Saree):
The sari is probably the most well-known and beloved item of Indian clothing for women. It typifies a lot of characteristics that are consistent across Desi fashion as a whole.  They are loose-fitting, egalitarian (anyone can wear them!), and can be either simple or opulent depending on the style. The exact characteristics of a specific sari depend on the wearer.  They are made by draping the length of fabric (from 3.5-9 feet long) over and around the body.   The sari can be worn in over 100 different ways (worn alone or over a blouse, skirt, slip, or petticoat). Inarguably, celebrated as a quintessential Indian garment, a sari can be worn with the end (pallu) tucked in the waistband, or it can be tucked into the front, loosely over the shoulder, or covering the wearer's head. (Read more about the most popular regional sari variants here!)
Quick And Easy Ways To Drape A Sari (Saree)
Need help on how to drape a sari?  Then check out this video , this video, and of course this one too!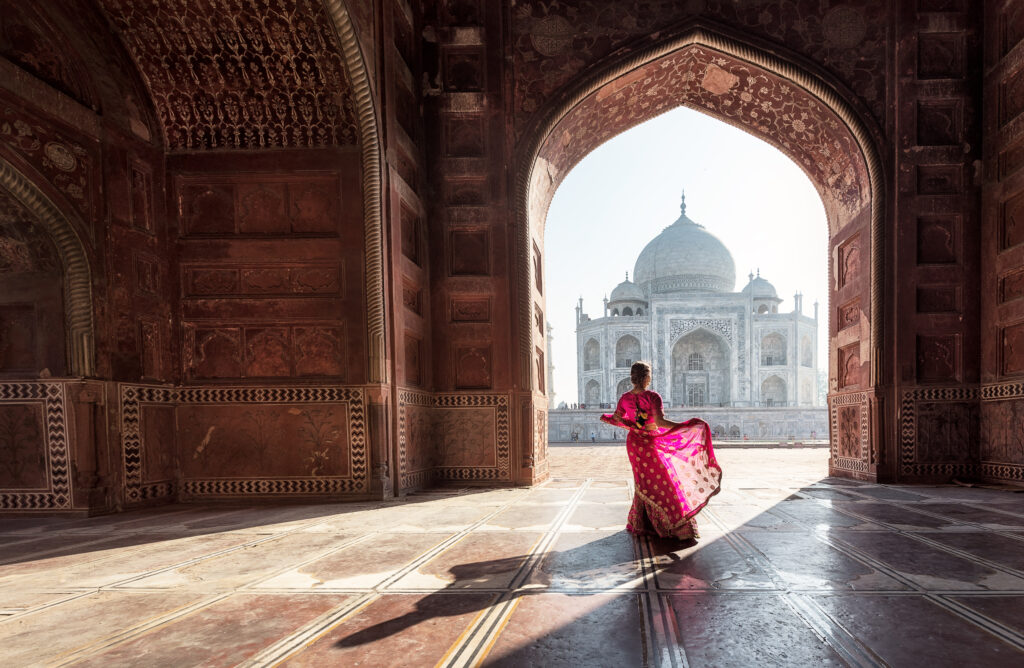 Other Noteworthy Styles of Indian Clothing
Other styles of Indian clothing include the Jodhpuri suit or bandhgala suit (for men), jama, nehru jacket, mekhela chedar, pattu pavdai or Langa voni (for girl children only), mundu/lungi, and angarkha.
Women's Clothing Sizing Guide (ready-made attire)
Need to know more about picking your size for women's clothing in ready-made styles? See our previous post: A Non-Indian Woman's Guide To Indian Clothing!
Textiles & Adornment In Indian Clothing
The fabric used in Indian fashion is wholly unique, and demand for it has driven the spread of Indian fashion around the world. Indian cotton, silk, and wool fabric are hand-woven and hand-dyed using a process called "mordant dyeing," which yields bold colors that don't easily fade. Desi fashion textiles often feature hand-painted designs and prints inspired by nature (with motifs like peacocks, lotus, and mangos). They also often feature distinctive designs, like ikat weaving.
In fact, Indian clothing is well-know for its adornments, which include heavy embroidery, like Kantha, as well as mirror-work (using mirrored sequins) and kutch work (unique hand stitching).
Buying Traditional Indian Clothing & Contemporary Indian Fashion
There are a lot of different options for buying Indian fashion, especially online. When your are shopping for Indian clothing, it's important to remember that the textile and garment industry plays a massive role in India's economy. It is also essential to keep in mind that just like in a major manufacturing industry-there is a lot of room for unethical environmental and labor practices in the production of textiles used in both traditional and contemporary Desi fashion.
That means that buying different pieces of Indian clothing from various fashion houses and designers has varying outcomes for Indian people. Plus, most Western-made looks inspired by Indian clothing still use textiles made in India. So pretty much all of your Indian fashion purchases have the potential to help or harm Indian artisans.
Here are some Indian clothing companies or providers that we have used/recommend.
Pin this post for later here!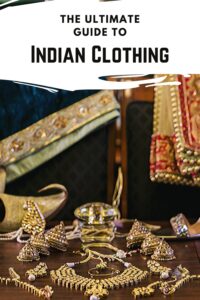 This post contains affiliate links that support the operation of this blog!  Write a comment below! Find us on Instagram and Pinterest @growingupguptas, Twitter @growingupgupta, and Facebook @growingupguptablog!