WAS MY HUSBAND PREGNANT TOO?
A GUIDE TO LOSING THE DADDY WEIGHT
Many pregnancy books really don't discuss the prevalence of the daddy to be weight gain. Instead it seems to be an endless "hot topic" for mothers-to-be.   Perhaps, for men this weight gain is considered as a controllable voyage into fatherhood and/or a new way of adapting to life.
However is it?
This is a picture of my husband pre-baby.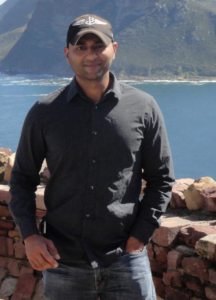 Oblivious to the prevalence of the daddy sympathy weight gain, my husband laughed at the mere notion.  "There is no way I'm gaining any sympathy pregnancy weight aka the dreaded daddy weight" my husband remarked, after I read an article aloud about the topic on parenting.com during my first trimester.  Steadfast, he promised himself that he would keep working out and eating healthy.  Furthermore, he would continue to encourage me as his wife to make healthy caloric decisions.
In fact, he did just that until our daughter made her grand arrival into the world and life as we knew it got thrown upside down.  We thought, we were both equipped with the know-how to deal with a new born baby. After reading a plethora of baby books, going to baby classes, and talking with friends that had just become new parents we were "armed".  Additionally, both of our parents were coming from out of town to help with their newest grandchild.  Therefore, we presumed things would be smooth sailing with a hiccup here and there. However we were wrong!
WHERE IS THE GOLDEN UNICORN BABY?
We didn't get the golden unicorn baby that loves to sleep 8 hours a day or even 4 hours a day. Our new born baby loathed sleep.  And our pediatrician retorted that "some babies don't need as much sleep as others–1-3 hours is fine now", however, your baby will eventually sleep through the night.  Somewhat relieved by our pediatrician's remarks we figured our sleep deprivation would be a short-term introductory into parenthood and sooner than later our baby would be sleeping hours on end.  Again, we were wrong!  It took over 2 years for our daughter to find an appreciation for sleeping/ for her to sleep through the night.  Due to this our healthy eating and working out practices of the past became bleak memories.
WHEN PARENTING TAKES OVER 40LBS LATER
With a sleepless newborn we were both recuperating from the birthing experience while working full-time jobs.   Aware that his clothes were getting tighter my husband tried to counter act this.  We started and finished insanity phase 1 and then we started to run as much as we could with a child that always wanted to be held/coddled.  Starting to feel more like himself my husband lost 10 pounds but the weight didn't stay off as our daughter's sleep pattern got even more erratic and his demanding work travel schedule picked up.  The pounds crept on and he soon found himself 40 pounds heavier.
Here a couple of pictures of him 40 pounds heavier.
THE BABY WEIGHT HAS GOT TO GO
At a loss of where to start and even with my encouragement to just start exercising he didn't.  His struggle with baby infused weight gain lasted for almost 2 years until this past December.   It was a week of non-subtle "Jerry Springer" style remarks from my husband's cousins that ignited a fire in him to get rid of the dreaded daddy weight gain.  He was on a mission to prove that just because you become a dad doesn't mean that you can't get your pre-dad body back.  My husband began working out and eating healthy like we had prior to our daughter.  12 weeks later he had lost 20 pounds and as of today he has lost all 40 pounds he gained.
Here is the after (today).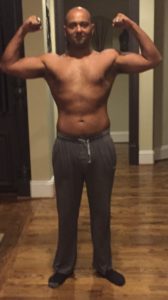 HOW DID HE LOSE THE WEIGHT?
Working out an hour a day (cardio and strength training).  Workout out is something most of us are repulsed at having to do but we crave the benefits.
Eating healthy meals.  South beach and then Paleo and then back again to kick start weigh loss. In addition to, staying away from the free drinks and meals on airplanes.
Cutting out the eating out/really ordering out that we had become accustomed to due to having a sleepless child and being sleep deprived parents.
Staying focused, and disciplined when traveling for work.
We were finally able to get sleep after our daughter became 2 years old because we had created a system to get her to sleep longer.  Interested in this (see our 5 tips).  This provided us with the energy to finally focus on our health again.
Are you a dad  or significant other that gained weight due to your wife or significant other becoming pregnant? Write us. Leave a comment below.  Like our content? Subscribe!