15 Bilingual Children's Books Written In Hindi And English
Prior to discovering Toka box my husband and I had the daunting task of searching for children's books written in both Hindi and English.  Frankly, the selection is limited.  In spite of this, today we are sharing a list of 15 excellent bilingual children's books.  These books are suitable for ages 0+ and they are great for the early Hindi and English learner.
1.) Das Din
Author: Pridhee 
Ages: 0-2 
Grades: Preschool
Pages: 20
Help your children learn numbers 1-10 in Hindi in a fun way! Based on the old Hindi rhyme "Ek Tha Raja Ka Beta", this is an interactive board book with lift the flaps and pull tabs that will keep the children captivated.
2.)
Gol Mol Bol (Hindi Edition) with Music- Hindi nursery rhymes (Hindi) Hardcover – October 15, 2016
Author: Pridhee 
Ages: 0-2 
Grades: Preschool
Pages: 20
Sing along the old Hindi rhymes like akkad bakkad, aloo kachalu from your childhood days and share them with your little ones! Includes Music by Ramya Shankar. Also includes English transliteration to help older children read with a special central pop up for the children to enjoy.
3.)
Bolo Kya? (Hindi 2nd Edition) (Hindi Edition) (Hindi) Board book – December 15, 2016
Author: Pridhee
Ages: 0-4
Grades: Preschool
Pages: 16
Bolo Kya? is the first-ever lift-the-flap board book in Hindi for children of the age 0-4 years. With English transliteration, Bolo Kya? opens up the wonderful world of colors, animals, and Hindi to your little one. Language is best learned through stories and picture books.
4.) Have You Seen This?/Kya Tumne Yeh Dekha Hai? (English-Hindi) 
Author: Arthi Anand Navaneeth 
Ages: 3-5
Grades: Preschool-K
Pages: 22
(This book is available via Tokabox).
Enter a very mixed-up world where flowers talk and trees fly! The goofy text spins on whacky illustrations that whirl the reader along.
5.
) Meri Bindi
Author: Anu Anand 
Ages: 3-5 
Grades: Preschool-K
Pages: 20 
Bindis can be big and small, red and blue, long and sparkly! Join Noor and Neel as their tiger friend Moochhar Singh leads them to a land filled with colorful characters, all of them wearing their favorite bindis! The first of the Meri Duniya (My World) series of bilingual Hindi-English books, Meri Bindi (My Bindi) is filled with imaginative handmade illustrations explained with three lines of text – in Hindi, how to pronounce it and the English translation.
6.) Follow the Ants/ Cheetiyon Ke Peeche-Peeche (Bilingual Edition) – Hindi (Hindi) Paperback
Author: Amrutha Satish
Ages: 3-5 
Grades: Preschool-K
Pages: 24
(This book is available via Tokabox).
Anita loves all small things – pebbles, insects, shells, and worms. One day she sees a long line of little ants. Curious, she decides to follow them. They take her along things she sees every day. But where do they take her finally? What does she do with them? Why is Anita happy about following the ants?
7.) Monday To Sunday/Somvaar Se Ravivaar (English-Hindi) 
Author: Sowmya Rajendran 
Ages: 3-5  
Grades: Preschool-K
Pages: 20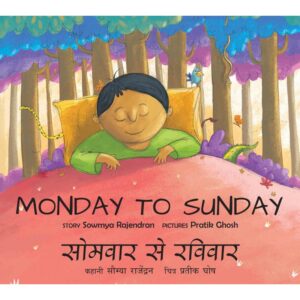 (This book is available via Tokabox).
On Monday Mani is a monkey, on Tuesday he's a crocodile, on Wednesday… A days-of-the-week-book that gives a real ride to the imagination!
8.) Not Yet!
Author: Nandana Dev Sen 
Ages: 3-5  
Grades: Preschool-K
Pages: 30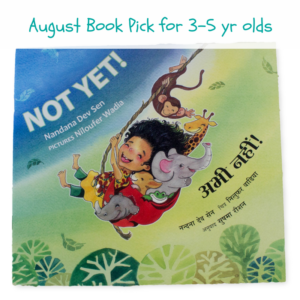 (This book is available via Tokabox).
"My dear, it's time for bed," says Ma. But "Can a frog stand on its head?" wonders her little girl. Lost in a world where she must learn to fly with birds in the sky, snuggle a whale, kiss the kangaroo… she has so much to do! Sleep? Not yet!
9.) My First Hindi Words
Author: Reena Bhansali  
Ages: 0-5
Grades: Preschool-K
Pages: 28
Bring your baby closer to their culture with "My First Hindi Words!" Increase your child's Hindi vocabulary with this fun and colorful book by "Hindi By Reena." This book will introduce kids to everyday Hindi words through bright and realistic illustrations. With a focus on the learning Hindi words — the book does not confuse early learners with the Devanagari script. Written by Hindi By Reena — The world's first comprehensive Hindi learning company — this book was created after years of research with kids and babies from around the world. WHY LEARN HINDI? Hindi is India's most-spoken national language. The total number of Hindi speakers are well over half a billion. Whether you are Gujarati, Punjabi or Bengali — most Indians can speak Hindi fluently as a second language. Hindi is so popular in India, that even all the Bollywood movies are in Hindi!
10.)
Bindi Baby Animals (Hindi): A Beginner Language Book for Hindi Children (Hindi Edition) (Hindi) Hardcover – March 16, 2015
Author: Aruna K. Hatti
Ages: 0-5
Grades: Preschool-K
Pages: 46
A perfect learning tool for Hindi kids. Learn Hindi animals with Bindi Baby by Gnaana. High-style graphics blend modern silhouettes with Indian design elements. The bold colors and rich patterns are designed to attract and delight – encouraging fun and easy learning. Appropriate for babies, toddlers, and beginning readers of Hindi script. *English transliteration of Hindi text included to help with pronunciation. *Includes Hindi alphabet chart, with English phonetic pronunciation to help kids learn Hindi alphabet. Your children will be delighted to learn the names of animals in Hindi.
11

.) Shubh Raatri Dost/Good Night Friend (English and Hindi Edition)
(Hindi)
Hardcover
– March 5, 2019
Author: Nidhi Chanan
Ages: 4-8 
Grades: Preschool-3
Pages: 16
As day turns to night, follow Bhai (brother) and Behan (sister) in their Indian farm home while they bid their animal friends a good night. Children will love this sweet sleep tale that builds their Hindi and English vocabulary. Every page includes Hindi language script, Romanized Hindi, and English language, which makes each language accessible to your whole family. 
12.) 

Where is the Baby. Baalak Kahan Hai: Children's English-Hindi Picture book (Bilingual Edition).
Author: Sujatha Lalgudi
Ages: 2-6
Grades: Preschool-1
Pages: 24
 This is a lovely and cheerful bilingual Hindi picture book for Toddlers! Illustrated Dual Language Book in Hindi for Children Ages 3-9 This book is designed for kids/beginners who are learning Hindi as a foreign language. Are you are looking for a book to teach your child to point to his/her nose, eyes, ears, etc? Then, this toddler book might work for you. Beautifully illustrated, an adorable baby in each page will make learning a fun game to play. Children (Ages 1 – 3) have to find the baby's eyes, ears, nose, etc in each page: They are partly hidden in the page for your child to discover! Ask your child to show where his/her ears/eyes etc are! This book is ideal for reading aloud to your child. Early readers (Ages 4 – 6 years) can use this book to practice their reading skills!! This picture book encourages children to name the parts of the body like eyes, ears, nose, etc. This is a cute book with full-length illustrations. 
13.)

Am I small? Kya maim choti hum?: Children's Picture Book English-Hindi (Bilingual Edition) (English and Hindi Edition) (Hindi) Paperback – Large Print, November 15, 2013
Author: Philipp Winterberg
Ages: 5+
Grades: K+ 
"Am I small?" – Tamia is not sure and keeps asking various animals that she meets on her journey. Eventually, she finds the surprising answer…
14.) Five Days Of Diwali: English Hindi Bilingual book for kids (Hindi Edition) (Hindi) Paperback – October 6, 2017
Author: Gulukul Inc
Ages: 3+
Grades: Preschool+
Pages: 26
This Indian book for kids is the most amazing tour of 5 Days of Diwali. In the book, characters Danu, Sinu and Geet go on a festive journey to celebrate all the 5 days of Diwali week, in this tiny journey, they visit their Parents and Grand Parents to celebrate and understand the cultural significance of Dhanteras, Narak Chaturdashi, Diwali, Nutan Varsh & Bhai Dooj. As they meet each other's parents, they discover the importance of these 5 days in the Indian Culture. Illustrations and content in this book are very charming and carry the essence of celebration, something that makes it a beloved of every kid.
15.) Balu's Basket (English – Hindi)
Author: Chitra Soundar 
Ages: 3-5
Grades: Preschool-K  
Pages: 24 
(This book is available via Tokabox).
One day, Balu finds a basket. What does he do with it. Bright, clean pictures create a cheerful backdrop for this fruit-filled book.
Do you have a book you would add to this list?
p.s. We are excited to share that we are writing a multicultural children's book and we are planning to make it a series.  This has been a labor of love for us and we hope this book series fills in a much needed multicultural children's book gap.  Now the big question we have for you is should the first edition be in just English or do you want it to be in English and Hindi? If we don't do the 1st book in both languages we can also do the second edition in both. Post a comment and please share this post!
Find us on Instagram and Pinterest @growingupguptas and on Twitter @growingupgupta, and on Facebook @growingupguptablog.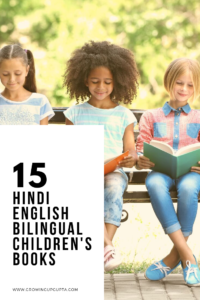 This post contains affiliate links which support the operation of this blog!