WHERE ARE THE  SOUTH-ASIAN CULTURE LEARNING TOOLS?
THE SANSKRITI BOX
The Sanskriti box is a monthly subscription box for children.  It brilliantly provides parents and educators alike with storybooks and activities from South-Asian culture.  The box can be customized to the size of your family and touts itself as "helping you to build a library that can be enjoyed time and again for generations to come."
OUR REVIEW
A couple of weeks ago, we received a Sanskirit box in the mail. Our biracial (African-American and South-Asian American) daughter always presumes that everything in the mailbox is for her.  Hence when this gorgeous red box with intricate white detailing was delieverd to our home she could not contain herself.  "Mom, I know it is for me she nagged!' I need to open it now, I need to see what is in there.' Can I please?' Mom, mommy, mom, mom!"
WHAT'S INSIDE?
Upon opening the box we found inside an outstanding array of items in it for kids to learn more about South-Asian/Indian culture.  Like what?  Everything you as a parent would be on the hunt for to engulf, and entertain your child's/children's five senses as you learn something new.
ENGAGING YOUR CHILD'S FIVE SENSES
The first thing, our daughter immediately grabbed were the melt in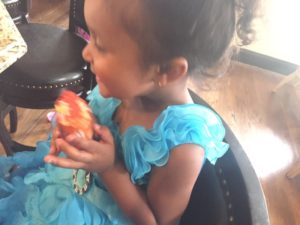 your mouth orange flavored cream cookies directly from India.  She is a foodie just like her dad.  Thus, if you love sandwich cookies you will love these.
WHAT ELSE?
Additionally, inside the Sanskriti box we found:  flashcards with QR codes about South-Asian culture, art, history, a fun fact, and a place,  two beautifully illustrated books for kids, a pendant keepsake, and some crafts.  With candor, as parents we were delighted to see that there was so much to see and do in our box.  The Sanskriti box does not disappoint as a useful cultural learning tool for kids.
Want to try out the Sanskriti box? Use promo code GROWINGUPGUPTA for 15% off your box.  This post is not sponsored.  This review is entirely ours and based off our real use and experience with Sanskriti box.
Have you tried the Sanskriti box? What are you thoughts? Do you love it as much as we do?