Hurricane Fail! Part II
HEADING TO OUR HOTEL IN HOUSTON, TX…THE PEACE BEFORE THE STORM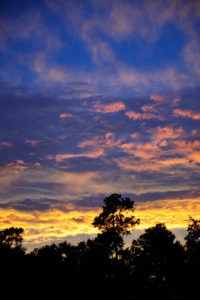 As we approached the hotel we saw buildings boarded up on all sides with plywood.  And  the most amazing colors take over the sky.  Colors we had never seen in the sky before with our naked eyes.  Almost like art majestically painted in the sky there were beautiful reds, yellows, pinks, and purples.
Feeling uneasy we walked into the hotel lobby and asked the hotel manager and desk clerk if the hurricane was going to hit Houston, TX.  They said hurricane IKE was not going to hit per the news and if it did the hotel was ready at a moment's notice.  Again, with a sigh of relief we headed to our room, put our groceries in the mini fridge, and went to bed.
WAKE UP, WAKE UP!
THERE IS NO POWER OR WATER!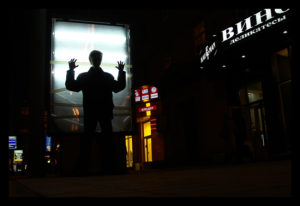 At around 2am in the morning we heard the wind howling like there was a lion right outside our room.  I had to go to the bathroom and as I went to flush the toilet it didn't work. I tried to jiggle the handle and there was no water in the toilet. I quickly ran back to the bed to tell my husband that the toilet wasn't flushing and he got up to try to jiggle the handle.  He opened the lid to see what was going on and there was no water.   He then asked me, "did you do number 1 or number 2."  I told him and he promptly called downstairs.  The phone rang, and rang, and rang until the front desk answered and my husband told them our issue.
The front desk went on to tell him, "I'm sorry sir but we don't have any water right now or power."  My husband then said "you don't have any water or power so what are we suppose to do?"  The front desk stated that "there is nothing we can do at this moment.  'We can provide you and your wife with a bucket to go #1 otherwise we will have to wait for the power to be restored."  My husband being quite ingenious decided to get the bucket and darted to the hotel pool to get water.  Finally, we were able to flush the toilet at least once.
CHAOS!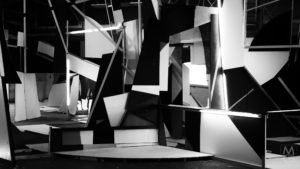 In the meantime, I noticed water trickling down from the middle of the ceiling in our room onto the floor.  I quickly alerted my husband to the puddle forming.  In the dark of morning, we quickly packed all of our belongings and groceries and went downstairs to determine another hotel that we could stay at.  As we opened our hotel door, it was like the entrance to chaos.  There was water and debris everywhere.  The lovely terra cotta shingles  that were previously on the hotel roof now blanketed the entire interior and exterior of the hotel property.   My husband and I quickly thought about our car and everything we packed.  We ran downstairs as quickly as we could with our overnight bag and groceries.  Once down stairs we saw people running in and out of the hotel in horror. One guest screamed "my car is damaged, I can't drive it.  'It has been destroyed!"
DESTRUCTION!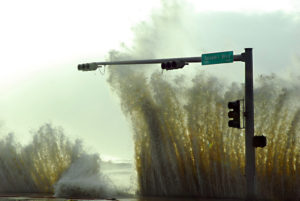 My husband and I immediately told the front desk that we would be leaving.  They refunded us for our stay and asked if we needed anything. My husband then went and spoke to the gentleman that stated his vehicle was destroyed and asked where it was located in the parking lot.  It was one of the worst moment's of our newly married life together as my husband ran out to his pint size, silver Lexus and saw that the entire back windshield was blown out along with the passenger side mirror.  Additionally, all of the belonging we had brought with us in our vehicle were completely submerged in water and glass.  In a panic, my husband spoke with a gentleman that was using the hotel payphone to call his family.  His cell phone didn't have any battery power since the hotel lost power.  He stated that "the best thing for anyone to do was to head to Austin, TX."
AUSTIN, TX OR BUST…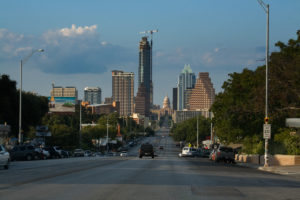 My new husband and I looked at each other and with a nod we both said we have to get to Austin, TX.  But how given the condition of our vehicle?  It was then that my husband noticed a gentleman in the hotel handing out  towels.  He grabbed two towels,  tied them together, and strapped them to the back doors of our car to create a temporary windshield.  As we were getting over the shock of our vehicle we truly felt and understood the destruction of the hurricane. Anyone who remembers hurricane Katrina and the images of the Superdome that was our hotel.
In the midst of our 160 mile drive to Austin, TX we noticed that the temporary towels would not work because they were making too much noise and rattling around on the freeway.  So we decided to look for a gas station along the way.  We found a gas station that was open and packed approximately 20 minutes West of Houston.  Once at the gas station my husband sprinted into action and used his engineering skills to make a new back windshield for us with plastic and duct tape.  With the new back windshield holding, I helped my husband navigate down the highway and we made our way to Austin, TX.  In Austin, TX we awaited news of the totality of Hurricane IKE.
Have you been in a Hurricane? Have you experienced similar calamity as a newly married couple ? Share and/or post a comment below.
Want more?   Find it in our book Habits of Successful Career Nomads