WHAT DOES 20 YEARS OF MARRIAGE LOOK LIKE?
We intentionally waited until Valentine's day to share this article with you. We often hear that marriage is becoming antiquated, or can't last, or the hurdles are greater than… However this multicultural couple explicitly shows us that love can be everlasting.  They recently celebrated their 20 year anniversary and we are sharing some of that with you today. Happy Valentine's Day! Thank you Latha and Adrian for sharing this and inspiring our readers to stick with LOVE.
EVERLASTING LOVE
Latha writes, "twenty years ago today I married the love of my life and my best friend. We've been blessed with so much and I thank God that we've been through it all together. Looking forward to what life has in store for us for the next twenty years and more! Praying for God's continued blessings and guidance!"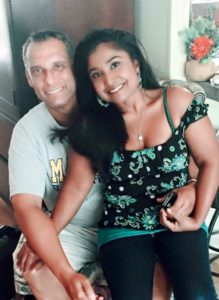 BLACK AND ASIAN (BLINDIAN/FUSION BBQ SAUCE YOU HAVE TO TRY)
This couple also has a BBQ business, Bootsie's Delta Funk BBQ.  Bootsie specializes in the sale of 100% organic, GMO free, HFS free BBQ sauces and rubs, featuring our signature sauce, Sweet and Smoky, which is a fusion of a 100 year old recipe from Latha's husband's family and Asian spices from her ethnic roots. Check it out; we definitely are! They are also the couple that shared their Tandoori Fried Chicken recipe with us previously.
Bootsiesbbq is NOW available on Bootsiesbbq.com website.
This is not an advertisement just us celebrating what an amazing and beautiful couple this is.  Feel free to post a comment below. Like our content? Subscribe!