THE MOST AMAZING CHEELA RECIPE YOU HAVE TO TRY NOW…
SUPER QUICK AND EASY CHEELA RECIPE
My husband absolutely loves properly crisp and savory Cheela.  Any time we are back in Michigan it is the first thing he requests that his Mom makes him for breakfast.  Cheela is an Indian pancake that is great with chutney or even ketchup; yes ketchup!  It is also a dish that I have asked my Mother-in-law to show me to make due to my Husband's fondness of it.  However in our course of 8 years of marriage she has not.  Thus, I decided to take matters into my own hands to make it for my husband after figuring out my Mother-In-Law's secret ingredient.  You can thank me later as this recipe for Cheela is: uber delicious, healthy, fortified with favor, egg-free, and super quick, and easy to make!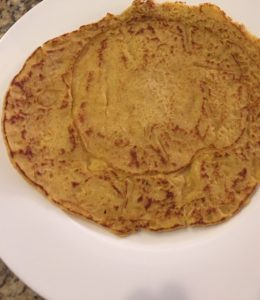 CHEELA (INDIAN PANCAKE)
Ingredients (What you'll need):
1 packet of Cream of Wheat
1/4 cup of whole wheat flour or 1/4 cup of bisquik
1 egg or two egg yolks (optional)
1 cup of water
1 teaspoon of ginger
1 teaspoon of cumin
1/2 teaspoon of turmeric
1 teaspoon of coriander
Salt to taste
Cooking spray
Preparation/Instructions:
Place the cream of wheat, whole wheat flour or bisquik, ginger, cumin, turmeric, and coriander in a large bowl. Slowly stir in the water and mix well. ***Add water only as required to get the consistency of pancake batter–this batter will provide a thin and crisp pancake for a thicker pancake reduce water. Add eggs optional.  Salt to taste.
Spray a medium sized pan with cooking oil spray.  Heat the pan on the stove. Once hot pour a ladle full of batter onto the pan and lightly use the ladle to spread the batter into a circular shape from the center outwards. Make a circle of a diameter roughly 6 inches. Cook for 1 minute.
Spray with a little cooking oil and lift the edges of the Cheela to allow oil to go under it. Flip the Cheela and cook till the other side is golden brown as well.
Remove the Cheela from the pan and serve immediately with chutneys of your choice or ketchup.
What recipe's have you learned or taught yourself that your significant other loves? Have you tried this recipe? Write us and let us know how it turned out for you.  Like our content subscribe!