Swiping Right For Love So Tinder
Interracial And Intercultural Marriage: African-American And Caucasian Woman And Indian Man
About 
Meet Simone and Debmalya. Simone is biracial. Her mother is African-American, and her father is Caucasian. Debmalya is Bengali.
Where Were They Both Born And Raised
Simone was born and raised in a tiny state called New Hampshire in the USA.
Debmalya was born in New Delhi, India, and raised in Kolkata in the State of West Bengal in India.
How They Met
Simone went to visit her cousin in upstate New York, 3 hours from New Hampshire, where she was living at the time. Debmalya was living in the same town, studying for his Ph.D. A few years prior, he had come to the USA to study for his master's degree. And so, while Simone was waiting for the other girls to get ready to go out for drinks and dancing, she decided to go on Tinder.
Simone did not know why she went on Tinder, because she was leaving the following day and wouldn't be returning for a long time (at least she thought so). However, Debmalya and Simone swiped right. Debmalya ended up coming down to one of the bars, and they continued to see each other on the weekends and take vacations, for a year, before deciding to live together.
How Long Have They Been Together
Debmalya and Simone have been together for three years and married for two. Some may think a year is not a long time to date before getting married, but they knew that it was the right decision for them, and that is all that matters.
How Was Meeting Debmalya's Parents For The First Time
Simone asked Debmalya if his family would be okay with their relationship at the beginning of their relationship. He told Simone that his mom would have no problem. Simone was relieved. Debmalya's father sadly passed away before she met Debmalya, but he says that his dad would have liked her. For the first two years of their relationship, Simone would talk to her mother-in-law on the phone sometimes, and they would video chat occasionally; she even sent Simone some gifts. This past December, they finally went to India, and Simone was welcomed with open arms. Her mother-in-law, my sister-in-law, and all Debmalya's relatives are so kind and loving. Simone feels like she gained a second family, and she looks forward to revisiting them.
How Was Meeting Simone's Parents For The First Time
The first meeting with Simone's mom involved a 15-minute interrogation regarding Debmalya's intentions with her beloved daughter. It was all slightly unnerving but well-intentioned. Simone's dad was cheerful and even made Debmalya help him install his new cooking range the first time they met (haha). Overall, it was great for Debmalya to see that Simone's parents cared about her and were discerning about the people she associated with.
What Obstacles Have They Encountered For Being In An Interracial/Intercultural Relationship
Couples who have the same citizenship can easily live together without worrying about immigration status. After Debmalya left his student visa status, they had to file for his green card to live together in the USA. Luckily, their process was super easy compared to a lot of other immigration cases. Another obstacle Simone is the fact that her Bengali is very basic right now. When she went to India, sometimes she felt left out because she couldn't understand when everyone was speaking in Bengali. That means Simone needs to study more Bengali. Debmalya's relatives speak English, so Simone is glad that they do not have a serious language barrier.
 How Did You Overcome These Obstacles
Debmalya and Simone hired a great lawyer (haha), and if, for some reason, the government wouldn't allow Debmalya to stay, Simone would have moved to India. Furthermore, Simone hired an online Bengali tutor, and Debmalya has been teaching her a lot too.
Provide Any Engagement Or Wedding Tips They Wish You Knew Beforehand
Debmalya and Simone don't have any engagement or wedding tips to share because they got married in the courthouse and had dinner afterward. They did not have an extravagant wedding or even an engagement, but that is just the type of people they are. They never wanted a ceremony, but Simone does not believe that big weddings or engagements are bad. Instead, she believes that everyone should do what they feel is best for them.
Their Advice To An Interracial And Intercultural Marriage
Be open and curious. We are all shaped by our experiences and upbringing; respect and embrace the diversity that comes from it.
What Do They Love About Being In An Interracial And Intercultural Marriage
Simone loves that she gets to call India her second home, and they both love that they gained another family. Before meeting Debmalya, Simone had tried southern and northern Indian food, but she had never tried Bengali food. It is very different, but she loves it. Moreover, they both are enjoying celebrating so many different holidays together.
What's more, for Debmalya, his marriage to Simone opened up a new world of food and culture on the one hand; on the other, it brought him exposure to the story of the Jewish and African-American struggles of her ancestors.
What Are They Still Learning From Being In An Interracial And Intercultural Marriage
For Simone and Debmalya growing up in different countries and cultures, there are minute differences in body language and manners of speaking that come up in daily life. They are still trying to acknowledge these differences and learn from them.
Anything Else They Want To Add To Help Others Reading This
In a divided world, diversity is all the more critical. Use the unique opportunity of interracial and intercultural relationships to promote acceptance, tolerance, and love.
What did you think of Simone and Debmalya's love story?  We love the power of social media, don't you?  Thank you, both again for sharing your honest and charming love story and more with us.  Want to share your story with us?  Write to us, at [email protected].  Post a comment and post this article on Pinterest for later.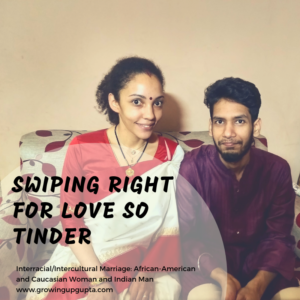 This post contains affiliate links which support the operation of this blog.