About Us
Hi, my name is Jourdan, and I'm an African-American woman.  I was born and raised in Denver, Colorado, and lived in the same house for nearly 27 years.  My husband's name is Vicnesh aka Vic, and he is Indian.  Vicnesh was born and raised in Kuala Lumpur, Malaysia.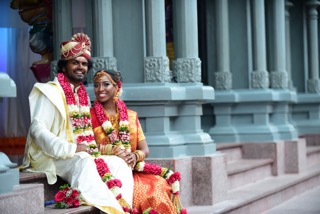 Once we were married we decided to make up our own last name since in Malaysia they do not have last names. Our new last name is Shermanathan.  So how exactly did we come up with our new last name?
Our last name is a combination of both of our last names.  My last name is Sherman and in Malaysia Vic's name is his first name followed by his father's first name which is Nathan.  There are many South Asian names that end in Nathan, Yoganathan, Swarminathan, Kanesanathan so we just thought Shermanathan fit.
How We Met

We met at a St. Patrick's Day bar crawl.  The St. Patrick's day pub crawl was a day event you had to buy tickets to.  You had drink tickets for different pubs, and you had to play games to win more drink tickets or prizes.  My friends gave me their drink tickets to grab drinks for everyone.  I must have looked confused because Vic asked If I was looking for the line to order.  He let me cut in front of him in line while he was chatting about just moving to Colorado and that he was looking for people to hike with.
I told him I loved to hike and to be outdoors.  We ended up exchanging numbers that day, and that was that.  About a week later we messaged each other and decided to grab some food.  We met up and literally talked for 4 hours at the restaurant and then we decided to walk around Downtown Denver for another 4 hours.  He was so cool and easy to talk to we talked about everything, but I was not in the mindset of dating or anything (we were simply hanging out).  Then about a week after that, he invited me to do archery with his group of friends through Meet Up.  I invited my brother and a couple of other friends, and we all had a blast.  That was definitely when I started to admire him.
How Long Have We Been Together
We have been together for 4 years.
How Was Meeting Vicnesh's Parents For The First Time
When Vic first announced that we were together, his mom was not happy at all. I'm not sure about what transpired, but I do know that he told his mom that this is his life and she needs to respect his decisions. That discussion happened in 2014, and I did not meet his parents until 2016. Vic and I went to Malaysia in 2016, and that is when I first met his family, they were very welcoming and nice.
How Was Meeting Jourdan's Parents For The First Time
Vic met my family on a family hike, he was extremely shy and didn't really talk, but it went well. Currently, we have solid relationships with our in-laws. My dad and brother are big motorcycle and car guys, they all recently went to the motorcycle track to practice their skills. I probably text my mother-in-law (Athai) multiple times a week, and she and my mom chat all the time too.
Our Top Takeaways/Advice To An Interracial/Intercultural Marriage
We discuss the interesting dynamics of our family all the time. Vic's family is Hindu, and my family is Catholic, but when it comes down to it, our core values are the same which is why we believe we work.
Jourdan's top takeaways are:
1.) Check-in on your core values together, they will change over time, and it's important to make sure both of your needs are being met.
2.) Be patient with each other; it took a while for us to really open up to each other and get vulnerable and to be honest, we are still working on being vulnerable with each other.
What Do You Love About Being In An Interracial/Intercultural Marriage
I, Jourdan, love learning about his culture and upbringing.  In addition to discussing what traditions we would incorporate together.
What Are You Still Learning From Being In An Interracial/Intercultural Marriage
What did you think of Jourdan and Vicnesh's charming love story and marvelous tips for other couples?  Thank you, Jourdan and Vicnesh! We love how you created your last name together too!  Follow their journey on Instagram @
jourdash_jeans
and @
Vsquaredtimesc.
Find us on Facebook, Instagram, and Pinterest @growingupguptas and on Twitter @growingupgupta.
This post contains affiliate links which help support the operation of this blog!