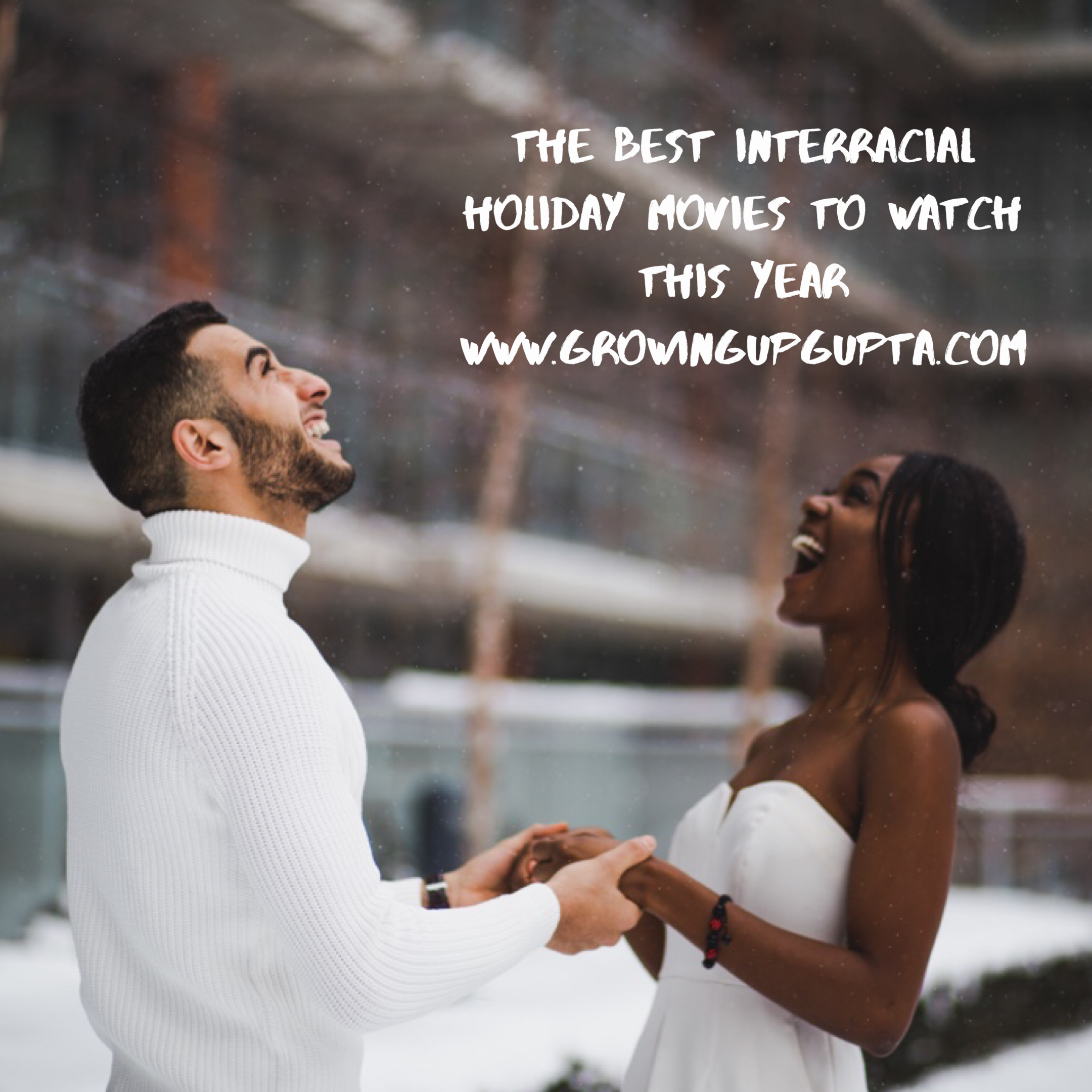 The Best Interracial Holiday Movies To Watch In 2020

The year 2020 has been a pretty turbulent one with the global pandemic. However, that doesn't mean you have to forfeit celebrating the holidays.  Go ahead and indulge in some awesome holiday movies to jump-start the Christmas spirit. Sure, there are always the classics that you can add to your list, but if you are in an interracial relationship or marriage then you know that representation matters.

Top Five Trending Interracial Holiday Movies
From romance, comedy, drama, and everything else in between, interracial romance Christmas movies are certainly emotionally moving productions worth checking this holiday season. To aid you in your search, below you will find the top five trending interracial holiday movies available right now.  
1. Let It Snow
Starring Isabela Moner, Shameik Moore, and Kiernan Shipka is a heartfelt interracial holiday movie based on a snowstorm that hit a small town on Christmas Eve. Though it might be just a regular part of nature, it inevitably has lasting, colliding effects between the love lives, friendships, and the overall futures of a handful of high school seniors.  
You can watch Let It Snow here.
Another must-see Christmas movie is The Holiday Calendar. Starring Kat Graham, Quincy Brown, and Ethan Peck, this romantic holiday film is based on a skilled photographer who feels trapped within her dead-end job. However, she inherits an antique Advent calendar that has the ability to predict the future, allowing her the ability to find love.
You can watch The Holiday Calendar here.
The true meaning of Christmas is giving and appreciation, right? The Operation Christmas Drop, starring Kat Graham, Alexander Ludwig, and Virginia Madsen, is about a stringent political aide who is on a mission to shut down a tropical U.S. Air Force base. However, while doing so, she falls deeply in love with a servant-hearted Air Force pilot who is the captain of the charitable airborne Christmas tradition.
You can watch Operation Christmas Drop here.
Lifetime did it again! Christmas in Louisiana is a Lifetime original movie starring Jana Kramer and Percy Daggs III.  When Sara Winter, played by Jana Kramer, heads back home for the anniversary of her hometown's Sugarcane Christmas Festival with her family, she finds more than just some boosted Christmas spirit; she discovers love as well.
You can watch Christmas in Louisiana here.
A Very Vintage Christmas, starring Tia Mowry-Hardrict and Jesse Hutch, is a touching interracial holiday movie to add to your binge-watching list. Dodie, played by Tia Mowry-Hardrict, is a hopeless romantic who works at an antique shop. One day, she finds a hidden box that is filled with romantic-driven trinkets and makes it her personal mission to deliver it back to the rightful owner. As a result, she entices her handsome new tenant to help her with the search.
You can watch A Very Vintage Christmas here.
Making The Most Of The Holiday Season
There you have it! Though there are tons of holiday movies out there, these are the top five that are hot right now amongst those of us looking for holiday movies featuring  interracial couples. So, go ahead and grab a warm blanket, some hot cocoa, or do whatever it is you prefer and get ready to watch some great movies. In the end, whether you are single, in an interracial relationship, or are simply someone who wants to watch beautiful holiday-inspired love stories, these productions are hands-down worth adding to your holiday movie bucket list.  Enjoy!
Pin this post for later here!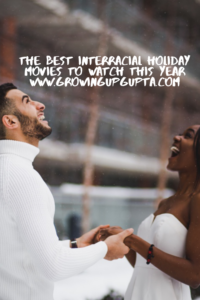 Looking for some more interracial romance movies to watch? Check out the best interracial romance movies to watch on Netflix here!
Are you following us at www.growingupgupta.com yet? Find us on Instagram and Pinterest @growingupguptas and on Twitter @growingupgupta, Facebook @growingupguptablog.
This post contains affiliate links that support the operation of this blog!