I Love Masala Me Book Review
New Multicultural and Bilingual Children's Book Synopsis
Joselyn and Amit are children that belong to two worlds, and two different but beautiful cultures. Growing up, they could choose to assimilate into American culture completely, or they could choose to embrace their multicultural heritage. They both decide to celebrate the richness of their multicultural (Indian and American) identities. This book is a celebration of culture and multicultural identity through food from chicken nuggets and chicken pakora, to cheese curds and paneer tikka, etc. Find yourself immersed in a delightful children's book that explores the gift of being a masala or a multicultural child, all while you enjoy learning some Hindi and English too. I love masala me is a simple story that encourages children not to shun being different but to love it. In today's diverse and divisive climate, self-love, acceptance, and inclusion are of the utmost importance, and what better way to convey this message than through food.
About The Author, Nikita Gupta, Creator Of Growing Up Gupta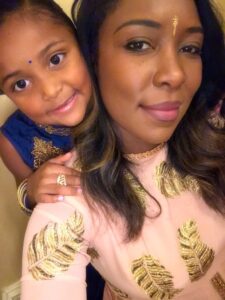 Nikita is a writer, author, blogger, and entrepreneur. Nikita is globally known for her multicultural lifestyle blog, Growing Up Gupta (www.growingupgupta.com). In which she and her husband, Sachin, share stories of interracial/intercultural dating and marriage, multiracial and multicultural parenting, fusion recipes, and more. Growing Up Gupta led them to author Habits of Successful Career Nomads and the Art of Interracial Dating. I'm Dating, Indian Now What?, and now their first bilingual Hindi and English children's book. As a cross-cultural family, they noticed that there are no children's books that celebrate being of mixed Indian/South Asian heritage. Additionally, there are not many bilingual children's books written in Hindi and English. Hence, they created, I Love Masala Me to celebrate children of multicultural and mixed heritage.
Nikita and her husband have been featured contributors for Huffington Post, The Times of India, Brown Girl Magazine, South Asian Buzz, The Parent Voice Magazine, Multicultural Kids Blogs, Multiracial Family Man, among others. They have also been featured on podcasts with Indian-Interracial Marriage, Multiracial Family Man, and more. For more on Nikita and Sachin, including social media and contact information, visit growingupgupta.com.
Find our newest children's book here!
This post contains affiliate links which support the operation of this blog!