Empowering Young Girls:
Hearts For Hearts Girls Dolls And App Review
"Changing the world one heart at a time!"
The Search For Diverse Toys
Finding diverse toys that we love as parents is no easy task.  I would say that this is probably, particularly, the case for many multiracial and multicultural families.   Yet, a toy and interactive game provider by the name of Hearts for Hearts Girls "spoke to us", and our biracial daughter for many reasons. Why?
Diverse Toys With A Greater Message
In the face of: #metoo/the Harvey Weinstein scandal, the fact that we as women continue to have to fight for equal pay, equal treatment, and deal with a slew of other challenges, it is uplifting to see a company dedicated to empowering our daughters.  The Hearts for Hearts Dolls are diverse messengers and representatives of the world in which we live.
Cultural Learning And Education
Furthermore, these dolls help girls to be global learners and thinkers.  They enforce the importance of understanding, embracing, and appreciating cultural diversity and differences.  Additionally they stress the value of education for girls.  Last and certainly not least, a portion of the funds generated by Hearts for Hearts Dolls are donated to help girls in their respective communities.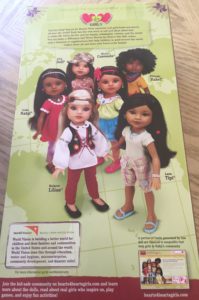 The Hearts For Hearts Girls mission is to empower girls to become agents of change in their communities, their countries, and around the world.  They want to change the world one heart at a time, and you can be a part of that dream!
It all starts with their dolls.  Right now, there are four Hearts For Hearts Girls dolls: Rahel from Ethiopia, Dell from the USA, Consuelo from Mexico, and Nahji from India.  Each of them has an important story to tell about life in her country, inspired by the stories of real girls who are strong, smart, courageous, and determined to rise above challenging circumstances.  The Hearts for Hearts Dolls are available at Amazon and Target!
Hearts for Heart Girls is partnered with World Vision for programs that support gender equality, education, infrastructure, and humanitarian aid.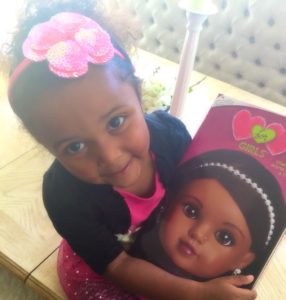 We received Nahji in the mail.  Nahji hails from Assam, India and as her story goes she is a girl who desires a different life.  Aside from being smart and brave in her country girls go to work and get married at a very young age.  However Nahji is determined to get an education and to find a new way for her family to thrive.
She dreams of becoming a doctor and convinces her parents to let her go to school. And she learns how to help her family create their own garden market.  Nahji starts raising Indian runner ducks.  And she visits local 'tea clubs' to encourage other girls to take charge of their own lives.  Her message akin to all the Hearts to Hearts Dolls is one of girl enrichment, triumph, and confidence.  These dolls are inspired by real girls.  And each girl is an overcomer!  A true trailblazer signifying that when you "believe in yourself then you can make the world around you better."
Nahji is incredibly packaged.  The illustrations and details on this doll are exquisite.  She is extraordinarily life-like.  Once our toddler got her hands on Nahji she did not want to put her down.  She even joyfully stated, " she looks like me!" At that moment,  I internalized that Amaya could see that being brown is beautiful and I enthusiastically smiled.
Nahji's outfit and features are beautiful!  She is adorned with: a nose ring, braided purple choker with pearl-like pendant, drop earrings of simulated pearl and amethyst, removable pearl-bead headband, golden bangle bracelets, authentic mehndi on her hand that means good luck, braided purple sandals, doll-sized hair comb, girl-size heart charm bracelet, and a beautiful mini storybook about her life.
Our toddler was so infatuated with Nahji's nose ring that she asked her father and I if she could get one.  We both chuckled no!  Hence she decided to use a bindi as her faux nose ring.  Nahji's dark brown hair is lush, textured, and can easily be styled.  We tried a couple of hair styles that our toddler loves to wear on her.  And yes they were twinning!  This gorgeous doll makes the perfect gift for any little girl and even greater is the message she brings.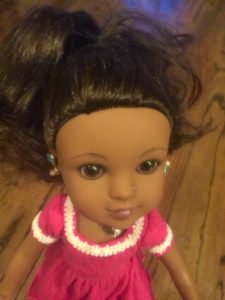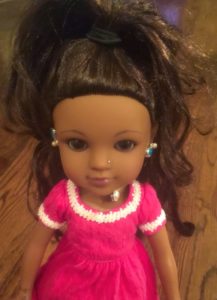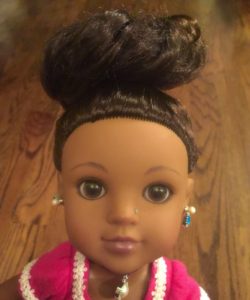 The Heart For Hearts Girls App Called Heart Street Market
Global Learning With Nahji And Her Friends
In addition to diverse dolls Hearts to Hearts Girls has a newly released app!  The app called Heart Street Market is easy to play and download.  It lends itself to be hours of global learning and engaging fun for any child. You choose the girl that you want to learn more about.  And you are navigated to her country to find out more about her, her family, and where they live.
Adventures Galore
Some of the adventures you will enjoy playing this app are: herding runner ducks, playing soccer, making music, catching rain drops, dancing in the street, and shopping in exotic markets and tons more.  Our toddler did not want to close the app/give me back my phone because there is so much to see and do.  The app is for children 6-8 years old so an adult would have to help younger children initially get a feel for how to play it.  The app is available via iTunes and Google Play in English, French, Spanish, and Portuguese.  Bonus-when you play Heart Street Market, you are also making a difference in the real world!
GIVEAWAY ALERT!
We love this doll and this company so much that together we are giving away a Nahji doll just in time for the holidays!  Enter this giveaway by following us on Instagram @growingupguptas, Facebook @growingupguptas and Twitter @growingupgupta. ***Tag a friend for more chances to win!!!  The winner will be announced on December 18th, 2017.  This giveaway is limited to U.S. 
***Want to try the Heart Street Market app for free? Find us on Facebook or Instagram @growingupguptas and post I want to try this game! ( 2 lucky winners will receive a promo code for Google Play)!  This will also be announced on December 18th, 2017.  This post is sponsored.  However all the thoughts posted are 100% my own. ***
Like our content?  Subscribe!  Good luck!