The Art Of Interracial Marriage
Thoughts Before Marriage
In my early 20's I would not have prescribed to marriage as being an art. Perhaps just two people being hopelessly in love and wanting to devote the rest of their lives to each other. Understanding that the beauty of true friendship will outweigh the frills that come after you say I do.  However, as I type this now, with almost 13 years of marriage under my belt, it is definitely an art.  I would go even further to say that being married to a man of a different culture makes the art even more colorful.
The Brilliance Of Interracial Marriage
Colorful in the sense that I have had to learn what to wear and when to wear it. From Lehengas at Indian weddings and Sangeets because I had no clue of how to accurately pin and prim a Saree early on to Salwar suits at less formal events.  To who's feet, I need to touch when a relative is coming to visit from India or in India. What color polish and lipstick I have to wear during a traditional Indian wedding ceremony as "the bride".  Understanding that I must have a bite to eat at an Uncle or Aunties home out of respect.  Learning that Uncles and Aunties aren't really your blood-related Uncles and Aunties like I had growing up but family friends/an extension of your community.  Snacks are apart of dinner and not a stand-alone activity.  How to accurately position a tikka my forehead. To teaching myself to make Indian cuisine, one interesting and delightful dish at a time.  And learning what names (in Hindi) I should use for each of my new family members.
These definitely are not things I had to do growing up in my African-American family.  However, these are things that have become second nature.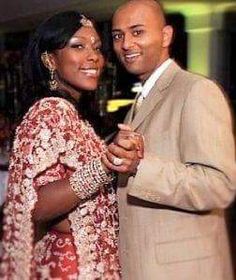 Find out more about dating and marrying interracially/interculturally in our book!

Pin this post for later !
Are you following us at www.growingupgupta.com yet? Find us on Instagram and Pinterest @growingupguptas and on Twitter @growingupgupta, Facebook @growingupguptablog.
This post contains affiliate links that support the operation of this blog!