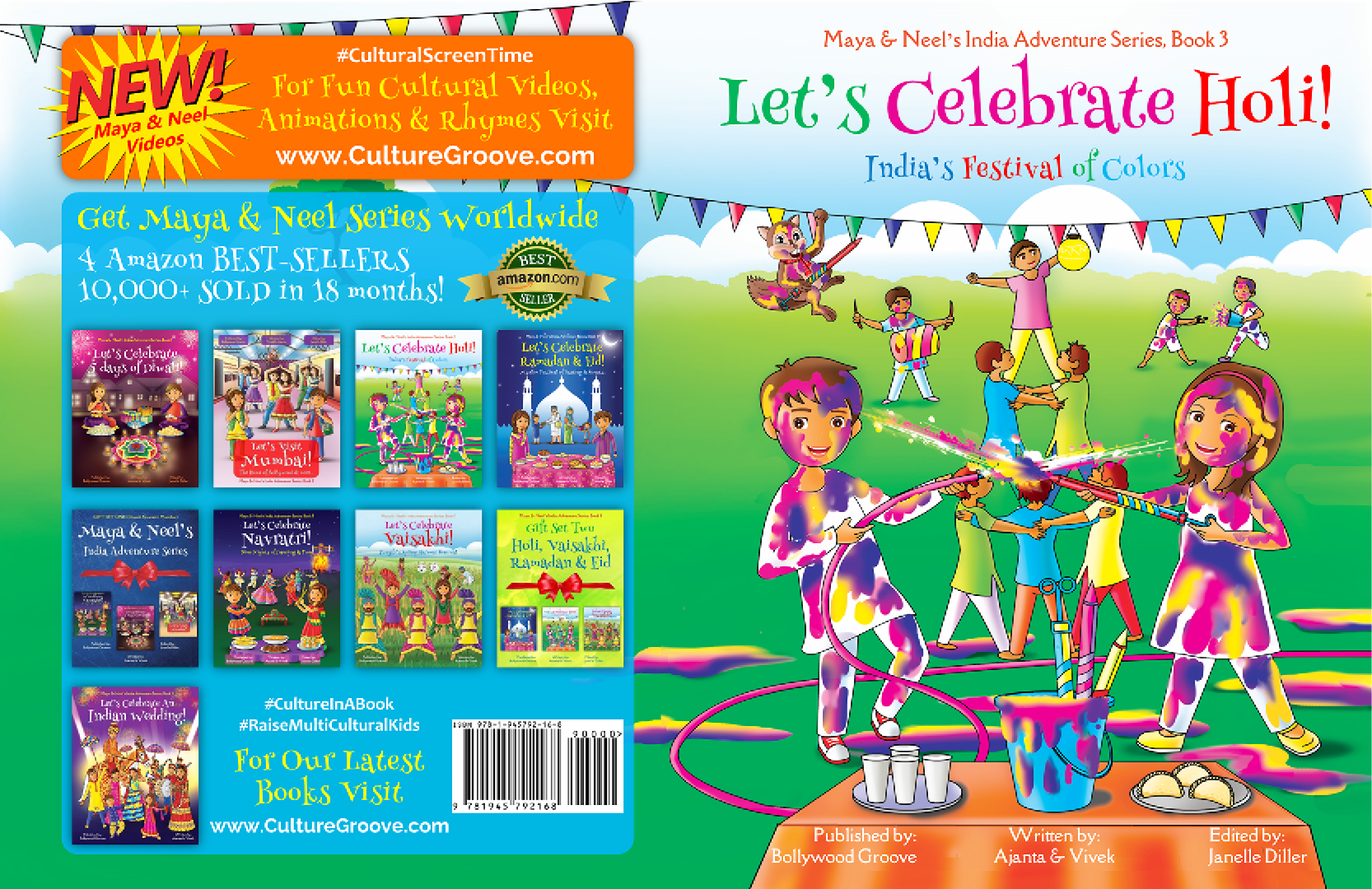 Let's Celebrate Holi Book Review
Let's Celebrate Holi is an animated, fun, and engaging children's book. Written in English by Ajanta Chakraborty and Vivek Kumar, this book takes the reader on a journey to India to celebrate Holi.  It is 38 pages in length, and it is suitable for children ages 3-7, and grades K-2.
Multicultural Kids Books about Holi
Learning about cultural celebrations, customs, traditions, holidays, etc. as someone that didn't grow up in that culture can be difficult. And to make matters even more complicated trying to teach them to your children can be a massive undertaking. Which is why, as parents to a multicultural and biracial child we are always eager to share diverse books such as, Let's Celebrate Holi.   This book is relatable and also a useful cultural learning tool.
Splendidly illustrated, Let's Celebrate Holi is about a sister and brother named Maya and Neel. They are also multicultural kids that live in Chicago, IL but have family in India. Hence, with their pet squirrel, Chintu in tow they venture to India to meet their cousin, Ameya to celebrate Holi aka the Festival of Colors.
Our Thoughts
Upon opening this book, my five-year-old daughter and I knew that this would be a book that we would be reading time and time again. Not only does she love how closely the names of the main female characters names resemble her own, but the book also allows us to rehash our family trip to India, and to talk more about the upcoming Festival of Colors that our family celebrates here in the U.S.
Prudently, following the cover page of the book, you will find a pronunciation guide for some of the Hindi words referenced in the text. And of course, this is a huge plus and an excellent resource in itself for parent's like myself that are teaching their kids Hindi. Additionally, this book provides the reader with a greater understanding of Holi as a Holiday.  In particular, the book discusses some of the mythology/history on Holi, the significance of the bonfire, how Holi celebrations vary across states in India (e.g., Ahmedabad, Manipur, and Punjab), Holi attire, traditional food and drinks that are eaten on Holi, etc. Without a doubt, this book is an exceptional resource for teaching kids about the importance of celebrating Holi in an easy and entertaining way.
Purchase Let's Celebrate Holi here at Amazon.
Looking for a FREE Holi celebration/activity kit, download it from here: CultureGroove.com/Holi. And stay tuned for our GIVEAWAY of a copy of this book just in time for Holi thanks to Culture Groove.com!!!
Culture Groove is co-founded by Ajanta Chakraborty. She is an ex-technologist, mom of a 4-year-old and very passionate about multiculturalism. Our mission is to help parents, guardians and educators help Raise Multicultural Kids. For Kids of Indian origin, we want to help them connect with their Roots. 
Culture Groove Online Learning Resources
Culture Groove offers a series of 9 books for kids. Find their books at
CultureGroove.com/books
.  And they also provide some free online learning videos about India including animations, dance-alongs, story-time and more:
CultureGroove.com/YouTube.