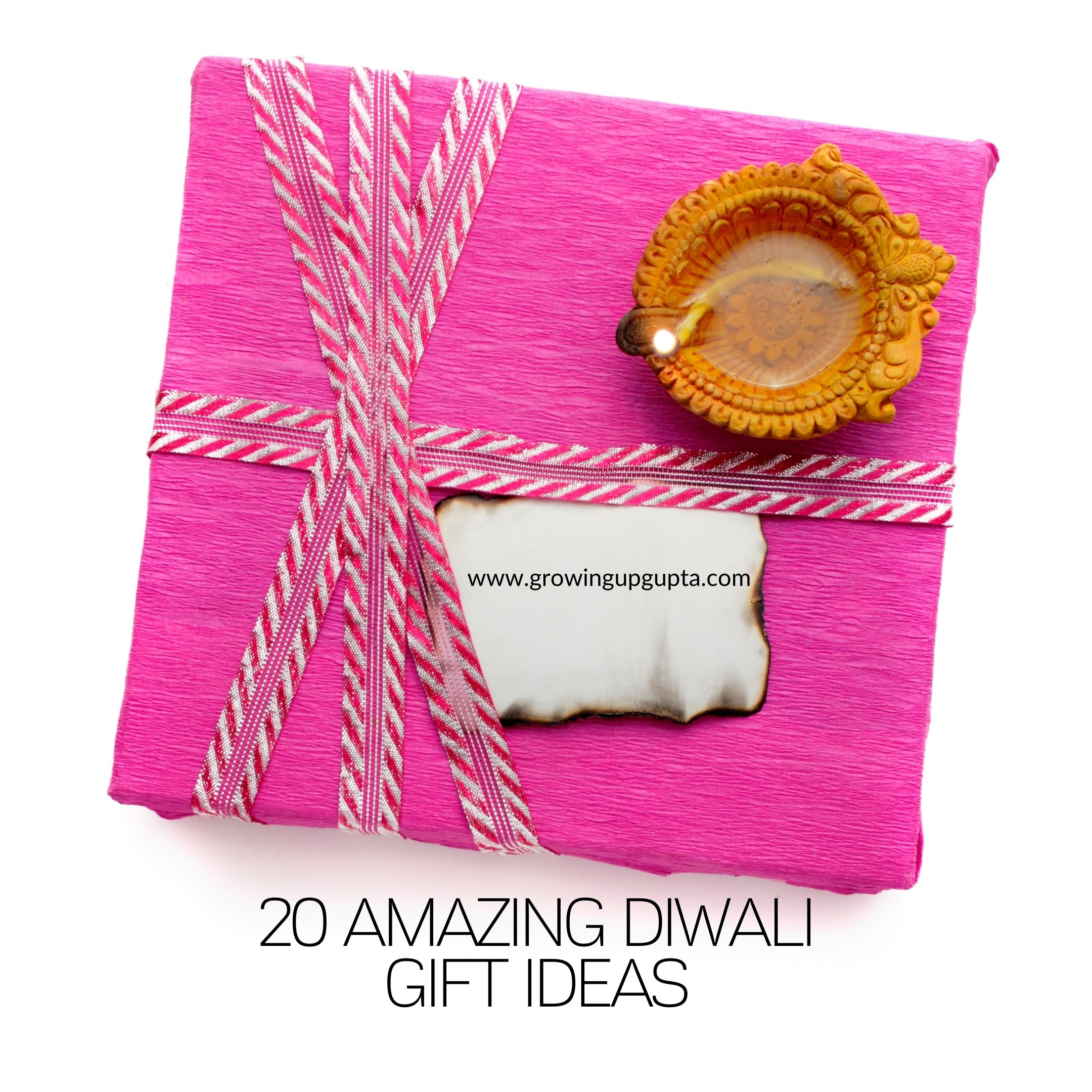 20 Amazing Multicultural Diwali Gift Ideas
What Is Diwali?
Diwali, aka Deepavali, is the festival of lights. In Hinduism, it exemplifies how only light can dispel darkness and commemorates good's victory over evil. It is a time for reflection, celebration, and gift-giving (like New Years in the United States of America). It is an official holiday in Fiji, Guyana, India, Malaysia, Mauritius, Myanmar, Nepal, Singapore, Sri Lanka, Suriname, Trinidad and Tobago, and recently Sindh Province in Pakistan.
Being A Multicultural And Multiracial Family
As a multicultural and multiracial family, we believe it is essential to share each other's cultures. Over the years, we have compiled a list of gift ideas we have enjoyed/loved, and some we have come across that are perfect for Diwali. Here are 20 unique multicultural Diwali gift ideas.
 20 Amazing Multicultural Diwali Gift Ideas
1.) Gift Cards & Money
These gifts provide the receiver with the freedom to choose a wonderful gift for themselves.  *Make sure to place one or both of these types of gifts into a gift envelope (like that shown below).  We use these envelopes every chance we can get because they are so beautiful!
New clothing is traditionally worn on Diwali. For women receiving an elegant sari made from fabrics like silk, crepe, chiffon, and velvet makes a fantastic gift. The Sari's signifies a historical  and timeless beauty in Indian culture.  Men often dress in  classic kurta and dhoti.  Girl's are customarily dressed in lehengas, and boys wear suits or jeans and shirts.
3.)  A Festive T-shirt Or Sweatshirt
We love these colorful Diwali, Namaste T-shirts, and Sweatshirts.  This clothing for men, women, and children is whimsical, fun, and all seasons.  The word Namaste is a formal salutation used when saying hi and goodbye in Hindi.  Furthermore it is a meeting of their minds. When we greet one another with namaste, it means, 'may our minds meet', indicated by the folded palms placed before the chest. The bowing down of the head is a gracious form of extending friendship in love, respect, and humility.
4.) Candles
Diwali is after all the festival of lights.  Lights and candles are lit for the festival.  Hand crafted with earthen clay & hand painted with by skilled artisans of India these candles are decorated with studded stones and colorful designs.

A company by the name of Toka box offers a monthly subscription box for children to learn about South Asian culture.  To say, our  daughter looks forward to the delivery of her Toka box each month is an understatement.  The Toka box for Diwali includes a craft and a book.
6.) Diwali Children's Books
Here are three fun and engaging books on Diwali for kids.
7.) Diwali Barbie
Our daughter got a Diwali Barbie on her first Diwali. To this day, she affectionately refers to her Barbie as her Amma (Grandmother in Hindi).
8.) Jewelry
Jewelry is timeless.  This jade anklet for girls is adorned with elephants.  And a 22K-24K gold necklace can be worn during any occasion.  Indian jewelry is customarily 22K gold.
9.) I Love Masala Me Puzzles and Games
I Love Masala Me is a multicultural children's product brand that celebrate diversity.
10.) Gift Hamper
Inside this gift box for Diwali is: a roli tika, chocolate, Indian sweets, a Diwali greeting card, and 1 silver coin. 
In South Asian culture silver and other metals have therapeutic purposes.
11.) Giftbox Of Teas
Festivitea has a tea giftbox for Diwali.  It is a favorite gift product for those that are health conscious and love tea.
12.) Aden and Anais Diwali Print Baby Blanket/Swaddle
This Diwali print blanket is 100% cotton, breathable, versatile, and luxuriously soft.
13.) A  Handmade Wooden Money Bank Coin Holder
14.) A Hand Carved Decorative Wooden Jewelry Trinket Holder
This exquisite wooden organizer and keepsake storage box chest has a brass inlay.  Flowering motifs cover this box, giving it a traditional, artisanal finish.  It has a design that ages back to the Mughal Dynasty.
15.) An Elephant Sculpture
  In South Asian culture the elephant symbolizes great intellect, wisdom, and royalty.


16.) A Cultural Hub Silver Bowl Platter Tray With Spoon
This gorgeous platter is silver plated brass.  It has intricate Indian royal engravings on it and is ideal for serving snacks.
17.) Diwali Craft Box For Ages 3-99
This craft box includes 3 activities for Diwali.
18.) Silver Plated Wine Goblets  
These goblets are perfect for any festive occasion.
19.) Set of 6 Pure Copper Tumblers
  Ayurvedic practitioners assert that drinking water that has been left in a copper water tumbler over night can assist with digestive function, weight loss, wound healing, heart health, brain function and skin health.
20.) Silver Club Shaped Sindoor Dibbi
  This Sindoor Dibbi has exquisite detailing that makes this piece ideal for the dressing table and a great place to keep sindoor.  Sindoor is a traditional red or orange-red colored cosmetic powder from India, usually worn by married women along the parting of the hair.  It signifies that the woman is married in Hinduism.

What other gifts have you given and/or received on Diwali that you have loved?  Like our content? Subscribe! Share and/or post a comment below!
Pin this post for later here!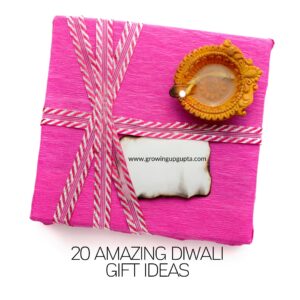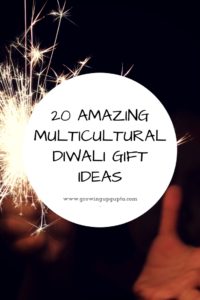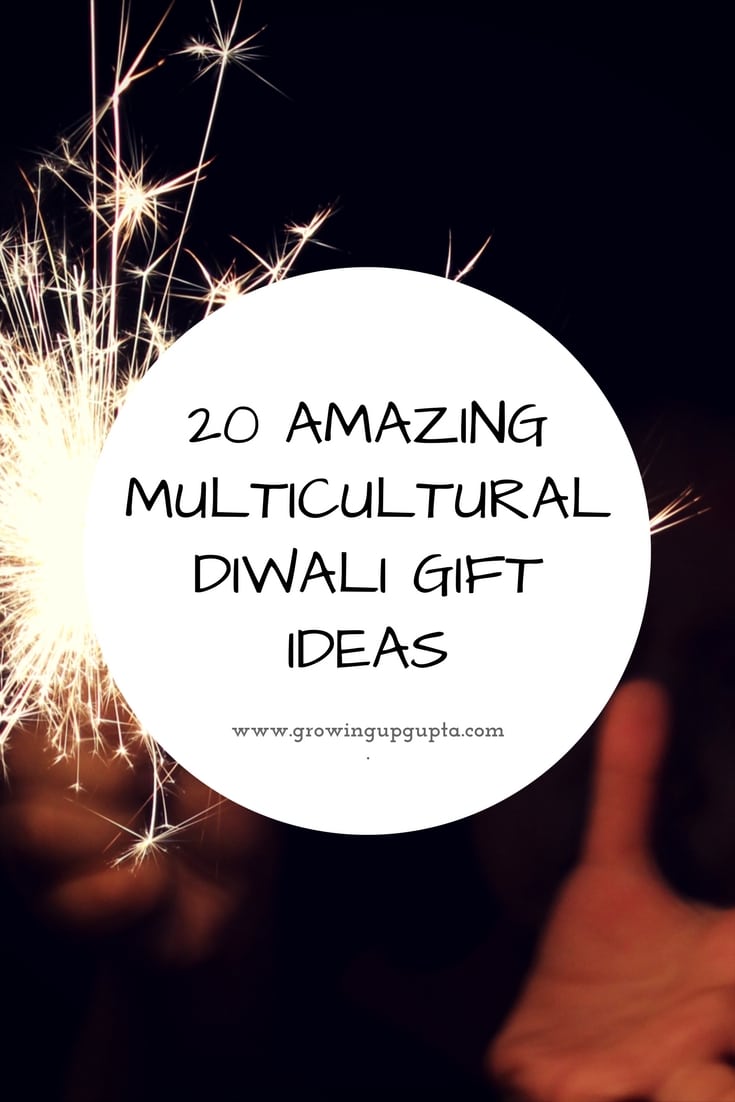 This post is part of the annual Diwali for Kids blog hop from Multicultural Kid Blogs! See the posts below for great ideas on celebrating Diwali with children. You can find even more ideas from last year's series and on our Diwali Pinterest board:
Ketchup Moms on Multicultural Kid Blogs
Kid World Citizen
Creative World of Varya
Growing Up Gupta