OVERCOMING CULTURAL DIFFERENCES
Dating and being married to a woman of another culture of course presented interesting familial experiences.  These are familial experiences that many Indian men that are married to Indian women don't get to experience.  They have provided a richness to my life that I didn't even consider when entering into a relationship with a woman of a different ethnicity (my wife is African-American).  What am I talking about?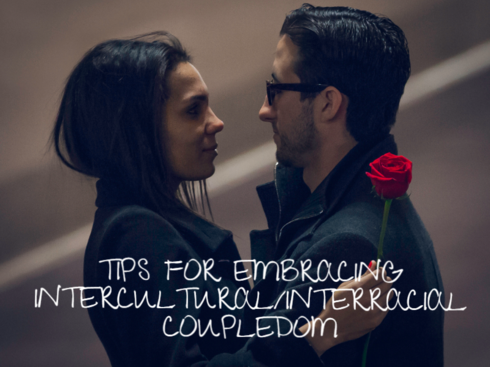 EMBRACING CULTURAL DIFFERENCES…FAMILY DYNAMICS
Here is my take as an Indian man that has dated and is married to a non-Indian woman of 5 interracial/intercultural relationship dynamics you too may experience/may have experienced and advice on dealing with these dynamics, where applicable:
1.)You may find yourself at your significant other's home for dinner. The food is ready and everyone starts saying grace/a prayer over the food.  Growing up my family didn't say grace before eating.
Advice: Say grace if you are comfortable with doing so. Otherwise you can close your eyes if everyone else is doing so and open them when everyone is done.  If you are wondering, I do say grace.  Why? It is wonderful to be thankful for the things we are fortunate enough to have.
2.) You will find a deeper meaning to a cultural history you had no knowledge of previously.  Listening in on your significant other's elders can provide you with a greater understanding of the struggle that they had to endure.  My wife's family is African-American's and I only had the knowledge found/shared in history books segregation and desegregation.
Advice: Listen to what the matriarch/patriarch/elders of the family are telling you. It will give you a different perspective that no history book can.  These are first hand experiences.

3.) You may find that your significant other's family gathering(s) are different than those you are accustomed to.  My wife has a larger family than I do in the U.S. And they love to laugh, dance, sing, play games, listen to music, and talk, therefore, their family gatherings can be intense/intimidating as an outsider looking in.
Advice: Attend the family gathering and meet everyone.  Sooner or later you will get accustomed to how things are.
4.) You may find yourself enjoying a wider range of cuisine. I had never had: fried chicken, ribs, sweet potato pie, cobbler, banana pudding, collard greens, pork rinds etc prior to being in a relationship with my wife.  It opens your reality to a greater range of foods.
Advice: If you are a strict vegetarian try the vegetarian foods.  If not, be open, you never know what you may end up liking or loving.

5.) You may find yourself watching more movies outside of our own culture.    For example, I never anticipated watching Diaries of a Mad Black woman etc.  However, these are movies like Bollywood movies that speak to cultural experiences.
Advice: Watch the movies with your significant other they will only bring you closer.  In turn, make sure she watches something you enjoy as well. It is a give and give.
Are you in an intercultural/interracial relationship? Do you have any tips to share? Let us know, we would love to hear from you. Post a comment below.